What are the best Online jobs for transportation business
telemarketers?
There are many opportunities for earning some money on the Internet. Many people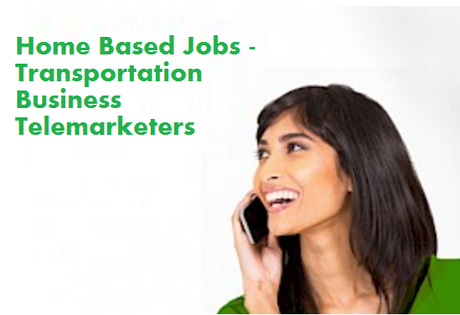 around the world now make a living from the comfort of their homes by working online. As long as you have a computer, a stable Internet connection and some skills, you can make a living online. Examples of jobs which you can do online include writing web content, application development, graphic design, video uploading, animation, programming, website design and telemarketing.
You can receive payment for your work through online money transfer services for example Paypal. You can also receive your salary through wire transfers or direct bank account deposits. Some of these jobs are complex to perform while others are not. One of the less challenging ones is telemarketing. What does it involve? Read on to find out more about the best on-line jobs for transportation business telemarketers.
What is telemarketing?
Telemarketing is a marketing strategy that companies normally use to get in touch with potential clients. This is for the purpose of convincing them to buy their products or services. When a company contacts a new, potential client, this is known as cold calling. Traditionally, telemarketing was only confined to telephone calls. This was the prevailing communication technology at the time. Thus companies would call current or potential clients. Today, telemarketing has evolved to contain other technologies too. Examples of these are video conferencing, online surveys, Skype calls and VOIP (Voice Over Internet Protocol) calls.
Initally, telemarketing was performed so as to sell a product or service. In recent times, it is performed to collect information too. Companies can find themselves in need of information from customers. They can require this data at critical times in their product or service lifecycle for example right after releasing a new product or service. Interestingly, companies and organizations can purchase lists of potential clients to call. These are people who have strategically relevant purchasing habits or histories and fit in the target market of the company. For this job, they need a workforce. This is the role played by telemarketers.
Who are telemarketers?
Telemarketers are the people who perform the task of getting in touch with these current or potential clients. They can be located in the company buildings or at their respective homes. People can perform this job from their residences as long as they have a computer, a pair of headphones, a microphone and a comfortable Internet connection. There are some specific types of companies which normally perform telemarketing. Read on to learn about them.
There are some types of businesses which usually perform frequent telemarketing. Examples of these are:
1. Internet and cable television providers
2. Domestic and commercial security system providers
3. Financial services companies
4. Organizations that deal with charity
5. Transportation businesses
Out of these, the transportation companies are most known to perform heavy telemarketing. Transportation companies offer the service of transporting people, goods or both from one point to another. They can do this in the private or the public sector. Transportation businesses may also sell automobiles, auto parts and accessories. To stay afloat, the businesses have to retain their current customers and gain new ones. Thus, telemarketing is highly important for them. How do they apply telemarketing?
A transportation business can apply telemarketing to manage their relationships with their clients in the public transport business. The transportation company can also perform telemarketing so as to convince new clients to come and visit their showrooms and purchase a car. In addition to that, they can perform telemarketing so as to find out the opinions of their clients on their products such as auto parts and accessories. Here are some companies in the transportation sector that offer home-based telemarketing positions.
Tremco Incorporated is a company in Boston, MA that performs project management in the transportation sector. They have a telemarketing position for a Regional Dispatcher. You can perform this job in the comfort of your home. In this position, your responsibilities include scheduling and providing oversight for project values in specific regions of the state. You perform field reporting and ensure the punctual completion of jobs. You also perform the management of project backlogs and conduct any alterations according to weather, extra work or changes in scope. You should have good communication skills and the ability to manage your time well. Interested applicants can seek the position by applying in the company website.
Dot Foods Inc. is a company located in Mt. Sterling, IL, USA. They have a telemarketing position for a Supply Chain Routing Analyst. This is a work from home position. The company deals with transporting product orders for various retail and wholesale businesses. In this capacity, you will be expected to create routes for the products required by suppliers and customers too. You should optimize these routes so as to reduce the overall cost. You should also interact directly with the company clients. Another responsibility in this job is to ensure that packages arrive on time by planning ideal routes and schedules. You should be disciplined because the job requires that you work under no supervision 75% of the time. Interested applicants can seek the position by applying in the company website.
Placon is a transportation company based in Madison, WI, USA. They have a work at home position for a Logistics Specialist. In this position, your responsibilities include management of inbound and outbound transport vehicles. You should also negotiate for proper transportation schedules for the drivers. Moreover, you are required to be quick thinker in terms of creating impromptu schedules to ensure a comfortable inbound and outbound flow of transportation vehicles. You will also play a customer service role. Moreover, you will lead the logistical processes in the company. Interested applicants from within the company can apply by going directly to the Oracle portal. Those from outside the company can apply by going online at placon.com/careers.
Conclusion
Thanks to the Internet, you can work from the comfort of your home. You can become a telemarketer and perform various tasks for companies in the transportation sector. Some of these tasks and companies have been indicated above. Telemarketing is one of the most popular online jobs today. It is a rewarding job that allows you to make a living without ever stepping foot outside your home.
To find more job from home start here