Technology has made it possible to work from a remote location. There are many companies that are transitioning to the remote work culture. You can also find home based customer service jobs.
You can either find a home based customer care job with a corporation or work as a virtual assistant. The VA route can also work as a ladder for your own business as well.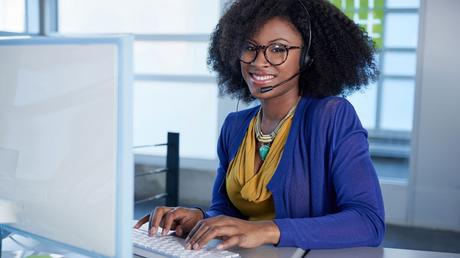 1. Low Barrier To Entry
You just need a few months of experience and not a college degree necessarily. The skill set you need is pretty straightforward and you don't need a long training for it.
2. Virtual Assistance
You can also work as a virtual assistant who is specialized in customer service. There are a number of reasons why many employers like to hire virtual assistants for customer service.
Virtual assistants have a professional approach towards your clients and customers. Employers free up themselves to focus on other areas of their work.
A savvy virtual assistant can also show more business opportunities to the employers as they work inside their business.
3. Typical Interview Questions
The interview questions will vary according to the job you have applied for. Some of the questions you can expect.
- Have you worked in the customer service industry before?
- What do you like about our organization?
- Will you be able to achieve your targets while working from home?
- What makes you are for this job?
4. Flexible Hours
In this job, the hours will not be as flexible as other online jobs. You might have to bid on shifts or schedules. You will be expected to work according to the schedule you have been assigned.
5. Requirements
The specific requirements for different jobs will vary. Things you will need for your home based customer service job.
- You will need a computer and some basic computer skills like downloading and installing specified software, updating programs and OS, etc.
- You must have a high-speed Internet connection.
- You will also need a landline phone for your job.
- The customer service job also needs you to work in a quiet environment.
- You should be able to work on a set schedule.
- You should be able to multitask.
6. No Health Insurance
A number of positions don't include the health insurance plan. However, working from your home has other perks attached to it. You don't have to commute to work every day or worry about the childcare.
You can save enough money by working from home so that you can get a health insurance on your own and still save some of it. You will save money on your fuel, car maintenance, professional wardrobe, childcare, home office deductions, etc.
Most importantly, you will also save a lot of time that you can spend to keep your body healthy. You will be able to cook healthy meals for yourself and workout more frequently. As you will not have to commute to work every day, you will also save your body and mind from a lot of stress.
7. Remuneration
Customer service gigs generally pay well enough. You can expect a pay between $10-15 per hour but it can vary with the contractor. Some of the contractors might pay you commissions on the sales you get. Some contractors pay online for the duration you are on the call.
You must read all the important information they want you to read. Before signing a contract or an agreement, make sure you read all the terms and conditions.
Most likely, you will get paid on a two-week schedule. Pay attention if you are getting hired as an independent contractor or an employee. You will have to calculate the taxes differently for different roles.
To Sum Up
Home based customer service jobs can allow you to lead a healthy professional life. You can also take care of your child and home while fulfilling your responsibilities related to your work.
A customer-oriented virtual assistant is a preferred choice for a lot of employers for a number of reasons. You will not get a number of employment benefits but you will still save more money than those benefits if you work from home.
You will be saved from a lot of stress due to commuting and also get the time to take care of your health.