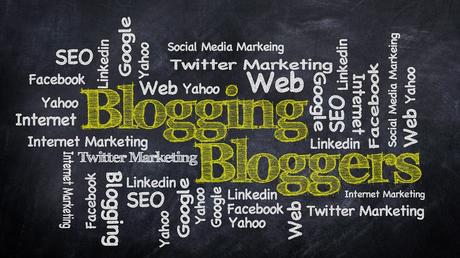 We know you have probably been asking yourself how can you start a blog? So we thought we would put this post together to help you out on getting started on the right foot. This is good for everyone everyone because there are many different ways you can make money blogging. So we will be making a post on that next. But this a super legit way to work from home and be your own boss.
Choose A Niche For Your Blog
One of the most important things in blogging is choosing your niche. This is important for more one reason as well.
One thing you always want to figure out is just how much traffic is this niche going to be able to drive to your website or blog. If there are 0 to very few people searching for your blog content and what you are posting aobut you are never going be able to make money that way.
One of the best ways to start off is by writing about something you truly do have interest in. I know this sounds cliche but it's true because you should be able to type and type for days and days if it's something you enjoy writing about.
How to Find Good Niche
There are three main things you need to do when researching a niche.
Find the niche size. This is important because like I said above. If it's too big you may not get much traffic and the same for if it's too little as well.
Then you need to see who the competitors are. If it's a niche where only the big guys on the first page then you may be in big trouble and never be able to get there. For instance, if Walmart, Amazon, etc are on the first page then you are going to have no chance at all.
Lately, you want to make sure how profitable it is. And see what kinds of methods they are using to make money. You gotta make sure there is a way to make money in every niche you look into.
Choose A Good Brandable Domain Name
A domain is literally the name if your business. Which is why it is one of the most important things you can choose. You should pick something that stands out and is also easy to remember.
This used to be much harder before they release;eased all the new TLDs. Before all the good and short .com's were all taken and would cost you an arm and leg to buy it from someone. Now you can get something simple and rememberable at a much lower price.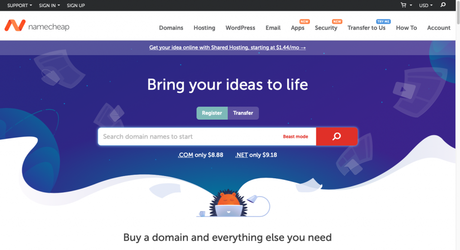 NameCheap
A domain is small expense usually. It will cost about 10-15yr depending on where you register it at. We always recommend NameCheap if you want to keep your hosting and domains separate. But really there is no need to if the host you choose makes it easy to move it later one
We will also be suggesting a host later on who offers free .com domains when you sing up with them.
Select The Right Web Host
One of the first things you are going to have to do is sign up for a new web host. This important because we all know google ranks based on speed now a days. So having a super fast host will help you rank better in the long term.
Most other always recommend BlueHost or Siteground just because that is who pays their affiliates the most amount of money. When in reality you should be choosing based on really and speed.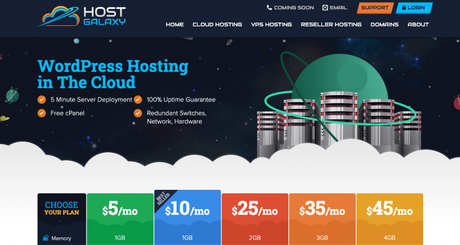 We recommend HostGalxy Just because they offer the fastest WordPress Hosting around. And with them your site is going to be hosting in the cloud which is the future fo sure. These guys are some how offering WordPress hosting in the cloud at the price the others offering slow HHD shared hosting.
They start off at just $5/mo. And that is no only on first time sign up deal. All the prices you see on their site are for life time. They don't make you sign up for 3 years up front to get that deal like the other do "Cough" BlueHost "Cough". So you can literally start your hosting today for $5 and also get a free domain name for free as well and have your site up and running in a few hours.
One of the biggest factors about being in the cloud these guys are offering 99.9999% uptime. Which when you are running a business online is one of the most important things. You can't have your site going down, because that just ends up costing you money.
We recommend that you sign up with either the $5 or $10/mo Plans. The first one $5 is the same as the second pretty much. You just get to host a few more websites. So if you just need to host one site now I would go with that one. Or if you decide you want to have more eventually then we recommend the second one.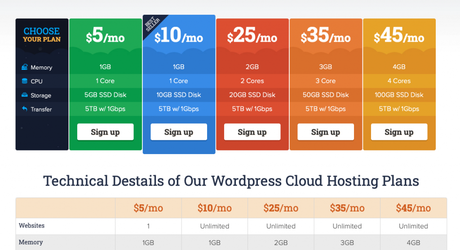 Once, you have decide which package to get click the "Sign Up" button adnd then you will see the following.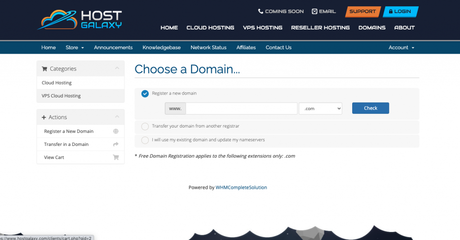 This is where you can select to register a new.com domain name for free. So if you have a good idea on what your domain is going to be this would be the perfect time to get the first year free and not have to pay for it somewhere else. However, the new TLDs are not available free. Those one cost them to much money to give away.
Once you have found a domain name that is available scroll down to the bottom and hit continue. Now you should see the following .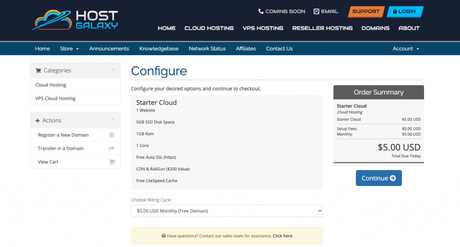 Now click the Continue button to move onto the next step. This is where you will get some options for the domain name. Make sure to check all of these three options at the bottom. It will make sure you get some important. features they offer for free, like free who is protection for one.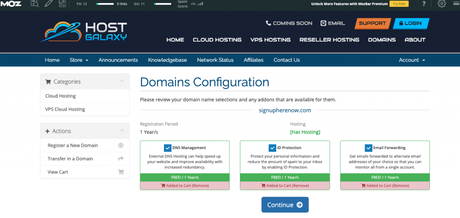 Now hit the "Conttinue"button again and then you will see the final step to review all the information and go through with your order. As you can see you get a free domain name so you really do get to start for only $5/mo unlike the other guys who make signup for multiple years to get the cheaper price.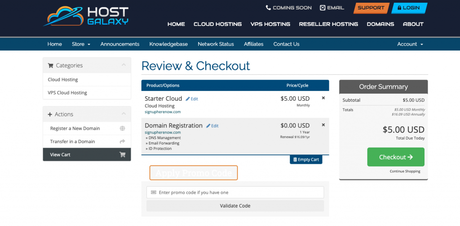 Now hit the "Checkout Out" button and you will come to the screen where you enter in all of your information. Just continue with this and then enter in your4u information, credit card number or pay with Paypal which ever one you prefer.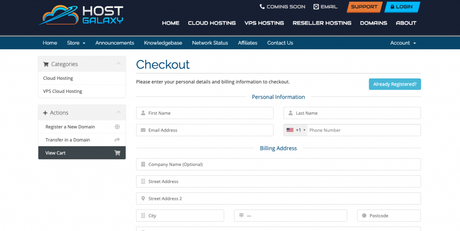 Now just make sure hit the "Complete Order" at the very bottom to make sure you finish this step and then put in your information. You will automatically emailed your information like your login info, cpanel info, etc. We will pick up below with how to setup your WordPress install. below.
Install WordPress
Installing wordpress is super simple now a days with the new one click install apps. But still we will show you step by step how to do below.
The very first thing you need to do is to login into Cpanel. Then once you are logged into that you will see a bunch of different options. Just scroll all the way to the bottom until you see the Softaculous App Installer Section. Then Click on the pone that says WordPress on it.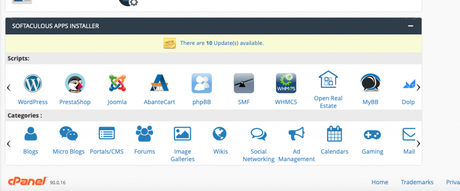 Now that you have clicked that you will see the following.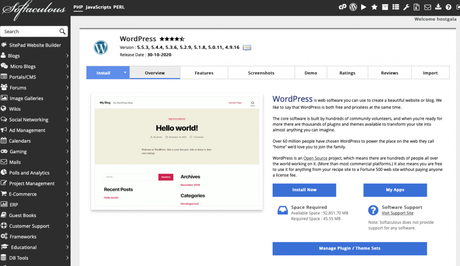 Now that you see this page click on the "Insta;; Now" button. This should bring you to the final page where you will see a bunch of options. But don't be to afraid it's much easier than you think. Her his what you should see now.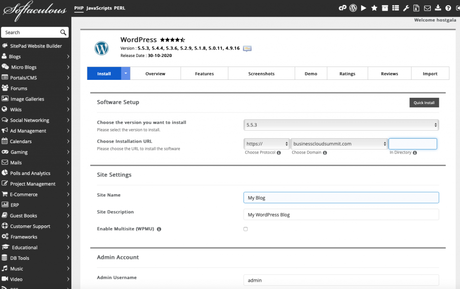 There are a few thing you need to fill out here in the first section. You can leave there WordPress version the same. After that make sure you choose the domain name or subdomain you want to install WordPress on. Then at the end of that you can choose which directory. I always delete the "wp" inside of there. It just makes it easier for to have it as the main part of your site. Unless you already have a part of your site would be the only time you would want to change it. Now onto the next section.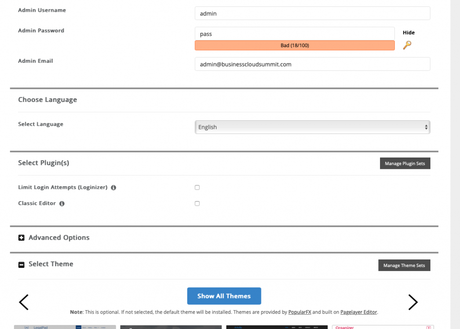 Here is where you can choose the admin username, password and email. You want to changer all of these fro security reasons. So make sure you remember what these are when you do. You will need them to login later. Also, you can choose if you want to install the classic editor or not. I wouldn't click this unless you are a WordPress guru who has been using it for years and just likes the old one better. okay, onto the final section at the very bottom.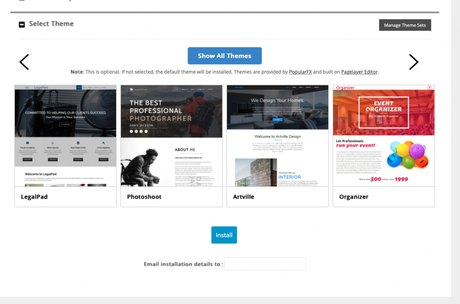 Here you just choose the theme that you want to have installed. This is the easy part. Then at the very bottom make sure you put in your email below it all. This way they will send you the login details for your new site. That includes the url for the main site as well as for the admin area as well.
Now we are done with installing WordPress. Now onto the final steps below that can really take it onto prime time.
Choose An Amazing Theme
Having a good theme depends on a few things.
It needs to look good for sure. This its going to be your brand and people need to see something they are never going to forget.
It needs to be fast. We talked about this before. The faster your website is the better you end up getting ranked if everything else is equal.
SEO Friendly - Not all themes are made the same. So you need to make sure your theme is made well internally so it does well when it comes helping you rank better
Some of the best themes have changed here recently. We now recommend the following because of their speed as well as there SEO potential as well.
Wpastra - This is one of the fastest themes out there just because of the size of the themes that you get. When they made these themes they started out from scratch and designed them with speed in mind.
GeneratePress - This is onother theme that was setup with speed in mind as well. These are now two ofd the fastest themes out there now a days.
The good thing is both of these options come with bunches on click import demos that you can install in just a few minutes.
WordPress Free Themes - If you cant afford the premium themes at first when you start this the official WordPress site where they have all kinds of free themes you can use. And most of them are quick and look amazing as well.

How To Install Your Theme
Once, you have found a theme you like you add them from the admin dashboard. Just login into the admin section and you will see a section that says Appearance. You should see the following.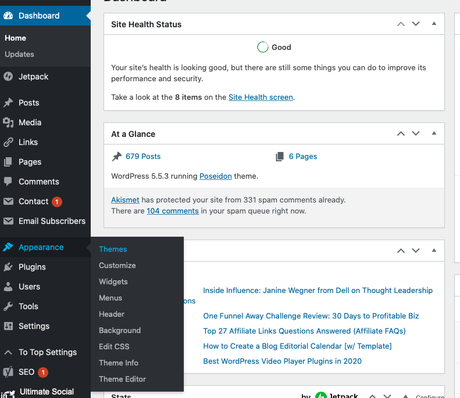 Now click on the "Themes" part it should bring you to this page below.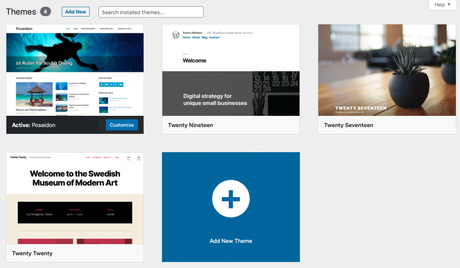 From here you can hit the "Add New" button at the very top. Then you will see a few different options that you can do on this page here depending on which route you decide to go with your theme.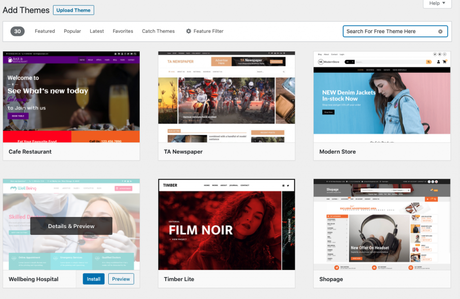 You can see I put in the top right Search bar "Search For Free theme Here." That is where you can search for and install the free themes from the WordPress website I had linked to earlier. And then at the top left there is an option that says "Upload Theme." That is where you upload another maybe premium theme that you bought some where else.
So now you guys should be ready and have the perfect theme installed here now. On to the final part of setting up your first blog. Some final but must have options down below.
Setup Important Plugins, Pages and Your Post
There are a few main things every blog or website should have. These may have been installed as demos when you installed your theme, but just incase they weren't here are a few essential pages everyone should should have.
Essential Pages For Your First Blog
Home Page - This is where people are going to learn about what your business is and how you can help them. This could even just be your blogs home page as well if you don't want to make different home page layout.
About Us - This is a must so you can introduce yourself and let the world know who you are. It's a very good idea to be honest and personable on this page.
Contact Us - There should always be a way to get in touch with you.
Privacy Policy - If you are going to be running ads, collecting email, etc you have to have this page as well. Most people link this at the very bottom of the page.
Essential Plugins For Your First Blog
There are a few must have plugins that every new blog should have. Here are a few of them.
You want make sure you have the YoastSEO. This plugin will make sure everything on your website is seo friendly and help you grade every post you make to make sure you are using the right keywords in the right places.
The next one is CloudFlare. This is another one that really helps with load time. It cut off as much as a half a second of load time or more sometimes.
If you went with HostGalaxy like we suggested above then you want to install the LiteSpeed plugin. This is to make sure it. uses their super fast LiteSpeed Servers to the fullest. We have seen sites come in at as little as .400 of a second. So this is a must on these cloud servers.
Couple Of More Essential Things
You need to get a custom Logo made for you or create one yourself. That is another man or part of creating your own site or brand if you will. It just makes your site look so much more professional.
Social media pages are a must as well. You are gonna want at least a Facebook page, Twitter and Pinterest page. These are the ones that tend to drive the most Social Media traffic to sites at the moment.