HAPPY NEW YEAR!
First, I have to apologize for delaying the rest of Best in Blushing Beauty 2012. I just had to spend some quality time with my family as it's so rare nowadays, with everyone's schedule, to get together. I hope you all were also able to spend the holiday season with all your loved ones as - and may 2013 be a prosperous year for everyone!
Continuing on with the Best in Blushing Beauty 2012 - today is about the my pick for the best facial skincare products. For your reference, I have oily/combination skin and suffer from sun damages. Although I don't have acne, I do occasionally break out and that usually ends up leaving a mark on my face.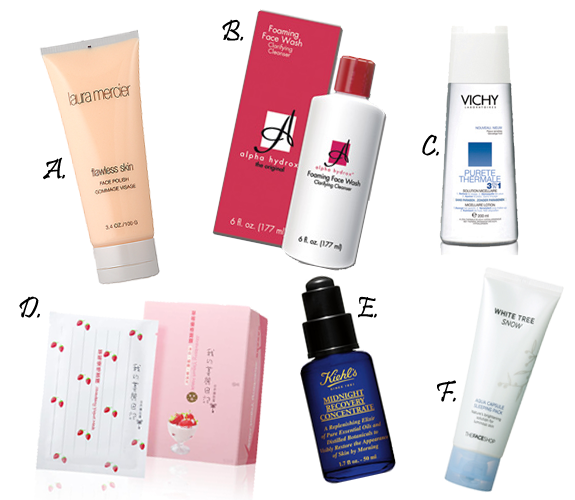 A. Laura Mercier Flawless Skin Face PolishI received this face exfoliator as a deluxe sample from Sephora and immediately went out that weekend to purchase the full size version. True to it's name, this really polishes your face by getting rid of "old" skin to reveal a softer and more radiant skin! You need just a small pea size amount so, although it is a bit pricey, it will last you a long time! 
B. Alpha Hydroxy Enhanced Lotion 10% Glycolic AHA Anti-WrinkleWhoops, the picture above is actually showing the face wash, but the lotion looks just like that! To be honest, I found this product to be just "OK", so why is it on this list? Because this lotion has done WONDERS for my sister's problematic skin. For years my older sister suffered from acne (really painful ones) and eczema around her mouth. NOTHING worked - that is until I suggested she give this a try. After a week of using this, we saw DRAMATIC changes to her skin - her eczema was no longer noticeable and it was drying her acne. Now, she is still using this religiously (with Clinique moisturizing gel on top) and I'm  happy to report that she is no longer suffering from symptoms of eczema, her acne has healed (she only gets it occasionally now), and her acne scars have lightened (some are even gone). So, for what it's done to my sister's skin, I just had to include it on this list!
C. Vichy Calming Cleansing Micellar SolutionThis product is a little weird - it claims to be a makeup remover, cleanser, and calming toner all into one; oddly enough, it does all that! This cleansing solution isn't oily at all - it is very gentle and feels like water on your skin, but it still removes all my makeup and leaves my face feeling soft, clean, and balanced! Although rinsing is apparently not required, I still follow up with a gentle cleanser + my regular skincare routine. Soon, I'll do a full in depth review about this wonder product!
D. My Beauty Diary Face MasksMy favorite face mask ever! There's a lot of different kind, my personal favorite is the black pearl mask and strawberry yogurt. This mask is loaded with essence, so you're skin feels like it's in heaven! I leave this on my face for as long as I can - minimum of 30 minutes and sometimes I sleep overnight with it on. My skin always feel great afterwards - super soft, glowy, and radiant! The packaging is also super cute and it smells amazing!
E. Kiehls Midnight Recovery ConcentrateA staple in my collection during the colder season. This concentrate is full of essential oil goodness that keeps my skin looking healthy all winter long! I pat a few drops of this into my skin at night and wake up to a healthy glow! 
F. White Tree Snow Aqua Capsule Sleeping Pack
Another face mask that I absolutely adore! If you're not familiar with a sleeping mask, it's basically a clear gel (or cream) mask that you apply before bed and  leave on overnight. This sleeping mask locks in the moisture and works while you're sleeping, resulting in a luminous and brightened face in the morning!