Hi, Lovelies! Can you believe that it's already the end of 2012? It's so strange to think that in a few more days, it'll officially be 2013. Nonetheless, I am super excited for the upcoming year and I sincerely hope that everyone makes 2013 their year!
To round up this year, I will be sharing with you all my Best in Blushing Beauty 2012. Although I've discovered
a lot
 of new goodies this year, these are the beauty products that have really stood out for me. Obviously, I love these products and highly recommend them!
I've split the Best in Blushing Beauty 2012 post into different categories. First up is Bath and Body Care!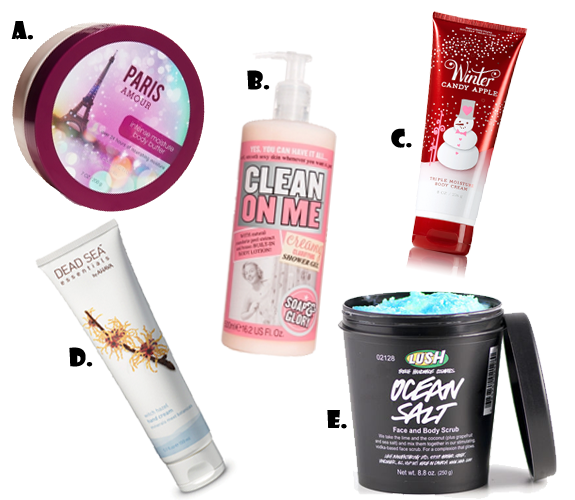 Best in Blushing Beauty 2012:
Body & Bath
A. Bath & Body Works Intense Moisture Body Butter
This body butter is absolutely amazing! I use it every night and wake up to really moisturized skin. It does take awhile to be absorbed into the skin, so I suggest using it at night and give it time to do its magic! For people with cracked heels, I highly suggest generously applying this all over your feet and sealing the moisture in by wearing socks; do this every night and you'll be amazed at the results! This body butter also comes in a variety of scents (pictured is one of my favorite: Paris Amour).
B. Soap & Glory Clean On Me Shower Gel
This shower gel has become a staple in my bathroom. It smells absolutely divine! I love how well it lathers and how the scent softly lingers on your skin so you can smell divine as well! It's a very creamy and moisturizing shower gel, so your skin will feel
super
 soft after your shower. FYI - if you
really
 love the scent, you can also use their wonderful hand cream called Hand Food which smells exactly like this one!
C. Bath & Body Works Triple Moisture Body Cream
While I love Bath & Body's body butters, I equally love their body cream! Unlike the body butters, these soak right into your skin and leaves it unbelievable moisturized without leaving any residue. These also come in a variety of scents. I have to give a special "shout out" to the scent Winter Candy Apple - out of all the scents I've tried, this one lasts all day! Unfortunately it is only available during the winter time, so if you can, stock up on it!

D. Dead Sea Essentials by AHAVA Witch Hazel Hand Cream
I came across this hand cream at Target while I was on the hunt for a temporary replacement for the one I had just lost. Little did I know that this would permanently replace it! This hand cream contains no parabens or phthalate, it's tested for sensitive skin,
and
 there's no animal testing! It is quickly absorbed into the skin and moisturizes your hands without making them greasy! You also get
a lot
 of product for your money - it's about $11 for a 5.1oz bottle and you don't need a whole lot to get the job done.
E. LUSH Ocean Salt
Ocean Salt is hands down the best body scrub I have ever tried! I have used it on my face before, but because it is a very abrasive scrub I recommend it more for the body.This scrub smells really good and it leaves your skin soft and glowing. This scrub plus a good moisturizer has really made it easier for me to maintain the "chicken skin" (aka keratosis pilaris) on my elbows.