Sarah from Slapsnap (how cool a blog name is that??) has awarded me with a Best Blog Award. Yaaay :) So, a huge thanks.
Here's my badge: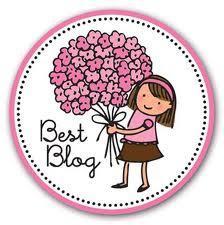 Awww, how cute :3
The Rules:
1.  Answer the following questions
2.  Mention and link who passed you the award
3. 
Share seven facts about yourself
4. Award 15 blogs
The Questions:
Whats your favourite colour? 
Purple
Whats your favorite song?
Oh, that is too hard. But, I think I'll have to say What I've Done, by Linkin Park.
What is your favorite dessert?
Chocolate Ice Cream
Whats pissing you off?
People who copy and paste to their status that Facebook is going to start charging unless you copy and paste something to your status. How stupid do people need to be....?
When you're upset you...
Cry. I cry way too easily, and sometimes it really bugs me.
Black OR white?
Black. White doesn't suit me, and I'd just make a mess anyway...!
Biggest fear? 
Being alone, and the dark freaks me out

Your best feature?
I used to always say my nose, until a supposed friend said 
"Really...?", 
so I'm not really sure what to say!!
Everyday attitude….
Positive. Life is too short to let people get you down. Everyone is different. Everyone has their own ideas.
What is perfection?
Actually, perfection is being broken and full of faults,
 and being completely happy with it.
Guilty pleasure…
Chocolate. Cakes. You get the idea....
Award Given by Sarah
Seven Random Facts about Me
I was once a member of the B*Witched Fan Club 
(oh yes!)
The first film that I ever saw at the Cinema, was Hook 
(I got chewing gum on my cardigan!!)
I still own a Pikachu toy from 1999 
(it sits proudly on my desk!)
I have Lifesaving and Diving Badges in Swimming 
(although, I lied at School and claimed I didn't have any!)
I worry way too much
(about everything!)
Despite being a writer, I HATE literary classic novels(with a PASSION!)
I also hate poetry(*snore*)
Passing the Award on to....
Lady From a TrampDottie KTemporary Secretary
Beauty Boudoir
Le Petit Jardin de Liloo
Betwixt Beauty
Busy Lifefilms
Navilicious Beauty
The LC Issue
I was going to do 15, but I'll be honest, I ran out of time for writing this post.
But, make sure that you check out these blogs, and share some of the love ;)