Happy Monday everyone! Hope you enjoyed your Christmas and weekend =)
Words cannot describe how much I love this kit! I am pretty new to the brand, and this kit features their best products and I love every single one of them. Everything is sample size, but each will last awhile, especially the face powders. The kit is $32 at Sephora and is limited edition. I am seriously considering getting another one of these kits to have as back up.
 This kit comes with:
1.) Erase Paste Concealer in Medium: very creamy, smooth, easy to blend and good coverage without being cakey.
2.) Stay Don't Stray Primer: a little thin and runny, but excellent primer. It kept my eyeshadow from budging. I like this better than Urban Decay's Primer Potion.
3.) That Gal brightening face primer: nice, subtle brightening effect. The fact that it is pink scared me a little, but is not a problem. My foundation did stay on very well.
4.) The Porefessional primer: nothing very special as far as primers go, but it did serve its purpose. I applied about 7 hours ago and my skin did not get as oily, and foundation is still on.
5.) High Beam. Very easy to apply, gives just enough of a "glow", not to shimmery.
6.) Posietint: lovely light pink tint, color lasts a long time, but it is a little drying.
7.) Benetint: natural looking red tint, lasts all day, I found it to be less drying than Posietint.
8.) Ooh La Lift eye brightener: didn't expect much from this product, but it does work.  My eyes looked a little brighter.
9.) Dandelion Brightening Face Powder: I love Benefit's face powders and this is no exception. It is perfect when you need just a little color. I use it just after I apply High Beam on my cheek bones, and it really makes my high cheekbones stand out. And it makes me appear more awake. It is described as a soft pink, but I don't really see that. It looks more like a peacy-pink with slight gold shimmer; more matte than Bella Bamba. And this actually smells like flowers.
10.) Bella Bamba brightening powder: gorgeous medium pink with gold shimmer. It does have a slight sweet, fruity scent.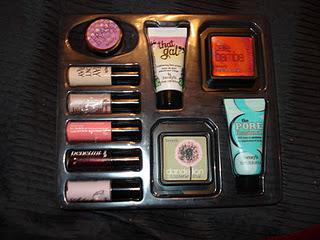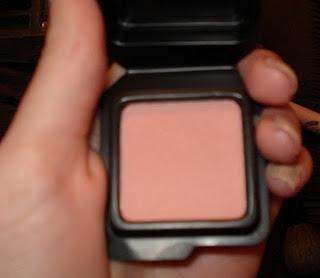 Dandelion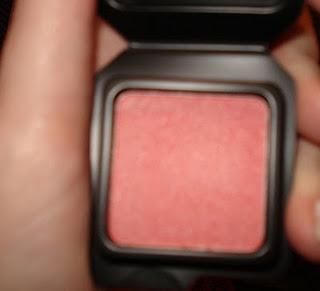 Bella Bamba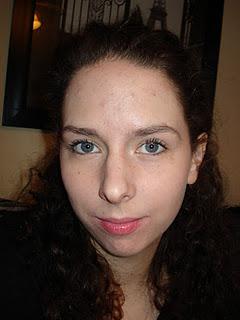 I used Porefessional, High Beam, Dandelion,Ooh La Lift, Erase Paste and Posietint.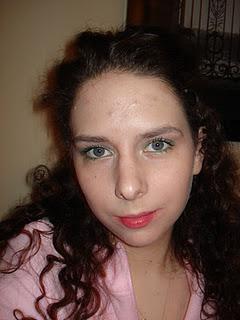 I used That Gal primer, High Beam, Dandelion, Erase Paste and Benetint. I think you can tell a difference in the primer I used; it seems that "That Gal" really does brigten up my face a bit.