I am new to the Benefit brand, so this palette was a good way to introduce myself. It has nearly everything you need for a complete look; a highlighter, blush, 4 shadows, a lip gloss and mascara. Plus it has instructions.
Girl Meets Pearl: lovely highlighter that looks great on cheekbones
Eyeshadows in Pink Fancy, Icy Lilac, Posh Amethyst and Precious Pewter. Pretty good quality; not as smooth or as pigmented as I like, but still good and not enough to keep me from liking it.
Bad Gal Lash Mascara: Good mascara, not as great as my Lancome Doll Lashes, but it is nice. It is really good and defining and separating lashes. Also adds length and some volume.
Life on The A List gloss: light peachy pink, not sticky or thick, nicely pigmented, non-drying.
This is great if you are new to Benefit or makeup. It really has everything you need to create an easy but very put together look.
It was really hard to get the eyeshadows to swatch well as they are so soft and light.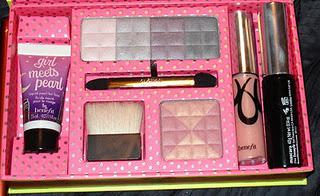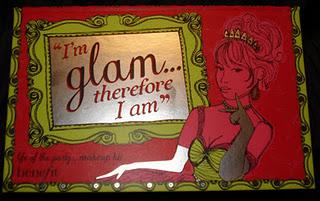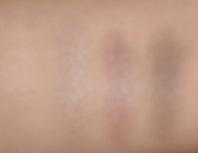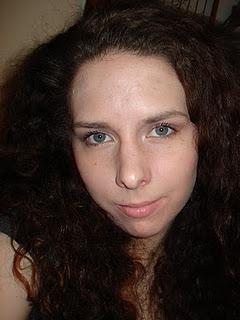 Wearing all of the products. Not so much glam as a soft, smoky purple eye suitable for everyday. But I do really like the products.