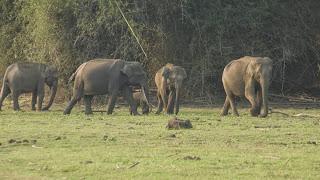 The Begur wildlife sanctuary is located at a distance of about 20 kilometres from Wayanad
in the south-western state of Kerala. The sanctuary is situated at Mananthavady near the Western Ghats on the Wayanad plateau. This particular sanctuary is known to be one of the most beautiful sanctuaries in all of Kerala owing to its picturesque environment. The sanctuary is rich in biodiversity in terms of both flora and fauna. 
The sanctuary is also an important part of the neighbouring Bandhipur national park and the Nilgiri biosphere reserve that have been established keeping in mind the biological heritage of the region.
Flora and Fauna
The flora that makes up this sanctuary is a mix of tropical deciduous evergreen trees and semi evergreen trees. The trees that grow here are also related with medicinal values making them an integral part of the biosphere. 
There are also small grasslands amidst the thick deciduous forests which provides as a grazing land and hunting grounds for the animals. There are also many watering holes out which most are fed by the monsoonal rains. 
The fauna that one can find when visiting this sanctuary comprises mainly of elephants, spotted deer, barking deer, sambar, boars, tigers, leopards, jungle cats etc. There are many reptiles too that slither or crawl on the grounds and tree tops. 
Some of the reptiles that one may see here are various species of lizards, snakes such as viper, cobra, krait etc. A lot of birds also can be found nesting in the sanctuary. Some species that you can spot here are the bulbul, pea fowl, owls, cranes etc.
Activities
Photography- this is one of the must do things when here. Do not forget to carry a camera when visiting this picturesque and stunning sanctuary of Begur. You could capture many animals and birds when visiting this area. 
it can be said to be a photographers paradise with all the beauty and abundance of wildlife surrounding it. Hiking and trekking- these two are activities are the best way to explore the abundance of nature that blooms here. Take a walk towards the peak of the plateau and experience the panoramic view of the sanctuary and its adjoining areas of Nilgiri.
 It also provides you with a breath of fresh air and solitude that you can enjoy. Bird watching- this sanctuary being home to a number of avian creatures creates the perfect place to bird watch. Be sure to carry a pair of binoculars to spot the birds nesting and roosting atop the tall lush green trees that carpet the plateau of Wayanad.
Camping- this is one activity that you should definitely try out. Staying in the wild with cries of wild animals echoing in the night is definitely a thrilling experience.
Accommodation and Restaurants
As the sanctuary is on the Wayanad plateau there aren't any hotels in it however some of the few that are located at a short drive are Ente Veedu (7.4 kms away), Wayanad Lux Inn (8.2 kms away), Hiliya Resorts (9.4 kms away) and Rain Country Resorts (10.3 kms away) etc. If you need to eat it would be better if you carried some packed lunch however some restaurants which are a short drive away is Century restaurant (10.5 kms away and 10.7 kms away).
Best Time to Visit
The best time to visit is June to October. During summer season, the temperature shoots upto 35-38 degree Celsius while during the winter time, mercury falls down as low as 10 degree Celsius. More of all, due to the scarcity of water during winter season, animals migrate to Begur making it a home of various wild species.
How to Reach 
Begur is located quite near to Wayanad as it is just 20 kms from this renowned wildlife sanctuary of Kerala. The sanctuary is connected with excellent means of roadways and the availability of railways and airports quite nearer makes it even easier for tourists to excess coming from faraway places. The nearest railway station is at Thalassery which is about 80 kms away while the nearest airport is of Karipur, 106 kms away.