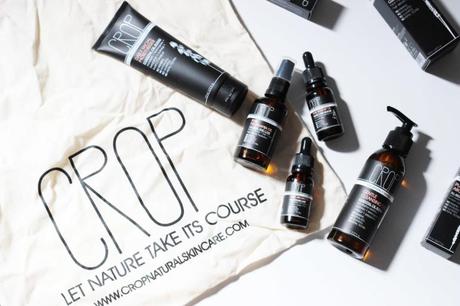 Today, I've got the spotlight on a new brand that has launched just last month in September. If you're like me and find yourself wandering off to the beauty section during your grocery shop, you might have already spotted Crop Natural Skincare's new range in Coles.
Crop's range consists of Daily Facial Moisturiser (125ml/$12), Gentle Cleansing Gel (125ml/$12), Double Sided Facial Wipes (25 Wipes/$6) and 3 pure oils – Rosehip (20ml/$18), Macadamia (20ml/$15) and Argan (20ml/$18). They adhere to a "No parabens, No phthalates, No sulphates and No animal testing" policy.
I was most curious about the Double Sided Facial Wipes given that the only times I have used wipes were make up removal ones during my travels. This facial wipe is specially made for exfoliation (using the side with textured microbeads) and then soothing/brightening (using the reverse smooth side). The viscose material is extremely soft and gentle on the skin yet not too thin that it tears easily. I really enjoy it and it's definitely going in my bag on my next trip since it's such a convenient way to exfoliate.
The next standout from the range for me is definitely the Pure Macadamia Oil. I use it as a cleanser to remove my make up. I do finish up with the Gentle Cleansing Gel sometimes but other times, I simply wipe off with a cotton pad drenched with a toner. Use it on your hair and nails too for "high density hydration". Equally good, in my opinion, is the Gentle Cleansing Gel. I adore the gel texture with its soothing essential oil blend made up of Eucalyptus Radiata, Rosemary, Lemongrass, Cajeput and Peppermint. It cleanses well without drying my skin out.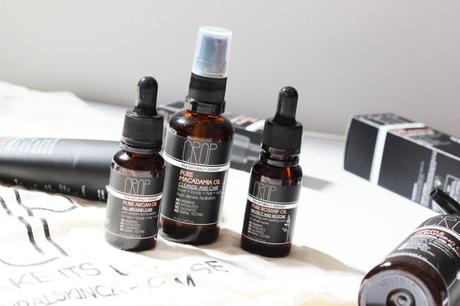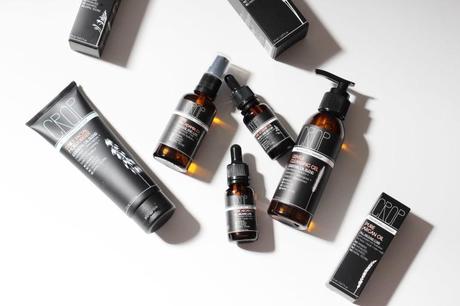 I enjoy using Rosehip oil every once in a while when I go to bed. Crop's Pure Rosehip Oil has become the one I have been reaching for over my Sukin and Rosehip Plus. For some reason, I have become quite averse to the smell of the Sukin one. Lucky for me, Crop's Rosehip Oil doesn't have a strong smell that puts me off. I also find that it's a bit more lightweight and absorbs better than the Rosehip Plus one. It's become my favorite now and I sometimes wear it under make up (something I never used to do with rosehip oil).
Pure Argan Oil is another great one for face, body, hair and nails. Its antioxidant properties help to fight aging and restore elasticity to the skin while also strengthening nails and aiding nail growth. Last but not least, the Daily Facial Moisturiser is a lightweight moisturiser infused with an essential oil blend made up of Mandarin, Lemongrass, Bergamot, Nutmeg and Basil Oil. I do enjoy the citrus scent and how quickly and easily it absorbs into the skin without being greasy. However, my skin has been quite dry and flaky lately so I didn't feel like it was hydrating enough for me. I just add in a couple of drops of Macadamia/Rosehip or Argan oil.
Overall, I'm excited about this new range and I have already recommended it to a few friends. I definitely give it the thumbs up for its affordability and quality and am looking forward to any other products they have in the future (hopefully!).
Crop Natural Skincare is available in Coles. You can also check out their website here.
Have you tried any product from this range? Or which one are you most interested to try?
*This product has been sent to me by PR. My opinions are genuine and uninfluenced – honesty, always. Check out my
Disclosure Policy
for more details.