Cupcake is the third fresh face mask I've tried from LUSH. You can read my thoughts on their Cosmetic Warrior mask here and their Catastrophe Cosmetic here.
Cupcake is designed for teenage or oily skin, and while my teenage years are far behind me, unfortunately my oily skin is not so I thought I should give this mask a try.
I guess the gimmicky side of this mask (and there's always a gimmicky side with LUSH) is the use of cocoa powder as an ingredient. I'm pretty sure it doesn't have any special properties which help oily skin, but it gives this mask the appearance of melted chocolate. It's rather disappointing when you take a sniff of this mask and it doesn't smell how it looks. What you smell isn't chocolate, but a strong, fresh mintiness.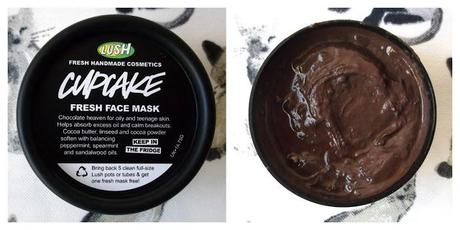 The texture of this mask is quite thick and gritty, meaning that it has an exfoliating effect when you rub it off. Personally I don't really like this. The fresh face masks have a very short shelf life because of all the fresh ingredients. Generally they have to be used within around 3 weeks of purchase. This means that I use mine around 3 times a week to make sure I use all the product before it's past it's best. For me exfoliating 3 times a week is just too much, even for my oily skin.
After using this mask I do see a visible difference in my skin, however it was nowhere near as significant as with Cosmetic Warrior which has been my favorite LUSH mask so far.
I'm sure this mask would be ideal for very young skin which is in it's first flush of spot riddled angst. For me though, with my probably-stuck-with-it-forever oily skin, it just wasn't quite right.
Lisa x