It feels like the hunt for the perfect cruelty free mascara to replace my beloved Lancome Hypnose Drama will never end. When I picked up this cheap, gaudy looking mascara from Collection (formerly Collection 2000) I wasn't expecting too much.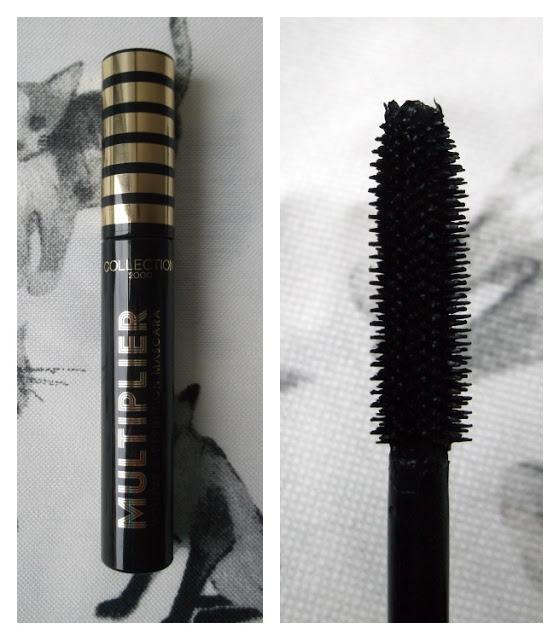 The gold and black packaging looks like something someone from The Valleys would think is 'glam'. Luckily the gold rubs off almost immediately! Much like the writing is known for rubbing off of the much loved Collection Lasting Perfection Concealer.
The mascara wand is plastic, which I don't usually go for. I tend to prefer the fiber brushes. At £4.99 though, I grabbed it in my local supermarket and thought I'd give it a go. I was pleasantly surprised with the results.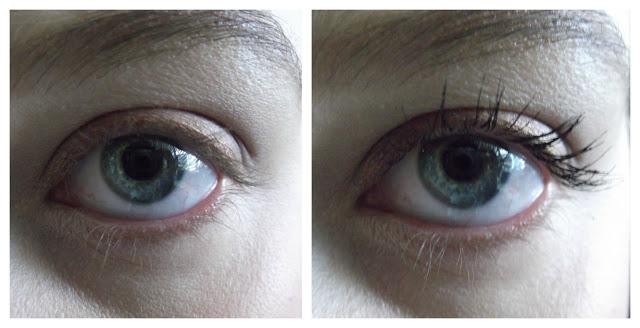 Above is a before and after photo. In the before I have absolutely nothing on my lashes. In the after I haven't curled my lashes with a lash curler or primed them in any. I have two light coats of Collection's Multiplier Mascara on my top lashes only.
I put my mascara through a lot during the day. At work I am constantly on my feet, usually soaked from cleaning animal enclosures and covered in animal hair, poo and other unspeakable things! By the end of a working day this mascara does sometimes smudge a little under my eyes, but for general use it doesn't budge.
If you are in the market for a little cheapy mascara to separate and lengthen your lashes, for a natural daytime look then I really recommend this. It's also cruelty free *big smiles*! I've tried mascaras three to fours times the price of this one and the results were certainly not 3 to 4 times better!