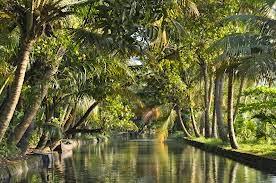 Kerala is a place in the country that has earned itself much fame and prosperity. And why not? Indeed it is one of the most beautiful and successful states in the world. It is replete with many of nature's gifts and endowments. There are many lakes, lagoons, canals, backwaters, beaches, hills and mountains that it is blessed with. Also, Kerala is a state that celebrates its festivals with much pomp and ceremony. The state is mainly Hindu but also there are a significant number of Christians and Hindus. Onam is one of those festivals that are celebrated with much love and jubilance in unison regardless of what religion or caste they belong to. It is a time of the year when people forget their differences and celebrate being a part of this wonderful state. One of the primary features of the celebrations in Kerala is the boat race. It is a sport that is much loved and adored.

There are many boat races in Kerala that happen at certain points during the year but mostly people wait for the harvest festivals such as Onam in order to celebrate. They take place at the many lakes, canals and backwaters that are in the state. One of the boat races that have been in existence in the state since a long time is the Champakulam Moolam Boat Race. It takes place in the river Pampa at Champakulam, Alappuzha. The boats that are used are popularly known as snake boats because the huge sterns of these boats look like the hood of a cobra. Legend has it that a temple was built at Ambalappuzha as per the suggestions of royal astrologers in the ancient kingdom. But when it was discovered that the idol which was to be placed here would be inauspicious, a new idol was brought to this place from Karikulam in Kurichi. The idol was brought on a boat and therefore the king who ruled the land at the time pronounced that a sport be organized on this particular date every following year. That is how this boat race came to be.
Among the other Kerala boat race is the Nehru Trophy Boat Race takes which takes place on the backwaters of Punnamada. It is a competition that involves rowing and the men who take part in it are competing in one of the most coveted prize which is the Nehru Trophy. The rowing competition did not always have the name that it does today. It is known that when former Prime Minister, late Pt. Jawaharlal Nehru visited this place he was enthralled by the enthusiasm of the teams who took part in the competition. This made him announce an award that was to be given to the winners of the event. Ever since this announcement, the reputation of this event has been elevated to a higher level. The award also includes a trophy which is in the shape of a silver snake boat.