–Note: This is a pure reproduction of the press information I received. Product review will come very soon! In the meantime, check out the global launch of this product in Seoul at their Global Beauty Camp.-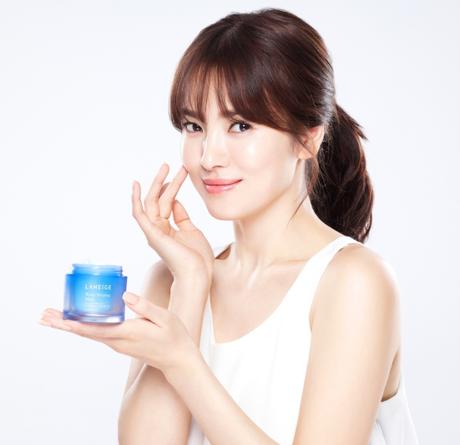 It is no surprise that lack of sleep can result in skin that feels dry and looks dull. But what if we told you there is now an astonishingly easy way to treat fatigued skin overnight and give it a well-rested appearance?
Developed based on the results of in-depth surveys and clinical tests on the link between skin condition and the quality of sleep, the new and improved LANEIGE Water Sleeping Mask helps restore the skin to its optimal condition during an 8-hour sleep, providing intensive hydration while boosting skin recovery to leave it looking clear and revitalised when you wake up – as if the skin, too, has had a good night's sleep.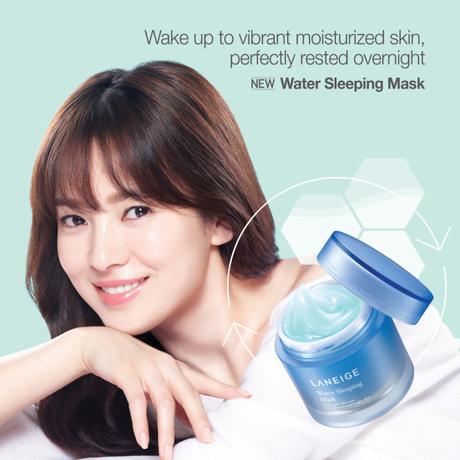 Having studied the skin conditions of more than 220 Asian women, the team of researchers from skincare expert LANEIGE found that insufficient sleep has a negative impact on the skin's detoxifying and purifying functions, causing skin to lose its shine the next morning. The reason: while the skin is better able to absorb active ingredients at night, the heightened permeability of the skin also means it loses moisture at a faster rate. With the reformulated Water Sleeping Mask, it not only ensures a continuous delivery of active ingredients overnight, but also intensively moisturises the skin to give it a long-lasting natural radiance.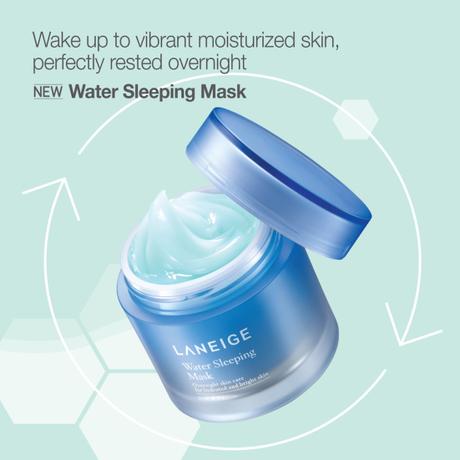 Reformulated for Revitalised Skin
With more than 16 million bottles sold globally since its launch in 2002, the Water Sleeping Pack was awarded the World Class Product of Korea certification in 2014 by the Ministry of Trade, Industry, and Energy – a first in the cosmetics industry. The revolutionary skincare product has also seen five reformulations, each a step up from its predecessor.
This year, the new Water Sleeping Mask, renamed from Water Sleeping Pack, has evolved into a functional sleeping mask, with three exclusive patented technologies that work in synergy to deeply hydrate, soothe, and purify your skin as you sleep.
1. Purifying: SleeptoxTM
A purification technology that repairs the damages caused by various external aggressors during the day and also restores the skin to its optimal condition overnight by preventing degeneration of skin cells. It comprises two key ingredients: the antioxidant-rich Hunza Apricot extract that helps to boost and strengthen the detoxification and purification ability of the skin, and the skin-healing Evening Primrose Root extract that helps the skin to discharge contaminants from the skin that has been accumulated in the day. According to the results from a clinical demonstration after seven days, with three times usage, the size of pores showed a 15.5% reduction in appearance and the skin also showed 26.3% improvement in radiance.
2. Moisturising: Moisture WrapTM
A moisture-rich beta-glucan mineral network that forms a porous moisture film to lock in moisture and stabilizes the effective ingredients in SleeptoxTM to be continuously delivered deep into the skin throughout 8 hours. Clinical results showed that, after seven days of use, those who have had a good sleep the night before reported a 9.6% improvement in skin moisture, while those who have had a bad sleep reported a 15.79% improvement. Overall, 97.5% of the 200 users testified to a better skin condition the morning after use of Water Sleeping Mask.
3. Soothing: SleepscentTM
Containing natural fragrances from Orange flower, Rose, Ylang Ylang, and Sandalwood Oil, it helps relax your body and mind to improve the quality of sleep. This promise is backed by clinical data, which showed that the patented scent works to prolong the two stages of deep sleep by 36% as well as reduce body movements during sleep by 60%. The improvement in the quality of sleep will, in turn serve to strengthen the skin's regenerative ability.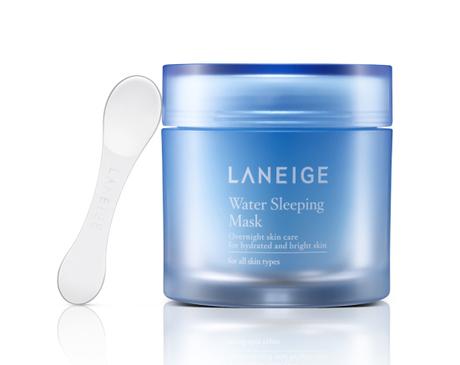 How To Use
To be used before bedtime as the last skincare step, after skin refiner and emulsion. Using the provided spatula, take an appropriate amount (approximately 2.5cm in diameter) and dab it on nose tip, cheeks, forehead, and chin. Inhale for three seconds, allowing the SleepscentTM to soothe your mind and body. Gently spread the mask over the face and leave it overnight. Recommended usage: Twice or thrice a week.
Price & Availability:  The Water Sleeping Mask (70ml) retails at $42 and will be available at all LANEIGE counters and boutiques from May 7, 2015 onwards
LANEIGE boutiques are located at:
ION Orchard – 2 Orchard Turn, #B3-66A S(238801)
Plaza Singapura – 68 Orchard Rd, #03-77 S(238829)
Suntec City – 3 Temasek Boulevard, #01-312 S(038983)
JCube – 2 Jurong East Central 1, #01-04 S(609731)
Jurong Point – 1 Jurong West Central 2, #01-59/79/80 S(648886)
Parkway Parade – 80 Marine Parade Road, #01-20 & 21 S(449269)