Since I did it last year, I've had several requests asking for the various brands' Christmas sets for this year, so without further ado – here you go! Since they're all too much for me to upload at one shot, I'm just gonna go brand by brand. First up, we've got Too Faced (simply cos the dollhouse limited edition is too gorgeous!)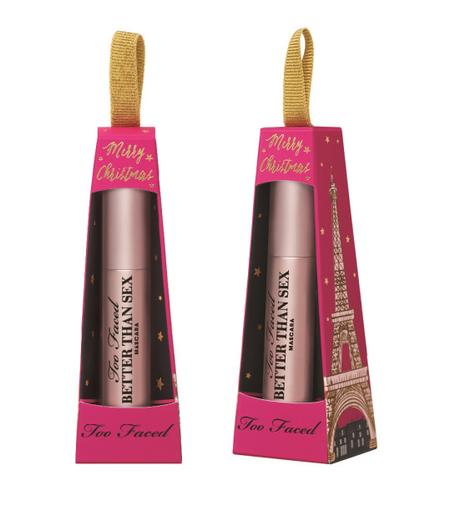 Too Faced Better Than Sex Ornament – S$17
Give the Gift That's Better Than Sex
This festive little ornament contains a deluxe size of our bestselling collagen-fueled, voluptuous volume mascara. The hourglass-shaped brush unlocks the formula to create the perfect mascara that volumizes, lifts and coats both tops and bottoms of every little lash for extreme curl and dramatic lashes.
Make Merry
Film-forming Polymer for smudge-proof, all day wear
1,944% more volume
Too Faced's #1 bestselling mascara
Acacia Senegal Tree Extract to nourish, thicken and lock curl in place
Unique Peptides for the deepest, intense black possible
—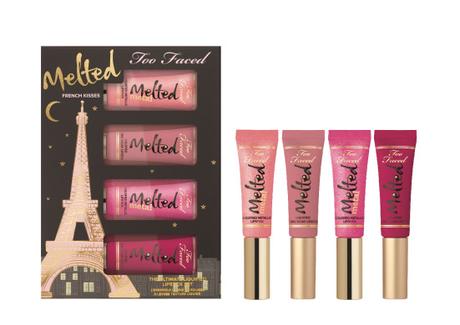 Too Faced French Kisses Melted – S$35
Pucker Up
Indulge your lips with four clutch-sized tubes of our bestselling Melted Liquified Lipstick (including two new Melted Metal shades!). Our innovative formula drenches lips with gorgeous pigment while keeping a comfortable, flexible, and cushiony wear. Get the lasting power of a stain and the intense color of a liquid lipstick—the perfect party companion for any mistletoe action.
Sealed with a Kiss
The ultimate liquified lipstick set
Includes 2 of our bestselling original shades and 2 new metallics
Inspired by the intense, glossy form of liquid lipstick in cosmetic lab vats
Precision tip applicator allows for a clean, effortless application each time—no brush or liner needed!
4 deluxe sizes of Melted Metallic Peony, Melted Chihuahua, Melted Metallic Macaron, and Melted Berry
—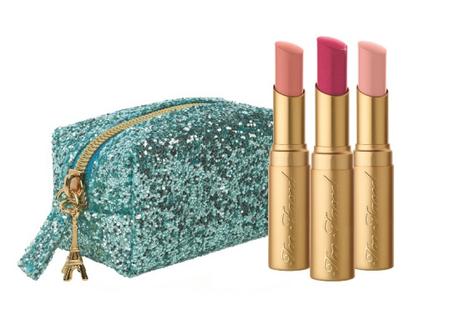 Too Faced Le Petit Tresor – S$40
Let it Sparkle
Get ready to pucker up under the mistletoe and drench your lips in three limited-edition shimmer versions of our bestselling La Crème Color Drenched Lip Creams. Indulge your pout with the luscious, moisturizing white-lotus-flower and power-peptide formula with pigment-rich, one-swipe color. Bonus: Pretty to-go glitter bag—just the right size to slip into your Christmas clutch.
Drenched with Benefits
2 original shades of La Crème Lipstick and one new shade infused with a shimmer formula you can't find anywhere else
White Lotus Flower Extract provides lip conditioning benefits
Power Peptides help stimulate collagen and aid in the appearance of smoother lips
Pigment-saturated, one-swipe formula
—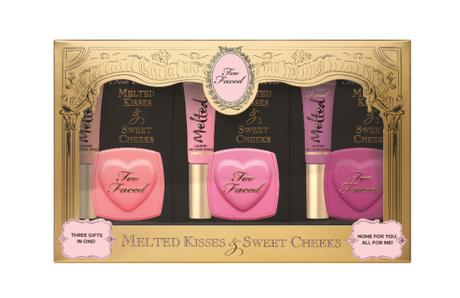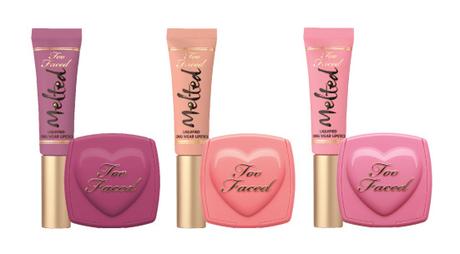 Too Faced Melted Kisses & Sweet Cheeks – S$50
Perfect Pair
Christmas is the perfect time to kiss & flush! This sweet set contains three deluxe Melted Lipsticks and three coordinating deluxe Love Flush  blushes. Melted Liquified Long Wear Lipstick gives the lasting power of a stain and the intense color of a liquid lipstick in one long-wear  formula—the perfect party companion for mistletoe action. Then, blush all day and night with the flush of true love: our long-wear, fade-proof, smudge-proof formula keeps your cheeks perfectly flushed for up to 16 hours. All 3 pairs are individually wrapped and nestled inside one pretty package—give as one present or spread the love by gifting each pair separately!
The Sweet Details
The ultimate liquified long wear deluxe lipstick trio and three coordinating deluxe Love Flush Long-Lasting 16-Hour Blushes
Deluxe Melted Nude & Love Hangover, Deluxe Melted Peony & Justify My Love, and Deluxe Melted Fig & Your Love is King
Pigment-rich, high-impact shades give a pretty pop of color for any skin tone
The long-wearing formulas of Melted and Love Flush ensure party-perfect gorgeousness all day and night
—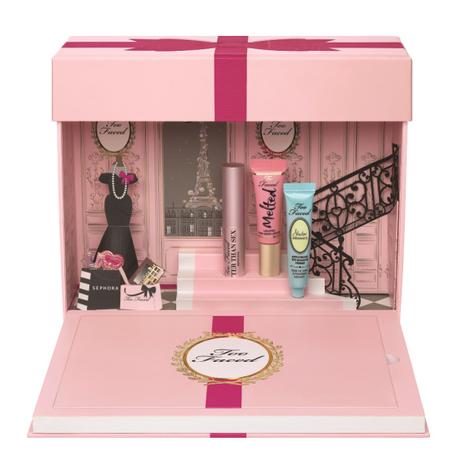 A box that opens up to reveal a cute dollhouse… and that's not all. Notice that little booklet below on the opened flap?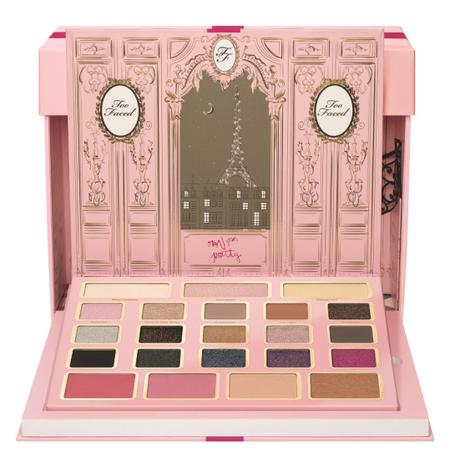 It actually opens up into a removable powder palette!
:D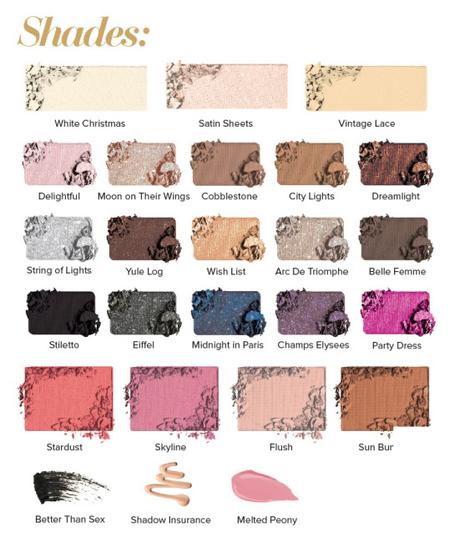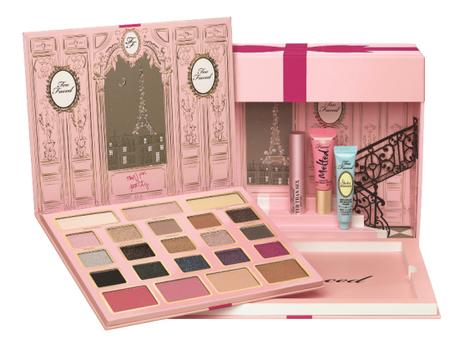 Too Faced Le Grand Palais de Too Faced – $80
Bonjour, Cherie!
Unwrap the most beautiful collection you'll see all season and open the doors to your new favorite palette! This exclusive limited-edition set includes our top-selling superstars: the deluxe awardwinning Better Than Sex Mascara, deluxe Melted Peony Long Wear Liquified Lipstick, cult favorite Shadow Insurance Eye Primer, two bronzers, one blush, one highlighter, and best of all: 18 gorgeous eye shadows in hand-selected party-ready shades. It's a festive full-face kit so versatile, you'll never have to wear the same look twice (though you may want to!).
Welcome to the Maison
18 pigment-rich eye shadows
1 bronzer
2 blushes
1 highlighter
A deluxe size of the award-winning Better Than Sex Mascara
Deluxe size of our bestselling Shadow Insurance Eye Primer
Deluxe Melted Long Wear Lipstick in universally-flattering Melted Peony
Step-by-step how-to Glamour Guide with 3 beauty looks to get you started
 – Available on 1 November 2015 at Sephora –