Having BEAN CURD WITH OYSTER SAUCE as a side dish is quite sweet, it not only does favours to your body and keeps you fit but the person himself also feels great. This BEAN CURD WITH OYSTER SAUCE recipe is quite easy to make, as long as you know how to stand in a kitchen you can cook this with flying colors. This Honestly this BEAN CURD WITH OYSTER SAUCE recipe is makable by anyone and suitable for everyone. BEAN CURD WITH OYSTER SAUCE can be your side dish which can also be enjoyed on its own as well as with any meal (e.g. your healthy lunch meal). Suitable for vegetarians.
Ingredients:
1/2 lb Soy Bean curd (canned or fresh)
1/2 c Chicken stock
1 pinch Sugar
2 Green onions
2 tbsp Premium oyster Sauce
1/2 tsp Minced Garlic
2 tbsp Peanut oil
1 tsp Peanut oil
Cornstarch paste
Directions:
Slice Bean curd into 1/4″ cubes; sliver green onions.
In Hot wok, heat oil just to point of smoking.
Add Bean curd, green onions and Garlic.
Stir gently to avoid breaking up curd; turn pieces to coat with oil.
Be sure oil is not too Hot or curd will tend to stick to pan.
When aroma of Garlic is apparent, add stock and bring to boil.
Lower heat, cover, and simmer for about 30 seconds (don't let curd fall apart).
Remove cover; stir in oyster Sauce and Sugar.
Increase heat, and when liquid boils again, add enough cornstarch paste to make a creamy (but not too thick) Sauce.
Swirl in peanut oil to make a glaze.
Serve over Rice or in a shallow serving bowl.
Enjoy!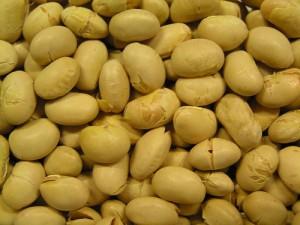 Photo by: T.Hagihara