There is something about fresh green beans that bring me back to my childhood and spending time at my grandparents house in the summer. I would head out with my Grandpa to his garden and pick buckets full of fresh fruit and vegetables. My favorites were often the green beans and I would eat handfuls raw, so crispy and fresh.
This salad reminds me of those summers picking beans and berries. Budget and vegan friendly, the leftovers make great lunches and it can be modified so many ways. The perfect summer salad.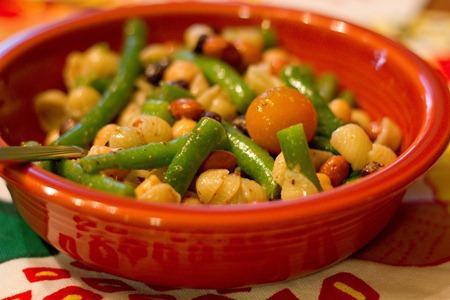 Bean and Pasta Salad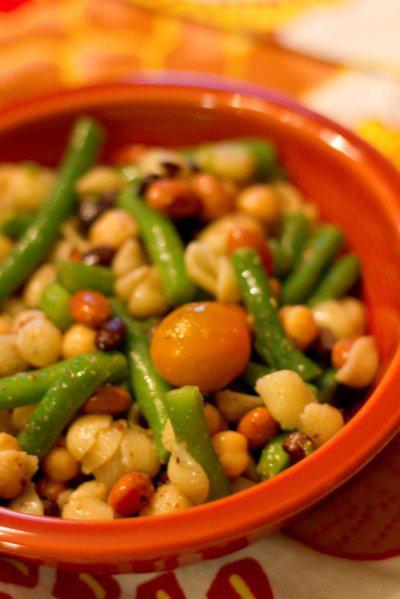 Prep Time: 15 Minutes
Cook Time: 10 Minutes
Keywords: salad vegan
6026133
Ingredients (Serves 6-8)
For the Salad
8 ounces pasta shells
1/2 pound fresh green beans, cut into bite sized pieces
1 can pinto beans
1 can chickpeas
1 can black beans
1 pint cherry or grape tomatoes
4 green onions, finely diced
4 stalks celery, cut into bite sized pieces
For the Dressing
1/3 cup olive oil
2 tbsp Dijon mustard
3 tbsp red wine vinegar
2 tbsp agave nectar
Salt/Pepper
Instructions
Cook pasta for 3-5 minutes, add in green bean pieces. Drain and run under cool water. Set aside to further cool.
In a large bowl add tomatoes, green onions, celery, beans. Top with cooled pasta and beans.
In a small bowl whisk together olive oil, mustard, red wine vinegar, agave nectar and salt/pepper.
Pour over salad and serve immediately or chill for an additional few hours. Makes great leftovers for lunches!
Powered by
Recipage