Review of:
Barry M All in One Nail Paint
Price:

£3.99

---

Reviewed by:

Rating:

5

On

February 2, 2013

Last modified:

March 18, 2013

---

Summary:
More Details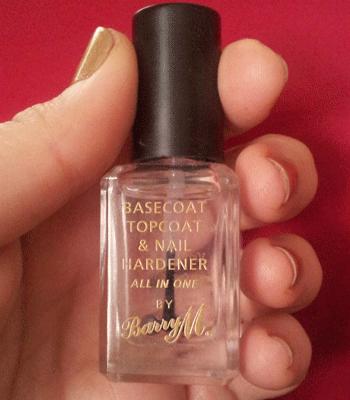 I've searched high and low for a good topcoat and basecoat, so I was very pleased when I saw that Barry M had a nail hardener that combined the 2. On the most part, I've always liked and respected the Barry M brand. It's simple, colourful, cheap and effective which in my opinion is the perfect combination!
As a basecoat, the All in One nail paint is relatively runny but dries quickly and cleanly onto nails. On nude nails the basecoat produces a smooth bottom layer which is slightly glossy. It dries within a minute allowing almost immediate use of nail polish, which can then be applied smoothly and without smudging. Once the nail polish dries, the topcoat can be applied and it's the runny nature of the All in One which helps an even and smooth finish to nails. Once dried, the topcoat adds a glossy finish resulting in perfect nails.
Admittedly this isn't something new for most topcoats and basecoats I have tried, but the difference is that the All in One has lasted far longer than any others I have tried. A nail polish I've used without topcoat and basecoat lasted just a day before it started chipping, but with the All in One nail paint I only noticed imperfections after a week of use. The All in One nail hardener worked even better when adding an extra layer of topcoat every day, preventing the nail polish from chipping. Most notably though is that the All in One didn't cause nail polish to peel off – nail polish seemed well attached to my nails, yet it came off well with nail polish remover. I really liked that! I did notice that there was some nail hardening elements to this nail paint too.
I'm pleased with the Barry M All in One nail paint, especially as it costs just £3.99. The thing which makes Barry M even better than most nail polish competitors is that the 10ml glass bottles come with 2 metal balls which prevent the polish from settling. This has proved to be hugely beneficial because after numerous uses I've only used a small amount of the nail paint so I know it's just going to last and last! Definitely worth buying!