This is one of those dishes that sounds strange but ends up being exactly what you were looking for. Hearty but healthy and somehow ends up being comfort food. You could make it vegetarian and substitute mushrooms for the ground beef and add in more fresh herbs at the end.
Another bonus? It is really budget friendly. Cauliflower is pretty cheap, we always have venison in the freezer and a jar of marinara somewhere in the pantry. Having the browned bread crumbs and cheese doesn't hurt either.
I am guessing one serving of this will not be enough, it wasn't for Scott or I. And I rarely have two servings of anything.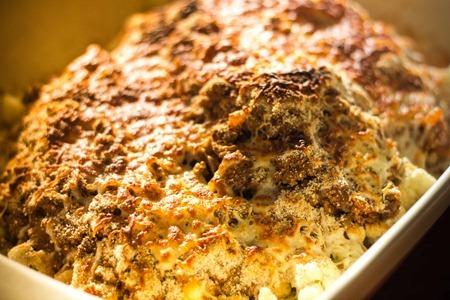 Baked Italian Cauliflower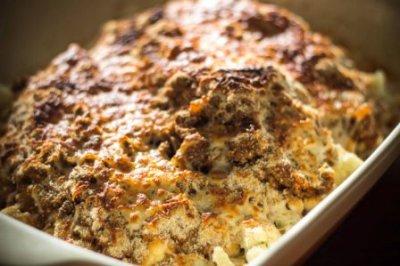 Prep Time: 10 Minutes
Cook Time: 15 Minutes
Keywords: entree
6046140
Ingredients (Serves 4)
1 tbsp olive oil
1 onion, finely diced
4 garlic cloves, minced
1 lb ground beef or venison
Salt/Pepper
1/4 teaspoon crushed red pepper
1 1/2 jar marinara sauce
1 1/2 pounds cauliflower, cut into florets
1/2 cup bread crumbs
1/4 cup grated fresh Pecorino Romano cheese
Cooking spray
Instructions
Heat a large skillet over medium-high heat. Add oil to pan; swirl. Add onion; sauté 4 minutes. Add garlic; sauté for 30 seconds, stirring constantly. Stir in beef. Sprinkle with salt and peppers, and sauté 3 minutes or until browned, stirring to crumble. Stir in sauce.
Preheat broiler.
Steam cauliflower 4 minutes in the microwave. Place cauliflower in an 11 x 7-inch broiler-safe baking dish coated with cooking spray; top with sauce mixture.
Top with bread crumbs and cheese. Broil for 4 minutes until it is golden brown.
Powered by
Recipage