I don't think anyone expected the iPad to become the go-to product for working with autistic individuals, but it really has become the perfect vehicle to help them learn and communicate. AutisMate is a new app available through iTunes or the AppStore that encompasses many tools that are usually separate products, brings them together and allows them to be customizable and portable.
AutisMate offers preexisting scenes, but more interestingly, the ability to build your own scenes with photos that mean something to the person with autism. I built one using a photo of our pantry. I used the tool to put "hotspots" on the photo which are "clickable". I used hotspots to designate the area where gluten free snacks are stored in our home. I also opted to record my own voice instead of using the synthesized voice that comes with the app. I think this is a great option since it allows the user to hear familiar voices in the correct setting. You may wish to have a teacher or therapist record their voice in the school or therapy settings. This helps to build consistency which is very important when dealing with autistic children who thrive on stability.
AutisMate also offers the ability to create visual stories which can be likened to social stories. You can, again, populate the stories with photos of specific items and people in your child's life. This would be great for all sorts of situations such as going to school, to the dentist or even on vacation. As long as you have photos you can customize these stories and review them as often as necessary. If something changes, you can easily change the scene.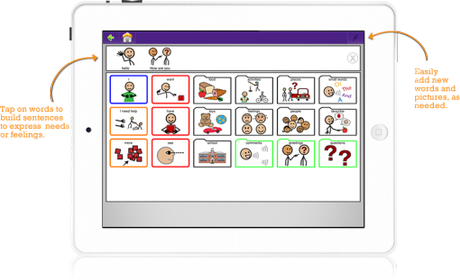 photo provided by AutisMate
It also offers a Sentence Builder which uses PEC type symbols and allows the user to "write" sentences to communicate wants, needs or information. There is the Visual Scheduler portion which allows you to customize routines and schedules for your child. These can be very helpful for children that need reminders of what to do in certain situations or at different times of the day.
AutisMate is a complete toolkit which can be completely individualized for each user. It can also easily be updated as a user's skills and needs change. The fact that it is on an iPad not only makes it interesting but it is very portable and there is a GPS option which can build items around your location. AutisMate retails for $149.99. It is not limited to those with autism, but instead, can be used for anyone with communication issues. For more information visit AutisMate online.
I was provided with a free beta version of AutisMate to facilitate this review. All opinions are my own.