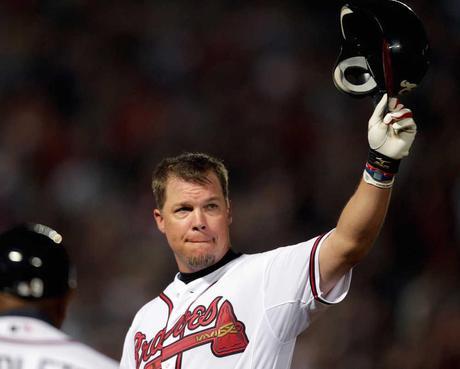 Photo: Associated Press/David Goldman
- Adam Parker
Third baseman Chipper Jones announced he will retire at the end of the 2012 season, the Atlanta Braves said.
This is quite surprising considering Jones came to spring training open to the possibility of playing beyond this year. But over the past couple of weeks, he felt his body could no longer keep up with what his brain wants -- to continue playing the game he loves.
Jones, who has spent his entire 18-year career with Atlanta, has battled injuries the past several seasons and actually decided to retire in 2010, only to change his mind.
This time, he means it.
"I'm very proud that for 23 years I've donned one uniform -- the red, white and blue of the Atlanta Braves,"
Jones said at a news conference Thursday.
"I often admired when I was coming up, guys like Cal Ripken and Tony Gwynn who were able to work with their organization so that they could stay in one place. They knew how important it was to stay in one place and be the face of the franchise. While I don't consider myself to be in their realm, I'm awfully proud to say I've been a part of this organization for so long."
However, that doesn't mean Chipper and the Braves are parting ways for good. In fact, the Braves said the team and Jones, who will turn 40 next month, have expressed interest in him remaining with the franchise in a yet-to-be-determined capacity after he hangs up his cleats.
With this being his final guaranteed season in his contract, there had been a sense that Jones could retire afterward. His decision erases the $9 million option for the 2013 season that would have vested if Jones played in at least 123 games this year.
"I want to get all of the speculation out of the way right here in Spring Training, so that wherever me and my teammates go this season we're not answering questions about when I'm going to hang it up,"
Jones said.
"We're going to make it final here and now that this is it."
Jones will retire with the proud extinction of having worn just one uniform during his storied Major League career. He currently ranks second only to Yankees shortstop Derek Jeter on the list of active players who have been played every game of their MLB careers with one team -- a rare feat in the free agent era.
"Never in my mid-20s would I have given myself a snowball's chance to be in camp and have a job at 40 years old,"
Jones told the Associated Press.
"But I like to think I've kept myself in pretty good shape over the years. The skills are still there to go out and get it done. I don't know for how much longer, but we're gonna ride it as long as we can."
The Braves selected Jones with the first overall selection in the 1990 First-Year Player Draft. He made his Major League debut in 1993. Nineteen years later, he stands as an iconic figure in Atlanta and a likely Hall of Famer.
"He's had 18 remarkable years and we hope his 19th year is even more remarkable,"
Braves president John Schuerholz said.
"What a fitting way it would be for him to go out as a champion, as he has been his whole career. He could have been Rookie of the Year in 1995. He made a number of All-Star teams and over a .300 career batting average. But more importantly, he was the guy we could rely on to get the big hit and come through at the tough time."
A seven-time All-Star, he has a .304 career average with 454 home runs, 526 doubles and 1,561 RBIs in 2,387 games.
A feared hitter when healthy, Jones has carved out a place in baseball history as one of the best to ever hit from both sides of the plate.
His 454 home runs ranks Jones third all-time among switch hitters, behind Hall of Famers Mickey Mantle (536), and Eddie Murray (504). His career batting average ranks second among all switch hitters, behind Hall of Famer Frankie Frisch (.316).
He is the only switch hitter in major league history with more than 300 home runs and a career batting average over .300.
Is Chipper Hall of Fame-bound?
We have no doubt.
Be sure to follow Beard And Stache on Twitter 
@BeardAndStache
, 
and also Adam 
@Adam_Parker43
, Like our Facebook page 
HERE
!