Asparagus Tips
There are tons of vegetables but asparagus tips is one of the top 5 in my veggie list. Asparagus tips is perfect for both detoxing your body and sweet enough to please your palates. Trust me on this one when I say this having this as side dish is quite a healthy step forward. I know the procedure given below to make fine asparagus tips is long and might put you off from making it but honestly it is worth it. At first you might think it's quite a long step to make this dish but in fact if you want to make it for the second time you`ll be already use to it. This asparagus tips recipe is one of those side dishes that can change the entire taste of your meal. Amazingly this side dish can be enjoyed on its own as well as with any meal (e.g. your healthy lunch meal). Perfect for vegetarians or vegans.
Ingredients:
When buying asparagus, look for firm, bright spears with closed tips. Keep in mind that 1 1/2 pounds of asparagus will feed four people. The delicate asparagus tips cook more quickly than the stalks, which are wrapped in a tough skin. To ensure perfect cooking from end to end, we recommend peeling the stalks: it is time-consuming ing but worth the trouble. First snap off the woody bottoms. With a paring knife, remove the skin from just below the tip to the base.
Instruction:
Steam: Place spears in a large steamer set in a large pot over simmering water, cover and cook just until tender, about 5 minutes. Steaming produces delicately flavored asparagus with tender bite and a beautiful spring-green color.
Microwave: Lay spears in a large microwavable dish and add 1/4 cup water. Cover with vented plastic wrap. Microwave on high power for 4 to 6 minutes, or just until tender. Microwaving gives the same benefits as steaming, but is a handy method when the stove top is otherwise occupied.
Roast: On a baking sheet, sprinkle spears with 1 teaspoon olive oil and salt and pepper to taste; toss to evenly coat. Roast at 450°F until lightly browned and tender, 10 to 15 minutes, shaking or tossing once during roasting. Roasted asparagus are not as elegantly pretty as when it is steamed or microwaved, but the high heat caramelizes the vegetable's juices, intensifying the flavor.
Enjoy!
Liked this recipe than you`ll enjoy making these recipes as well.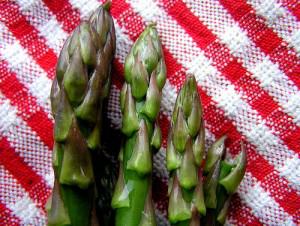 Photo by Muffet

Rating: 0.0/
5
(0 votes cast)