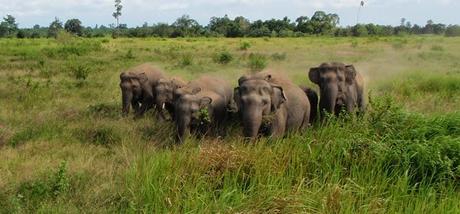 Before we talk about the tourism of Kerala which is very much defined by the majestic appearance of elephant it becomes very important to talk about the behavior and the environment they have been asked to live with.
Elephant within the side of Neighbourhood temple are a playful things and they love being accompanied by the children and the visitors who loves playing with their trunk, pats it and engaged themselves in an endowing photo session.
Beside that elephant from the very beginning has been a pride possession of the feudal lords and aristocrats who announces the power of his tuskers that he can piped other elephants with his glands.
Status of elephant within the shore of Kerala can be considered to be significant because they are not just a pride of feudal lords but their image seem to be ever tinted with mindful colours that never seems to get fade.
Now above mentioned walks of elephants are very positive side about it but if we look at its other halves than the story seems to be impending because most of the elephants are used for amusement, they are abused and are run under arbitrary method.
Seeing such situation many animal welfare groups have come up with their plans to rehabilitate captive elephants. The government run elephant camps of the state are dealing with their own issues giving an opportunity to the centric citizens too perform their task to reallocate elephants.
In this context the name of Chitra Iyer refers special mention because she is taking measures to save the captive elephants of the state. The Society for Elephant Welfare which is a standout organisation led by Miss Iyer had its first discussion with the government where they talked about opening a new centres for elephant.
When we talked about their objectives then they are not just looking to save these animals but they are looking forward to conserve forest and its resources. According to Chitra her organisation is trying their level best to create an environment where elephant could live freely.
Muthanga in Wayanad which according to the organisation should be the place where elephant centres should be open but the purpose can be initiated only when the government would acquire and allot the land by giving some financial assistance.
Chief Minister Oommen Chandy and Minister for Forests Thiruvanchoor Radhakrishnan have welcomed the plan and Chitra is saying that initiative of common people is require being passionate rather than being responsive.
According to the call of the government there are 500 numbers of captive elephants. During the time of festival elephants passes through series of troubles and an endless walk could really put them into real pressure.
Conditional medical treatment at the same time have played devastating role in decreasing the life span of these animals. Government measures to hire unauthorised elephants and their moves to mind them with such dealers met with animal rights activities who in turn opposed their measures.
Old age animals and their deterred condition have really made a situation really tough for them. Prestigious elephants coming down to take part in religious festival come with a price tag and are later left to run for their life.
Chitra said we are looking forward and expecting corporation from elephant owners, mahouts, veterinarians and the public in this project. She said we don't want to slap cases of the owners rather we want them to help us to help the elephants.
The Society for Elephant Welfare are lining up with public programme so that they could monitor the behavior of the locals towards elephants and after analysing the condition they would submit their report to the government in May.
With its growing plans they are looking forward to start training session and rehabilitation centres for Mahouts.
It was during the month of March when they hosted the Kabini Art festival in Wayanad where artistes, musicians and dancers shared the stage to support the cause of the same. Consequently the programme made a greater impact then the seminar said singer while recalling the incident when she saw a baby elephant name Mahadevan struggling hard against situation and eventually gave up his life.
She said we are very much aware of the elephant mafia who are always sneaking for an opportunity and to prevent them the government should be radical enough to screwed the laws so that they could punished the violators of animals rights.