As I mentioned yesterday, we decided to spend a Saturday in Mantua after our morning music class and a lunch stop at a local Pizza place.  I'd heard such incredible things about the city and was very curious to see it with my own eyes. This is what I wore!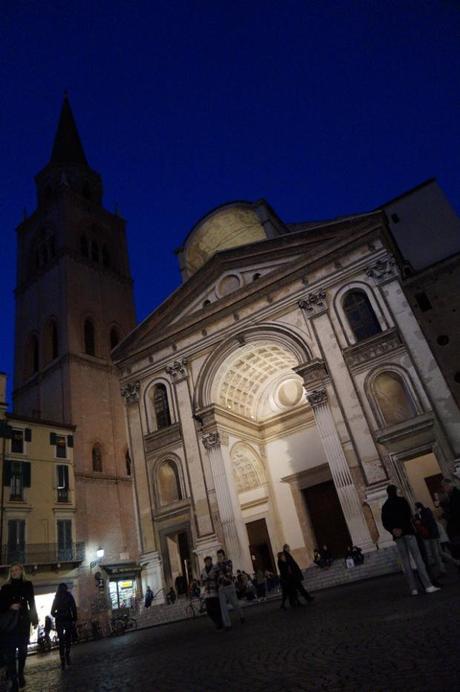 Mantova
Mantua, or Mantova in Italian, is a city that has been frozen in time.  Surrounded by three large artificial lakes, it was once protected by 4 lakes but in the 18th century the fourth was filled.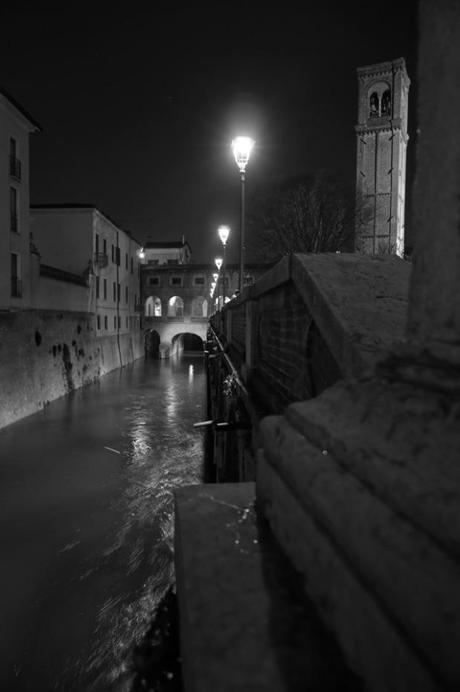 Having been "isolated" for so many centuries has meant that the city has maintained its character and size, making it a historic gem. In 2007 the entire old town was named a UNESCO World Heritage site but you never hear people planning vacations in Mantua! Since it isn't a tourist destination every experience is so authentic compared to other areas in Italy.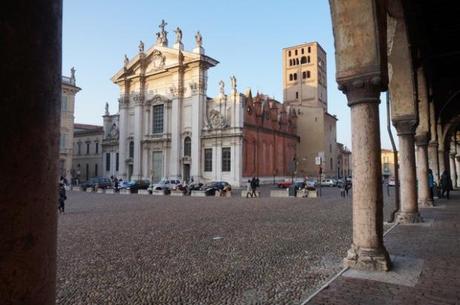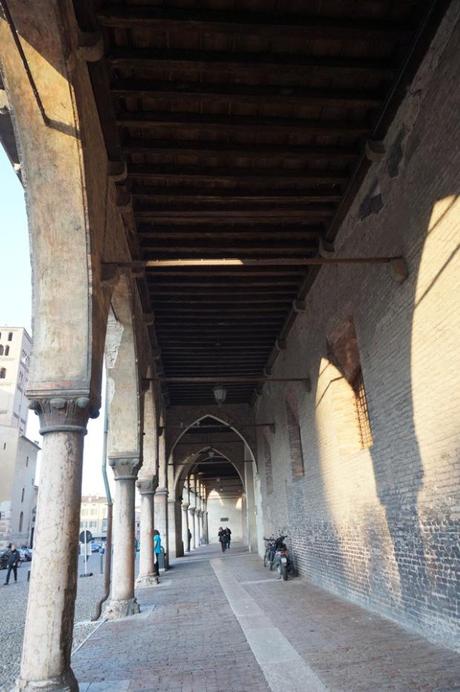 The Palazzo Ducale
We didn't have an itinerary for this impromptu trip.  We made our way into the city centre through narrow streets and passed this man along the way.  I knew it was going to be a wonderful experience already!
The first thing we noticed was the massive façade of the Palazzo Ducale (Dukal Palace) so we began by strolling into a small side garden.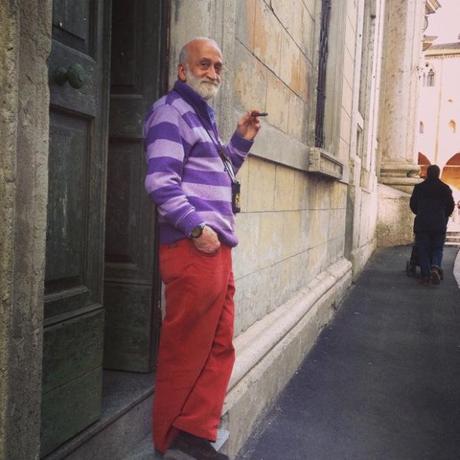 The Palazzo Ducale was the home on the ruling Gonzaga family in the city's centre, they lived here for just under 500 years and during their reign of Mantua contributed architectural. artistic and even musical treasures. I had personally never even heard of the them before (oops) but I really love their taste in frescoes!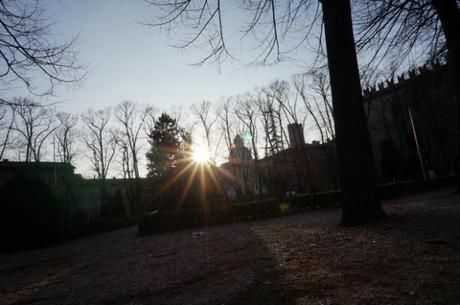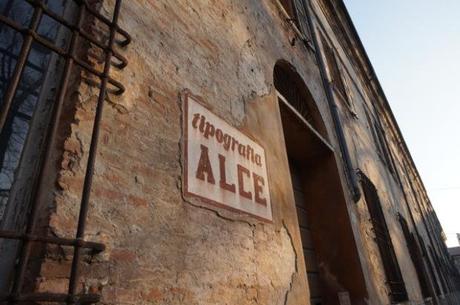 The Palace is the largest dwelling in Italy, second only to the vatican and has HUNDREDS of rooms. In fact one of the most striking things about this Palace was the sheer space and proportions of everything.  Window filled corridors that seemed to go on forever, immense rooms filled with light and gleaming hardwood, a labyrinth of spaces.
I illegally took these pictures before the guard told me to put away my camera…then I took a few more until I was caught by the video cameras!!  The things I do for blogging!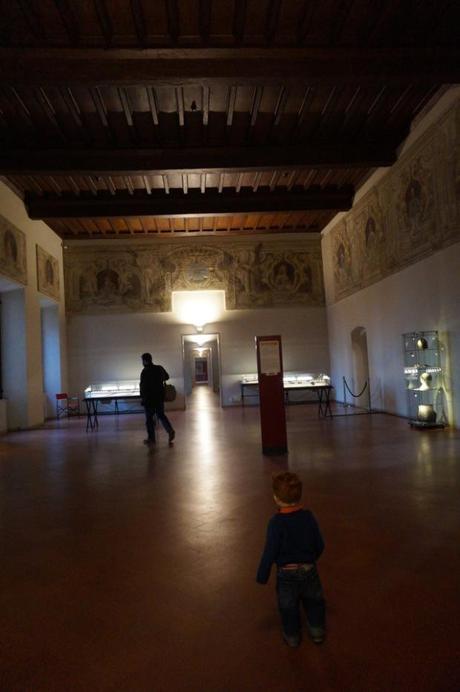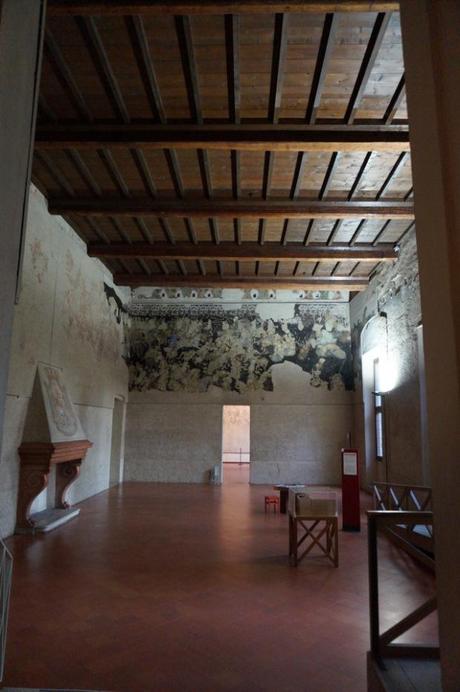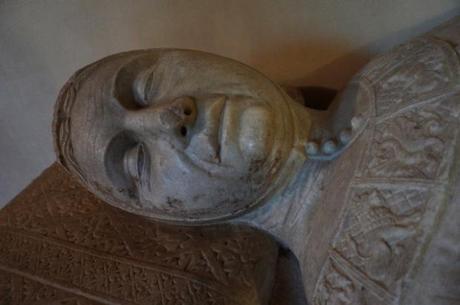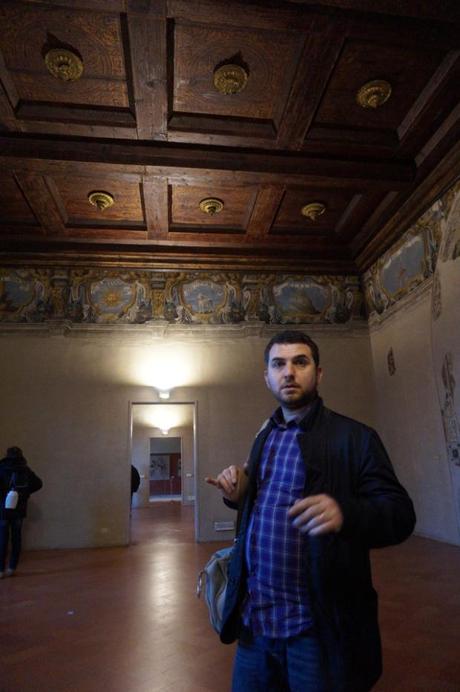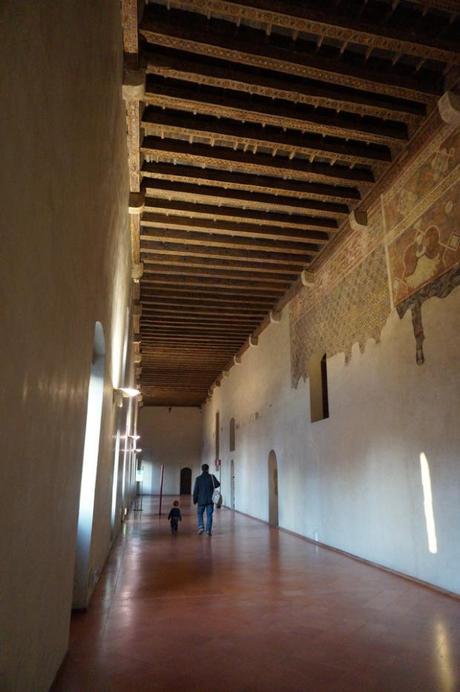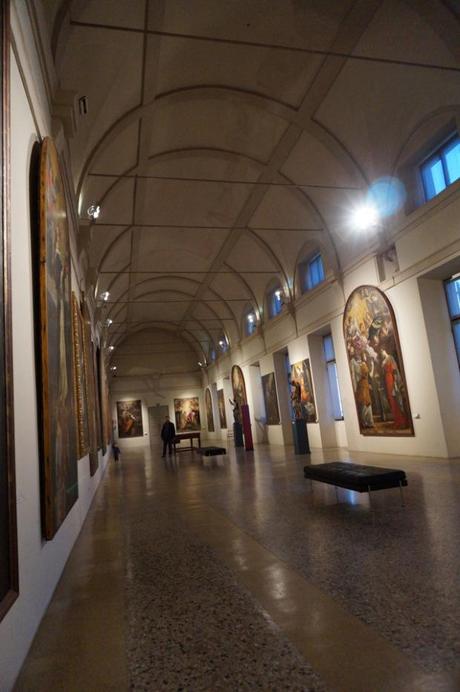 Historical Visits with Young Kids
Did I read ANY of the informative panels in the Palace? No. Was there a video, telling me about the history of the Palace or the importance of the Gonzaga family, all recreated in a cartoon so my son would watch it too?  No.  I guess I can't get as lucky as I did in Modena's Casa Enzo Ferrari Museum!
We spent most of out time in the Palace telling our son to stop touching things, not run away or get lost, hold our hands and to stop yelling while the tour guide for a tour group that was passing us tried to explain things.
They pay off…. is hearing him say "Mamma castle drag" then roaring like a Dragon in a fairytale castle.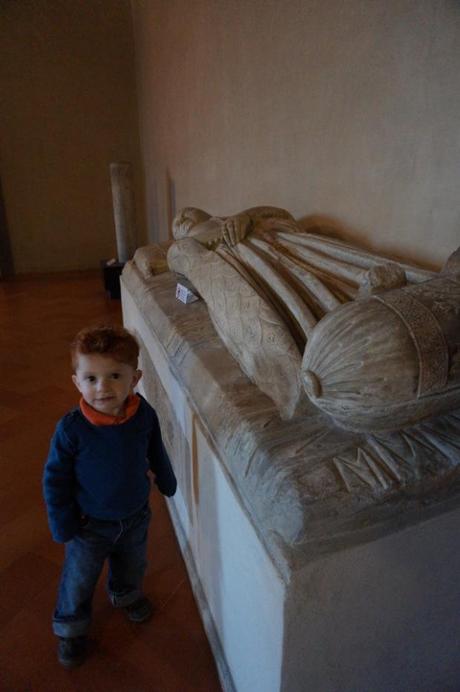 It was already getting dark when we left the Palazzo Ducale, so we spent the next few hours wandering through the old town, famous for how small it is.  In fact, in an hour you can walk from one side of the city to the other.
I love the vibe in this city. As soon as the sun set the streets were filled with crowds making their way to patios for sophisticated aperitivos. Couples walked hand in hand and groups of well-dressed teenagers hung out on the steps of churches and monuments chatting and laughing.
It made me feel elegant to be here and I'm not really sure why.  Everything felt polished and oh so very Italian.  There were no souvenir shops or "tourist menu" options outside of the restaurants, this was Italian life for locals.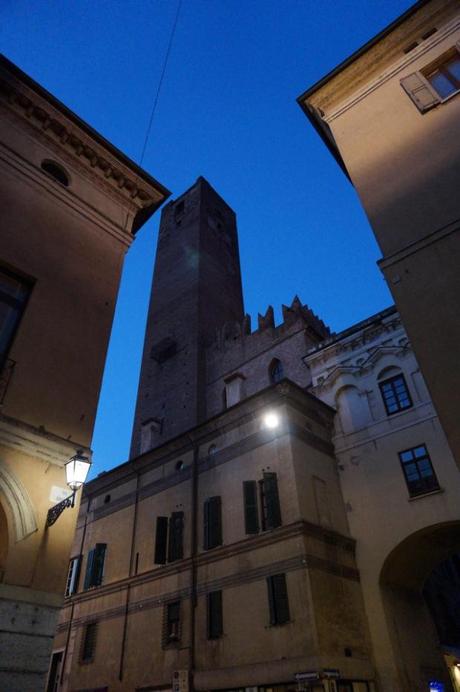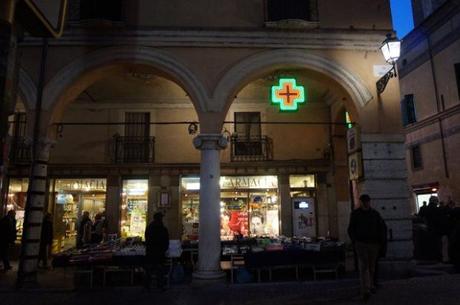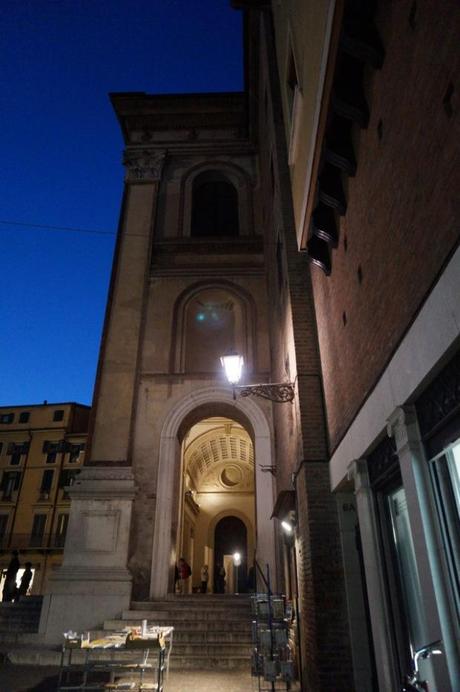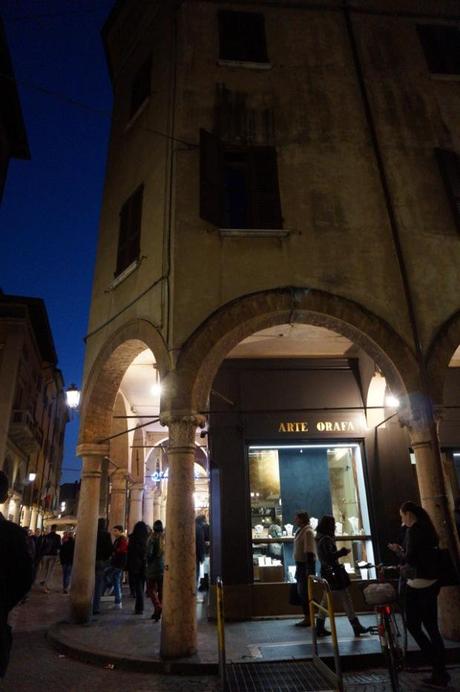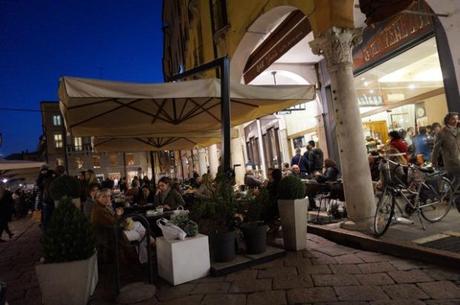 Speaking of real Italian street style, I spotted these two twin girls riding their tricycles in matching petticoats and hats!! I've never seen kids actually dressed like this outside of a magazine!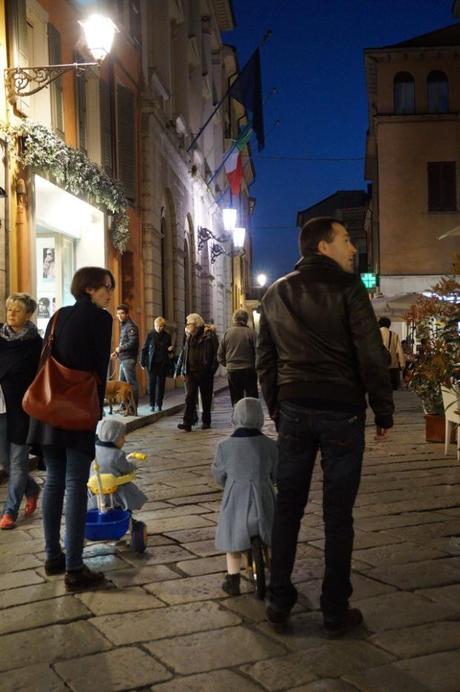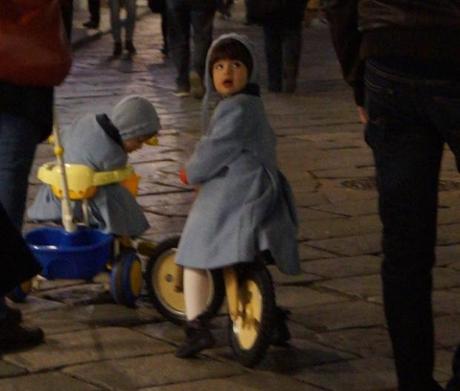 The whole experience was a little surreal, like stepping back in time to when no one twerked and women did things like *curtsy*!
We walked over one of the city's bridges to an area with small boutiques and delicacy shops. On Friday I'll be sharing the story of the Calzolaio, the "shoemaker" that I met in Mantua.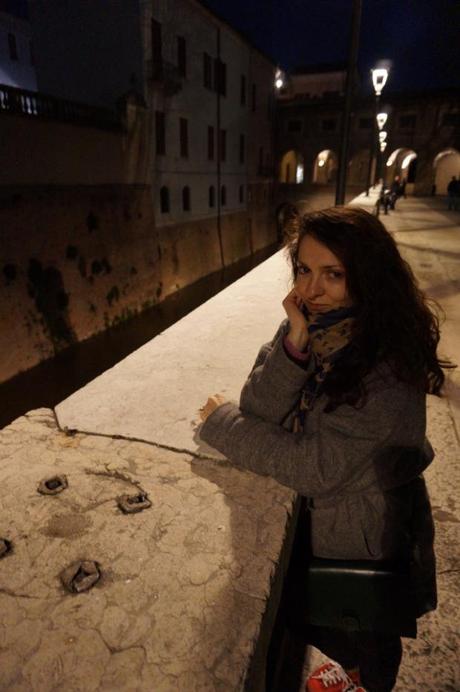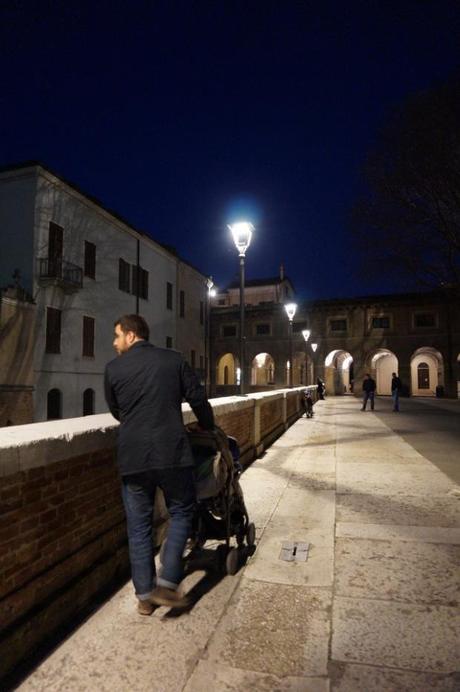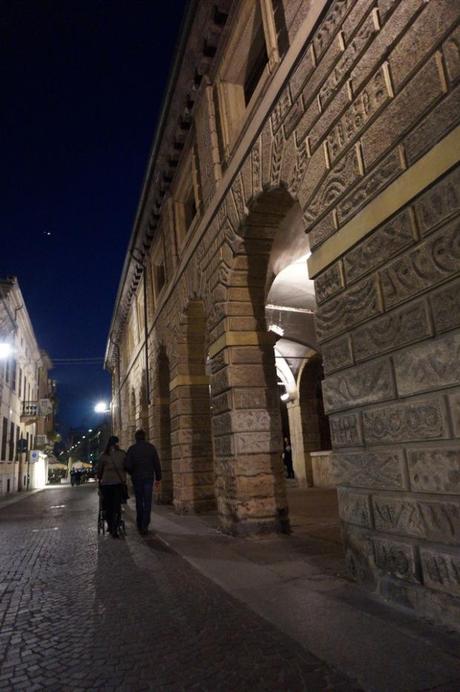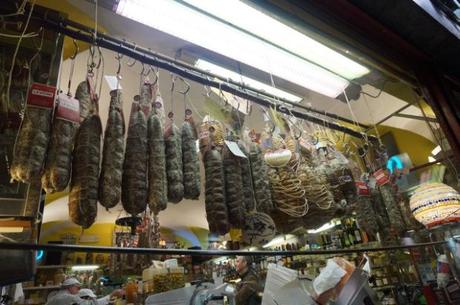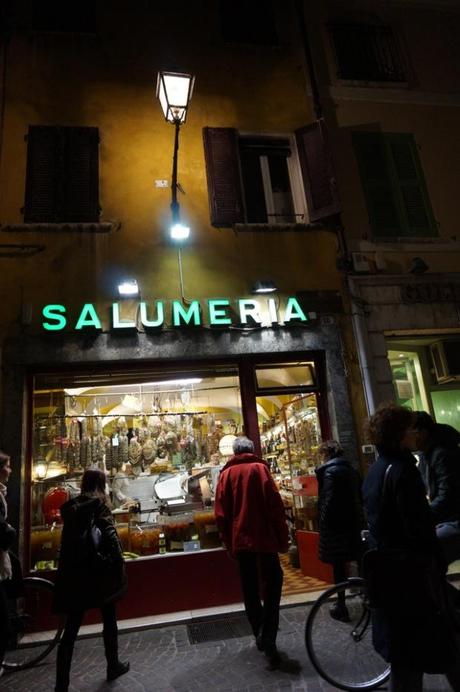 Italian Hamburger
At some point we were starving!  We didn't really want to spend money on a big fancy dinner out.  Plus our high-spirited, rambunctious toddler makes eating in a fine dining restaurant about as comfortable as getting your legs waxed!
We made our way down yet another very cute street filled with bars, shops, boutiques and restaurants and at the very end noticed a sign to a piadina place.  A piadina is an Italian street food from the Riviera Romagnola, made from a flatbread stuffed with all kinds of yummy things.
On the menu there was a Mantua interpretation of a "hamburger", consisting of an open-faced piadina, ground beef patty and grilled potatoes, eggplant, zucchini, red onions and peppers.
The three of us ate for under 20 euro!
**As a side note, one of the things you will notice in Italy if you are from North America is how EXPENSIVE Coca Cola and other canned, carbonated beverages are. Sometimes 25% of our restaurant bill is drinks…and we're not talking alcoholic drinks either.  Actually local wine is often cheaper than a coke, which can run you anywhere from 2 to 3 euro a CAN! That's anywhere from $2.50 – $4.30 depending on the exchange rate! Two small cokes could mean almost an extra $9 on your food bill!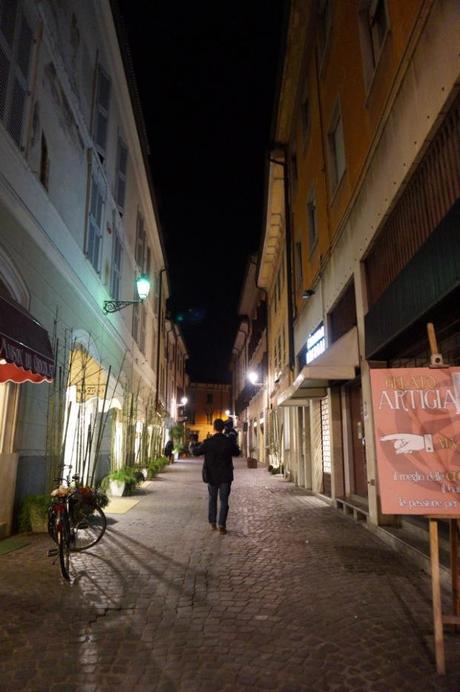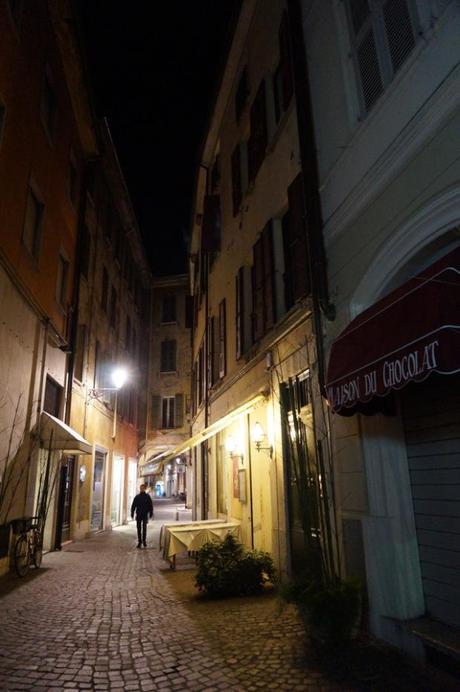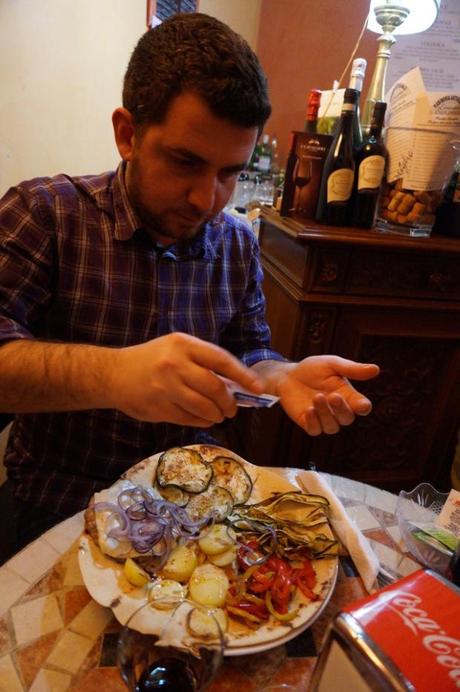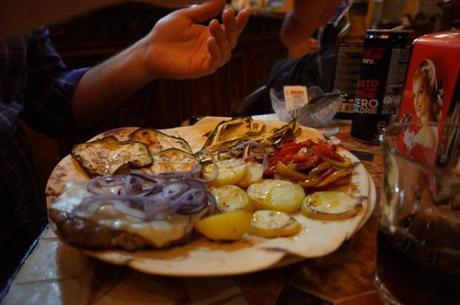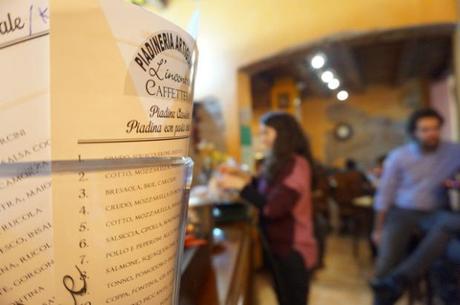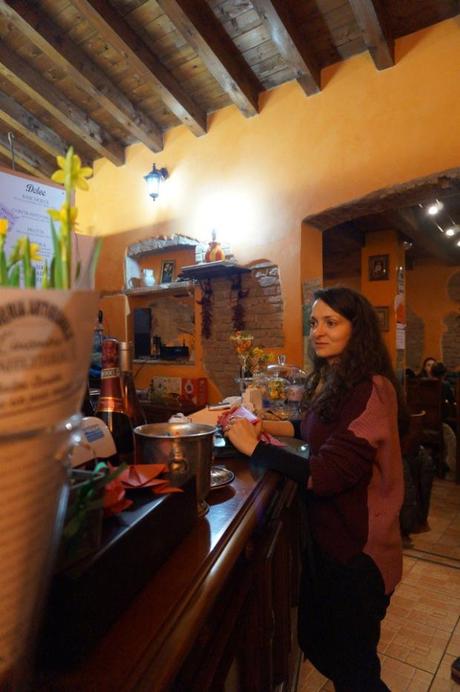 Distance
One of the biggest difference between living in Canada and living in Italy is the idea of distance.  In Toronto my morning commute would often be between an hour and an hour and a half to get to and from work each day.  2 to 3 Hours of sitting in traffic, or taking the bus, subway and tram, depending on where I was living and working.
Needless to say in Ontario the idea of a short drive means anywhere you can get to in under two hours!!!
In Italy things are SO DIFFERENT.  If it takes people more than half an hour to drive to work or to drive to a relative's house they talk/act as though that person or place is on the other side of the planet!
This realization has given me an incredibly different perspective from real Italians.  On the weekends we just pick up and go!  I usually look at a map and will choose some town that is less than a 1.5 hour drive and we just pack up and go!
It took us 55 minutes to drive to Mantua, and I can honestly say this I can't wait to go back.  I want to visit the Palazzo Te, take a daytime walk around the lakes and see the rest of what this artistic city has to offer.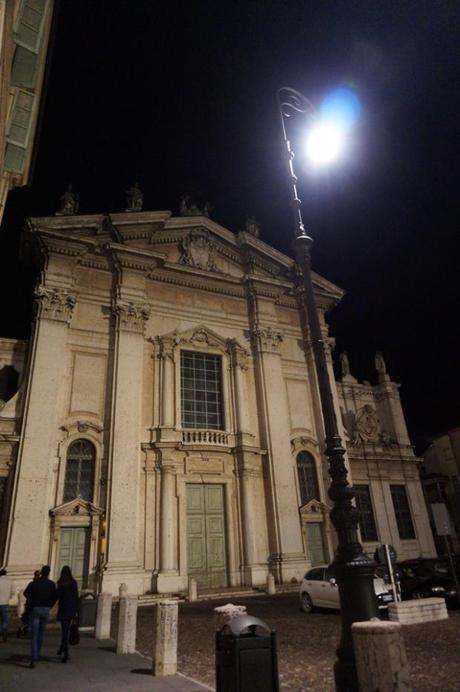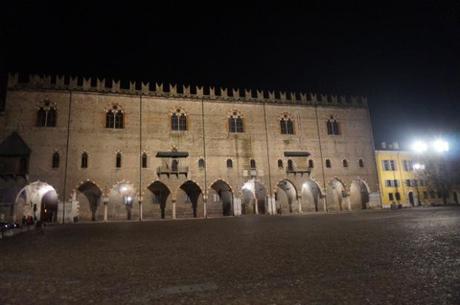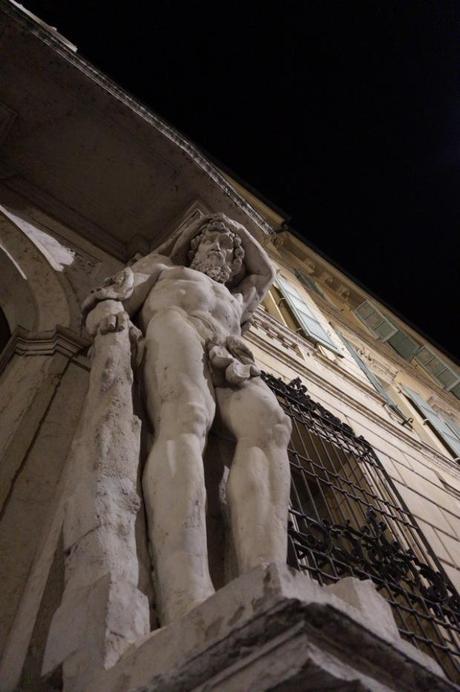 Follow Reasons to Dress through Bloglovin' & get 1 email a day with all the most recent posts from the blogs you love.