It's that time of the month again, when the postman hands me my Amarya Beauty Box and I do a little happy jig on my doorstep!
So what's in August's box...?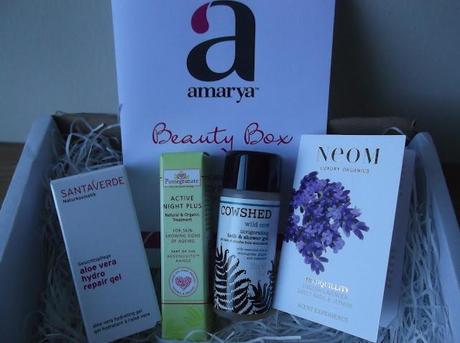 Trial Size Santaverde Hydro Repair Gel - Full Size RRP £29.00
I was pleased to receive another product from Santaverde as I am still using my Santaverde cleansing gel from a previous box and loving it.
I was surprised to discover that this product is milky white and runnier than I would expect from a gel, however this absorbed into my skin instantly and left me with soft, matte skin which was perfect for applying make-up to.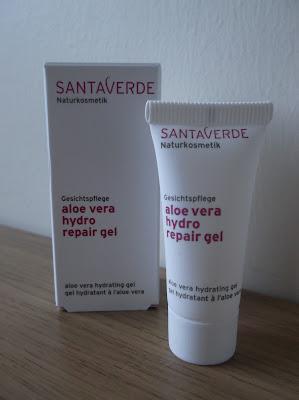 This is a great product for oily skin (like mine) and this would definitely take the place of my normal, richer moisturiser when on holidays as applying moisturiser and then suncream plays complete havoc with my skin! I think this gel would also feel great if your face had any sort of irritation on it such as sunburn.
Full Size Pomegranate Active Night Plus Roller Ball - RRP £27.00
I was a little deflated when I saw this product because it is designed for "maturing" skin and at 27 I'm not quite ready to "mature"! I gave it a go though regardless!
Firstly, I love the rollerball idea. The instructions tell you to draw a big figure of 3 on each side of your face and then run into your skin with your fingers. This method dispensed the perfect amount of product which is great for someone like me who is always slapping way to much on my face and having to rub half of it off again on a towel!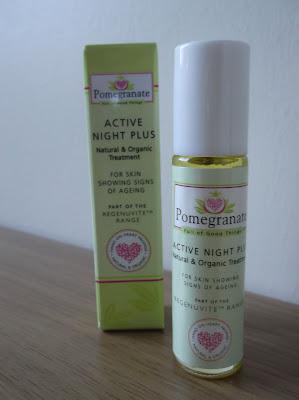 This product absorbed into my skin so well and didn't just sit on top of my skin. When I woke up the morning after using it my skin was soft and plump. At first this product smells like delicious pomegranate lip balm but after the initial scent has calmed down you're left with a floral, talc-y smell with reminds me of old ladies.
Trial Size Cowshed Bath & Shower Gel - Full Size RRP £16.00
Call me prudish but the branding of the Cowshed products has always put me off them. Or maybe it's because I work in marketing that I'm less enthused with gimmicky branding! Anyway, the proof is in the pudding as they say...
I was sent the "Wild Cow" bath & shower gel which is a blend of lemongrass, ginger and rosemary. To me this smells like a thai green curry! When I had my shower at 6.30am this morning I was not loving this! Mr Juicy on the other hand, likes this a lot.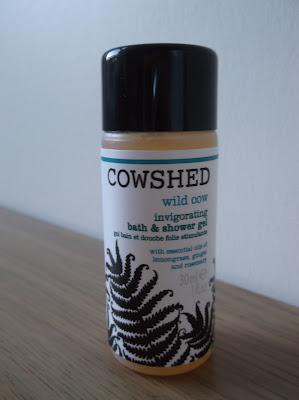 One misconception of paraben/petrochemical/sulphate free products is that they don't foam as well as conventional products. This is absolutely not the case and this product from Cowshed is testament to this. It gets super foamy, super easily!
Despite not loving the smell I will still use all of this product. Having had a look through the other products on offer from Cowshed I think I am more of a Grumpy Cow (mandarin, petitgrain and grapefruit) or a a Horny Cow (rose, patchouli and cinnamon) kinda gal.
Trial Size Neom Scent Experience - Full Size RRP £37.50 (for Tranquillity Candle)
Essentially this is a little room spray sample to give a chance to try the scent before you spend nearly £40 on a Neom candle.
The scent I got was Neom's Tranquillity scent which combines english lavender, sweet basil and jasmine. Now I love lavender but I'm not too sure about jasmin, however I found this scent to be fresh yet relaxing with a very natural feel to it. A tiny little spray goes a long, long way as I found out when I sprayed my cats smelly beds and litter tray area! They gave me a belter of a "how
dare
you" look!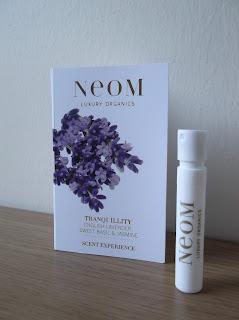 I really liked that this scent wasn't overly girly. The natural ingredients means it smelt like a nice sunny day in the garden rather than a contrived scent. It's difficult to find a home scent that Mr Juicy and I agree on but we both loved this scent from Neom. I definitely feel more comfortable about forking out the £37.50 for the candle now. I'd put it on the little shelf about my cats litter trays as an alternative to spraying Febreeze all over the place every 15 minutes!
What does everyone think of this months box?