ALOHA SEAFOOD DISH
Life is not always about comprises, life is about enjoying it to its fullest. Just because you have health problem doesn't mean you should stop eating your favorite stuff because there are other ways to replicate stuff especially recipes that are available here on healthy lunch ideas. Aloha seafood dish give diabetic people a change to enjoy food with a wonderful flavors and colors that could be produced by the ingredients. Here on healthy lunch ideas this recipe will not just provoke you but it also understand what you need or what are essential to your body. The softness of this dish with an amazing blend of taste, are all you need. If you have tried this recipes and enjoyed then feel free to share a comment on healthy lunch ideas.
Ingredients:
2 lbs. fish fillets
1/2 c. pineapple juice
1/4 c. steak sauce
1 tsp. salt
Dash of pepper
Directions:
Place fish in single layer in shallow baking dish.
Combine remaining ingredients and pour over fish.
Let stand 30 minutes, turn once.
Remove fish, reserving sauce for basting.
Place fish on Pam sprayed broiler pan.
Broil about 4 minutes, brushing with sauce.
Turn carefully and brush with sauce.
Broil until fish flakes when tested with fork.
Garnish with lime wedges or pineapple if desired.
Enjoy!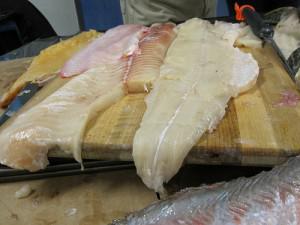 Photo by: moneycoach