I have a thing for chicken fingers. Crispy, fried goodness. Except what makes them taste so good isn't all that good for me. I was on a search for a healthier version that tasted just as good as the not so healthy ones. The Pure Silk website had a great idea for these and with my normal adapting and changing I came up with a pretty good option.
Success on the first round. With a mix of Pure Silk Unsweetened Almond Milk, ground almonds, and spices; we found a really good "breading." A quick bake in the oven (not fried) and served with your choice of dipping sauce. Hot sauce for Scott and a little ranch for me and we had a great dinner last night before meeting with our realtor.
Besides using Silk Almond Milk in smoothies, cereal, oatmeal and other breakfast type foods, try it in more savory dishes. Soups, casseroles, and as part of the breading for chicken fingers. Check out Silk's Facebook page for more recipe ideas, you can do a lot more with Almond Milk than I ever even thought about!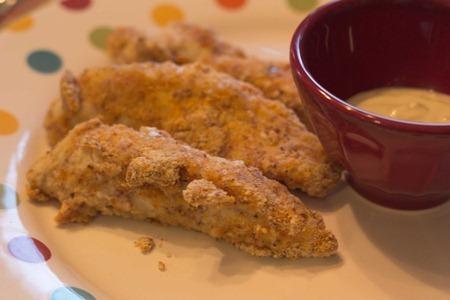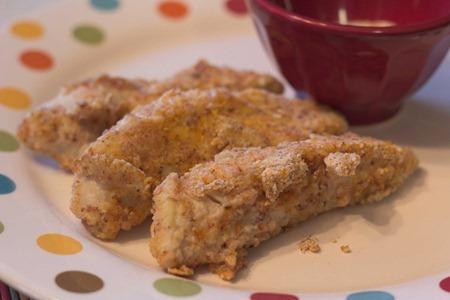 Almond Chicken Fingers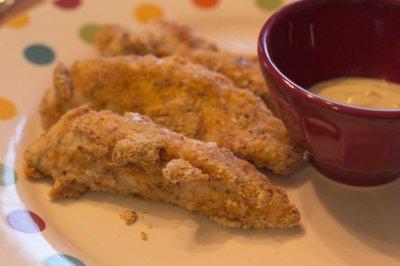 Prep Time: 10 Minutes
Cook Time: 20 Minutes
Keywords: entree appetizer chicken
6040888
Ingredients (Serves 4)
Cooking Spray
1 1/2 pounds chicken breasts, cut into tenders
3/4 cup Silk Pure Almond Unsweetened
1 egg, beaten
2 tsp Dijon mustard
1 cup almonds, ground in a food processor
1/4 cup flour
1 tsp paprika
1/8 tsp red pepper flakes
Salt/Pepper
Instructions
Preheat oven to 400°F.
Use a Silpat or lightly spray cookie sheet
Rinse and pat chicken dry with paper towels.
In a small bowl whisk together Pure Almond, egg, and Dijon mustard; set aside.
In a large re-sealable plastic bag, shake together almonds, flour, paprika, red pepper flakes, salt, and pepper.
Dip several pieces of chicken into the almond/egg mixture and then place in plastic bag. Close bag and shake until chicken is thoroughly coated.
Place coated chicken onto baking sheet. Repeat steps with remaining chicken.
Lightly spray each chicken piece with the non stick cooking spray and bake for 10 minutes.
Use tongs to turn chicken pieces over and bake until remaining side is browned, about 8-10 more minutes.
Powered by Recipage
This post is a sponsored campaign through FitFluential and Silk. All of my opinions are my own.