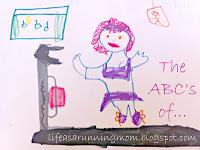 Getting to know me...Q, R, S, T
Q: Quiet I tend to be a quiet person, especially in a new atmosphere. But I am able of being noisy and having a lot of fun when with people I know and trust, or feel an instant connection to. And I have no problem with public speaking. I used to but I overcame that. As long as I know my topic, I am fine. Who wants to talk about running fun?
R: Raisins I know they are good for me but they aren't one of my favorites. I tease it is because I ate so many of them from tiny boxes as a kid. Thing is, they are really yummy when mixed in with the pumpkin seed, flax, granola cereal I find at Costco. A bowl of that with raisins and soymilk = yum!
S: Sugar Packets As a kid I remember my dad giving me sugar packets at restaurants from time to time. I would eat it with my finger tips. I learned later he did it to keep me quiet. And yes, I have used my dad's trick twice

(not more than that...at least yet)

with darling daughter when things were getting hairy at a restaurant. Before you judge me for feeding straight sugar to my daughter, it is one packet and more than 50% spills on the table. Plus 99.9% of the time she eats great. In fact, I need to stop her from eating the broccoli before I buy it. And she will help herself to grape tomatoes whenever we have them.

T: Turtles I used to work with sea turtles. Green sea turtles to be exact. I have made a special turtle gel and developed a couple of recipes specific to their health needs. I have given a turtle an enema, not fun

,

and have had a turtle try to eat my hair...repeatedly. In fact, the only stitches I have received in my life due to injury

(sorry, C-section doesn't cut)

was from a cut I got on my leg during a sea turtle release. Life is fun!

Daily Gratitude: I am thankful for my marine biology degree.
Daily Affirmation: I have full of hidden talents.