Today, I've chosen to feature something a little bit different on The Honeymoon Project – a wedding. Of course, being The Honeymoon Project, this isn't just any wedding; it's a destination wedding. Jeremy, a journalist, married Kathryn, a GP, on a boat in the Cayman Islands in July, with Kathryn's three children and her mum there to celebrate with them. If you're contemplating getting married abroad, or a honeymoon in the Caribbean, then I'm sure you'll find lots to inspire you here – it sounds absolutely wonderful. Huge congratulations and thanks to Jeremy and Kathryn for allowing me to feature their fabulous-looking wedding, and for sharing the details of the planning and the day with us.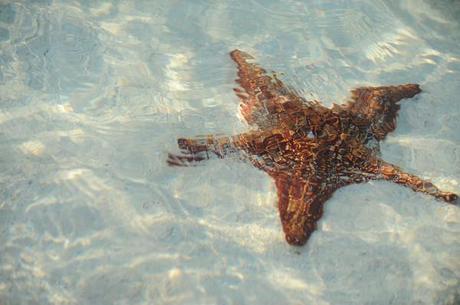 Cornish couples are lucky enough to live in one of the most dramatic settings imaginable for a perfect wedding day. Fantastic beaches, rugged coastlines and some equally impressive venues – in fact, the only factor we can't rely on is the weather! It was this love of the Cornish landscape that brought us here from the southeast just six months ago when my fiancé swapped her GP practice in Hampshire for one in Cornwall.  I had proposed while we were out running together at New Year. Kathryn was already short of breath and I correctly assumed it was easier to gasp 'yes' than put up a reasoned argument.
Move the clock forward ten months and we now spend too much time in wetsuits, the kids are experts at tide times and we drive cars full of sand. In that short period, Kathryn has found a new partnership near Bude, her three children have successfully made the transition to different schools, while we have exchanged a railway line at the bottom of the garden for picture postcard views of the Cornish coast.
The icing on the cake took a little more organising however – a romantic wedding day in the Cayman Islands…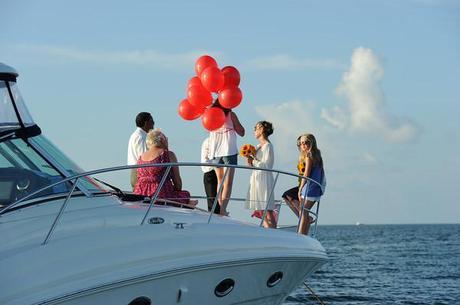 Our decision to travel overseas to get married wasn't taken lightly. In the end, despite the wonderful setting of our new life in Cornwall, we wanted to treat the whole family to a holiday of a lifetime as part of the wedding adventure. With the weeks running out before Kathryn started her new job and my diary filling up, we started searching for our dream location.
We must have bought every travel magazine in the village shop before I suggested Grand Cayman. I had visited the island to write a wreck-diving feature and knew it was the perfect location for combining a family break and an amazing wedding. We only had a week to spare and cramming it all in as we settled in Cornwall was going to be a tall order.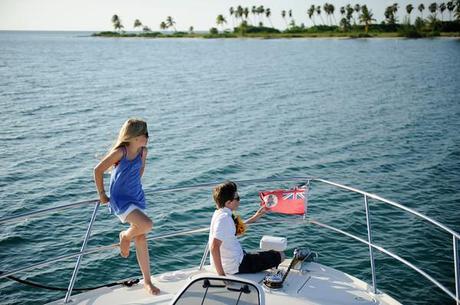 Both Kathryn and I have been married before and had already decided on a simple ceremony. So instead of a traditional beach location, we asked Celebrations, one of Grand Cayman's best wedding organisers, to find a luxurious boat to let us tie the knot at sea. And while the children knew they were going on holiday, we had deliberately neglected to tell them that we were getting married at the same time!
For those of you who didn't listen carefully in geography classes, the Cayman Islands is still a British Overseas Territory, a short flight south of Cuba in the western Caribbean. Originally discovered by Columbus in 1503, nowadays it is best known partly as a centre for international finance and also a haven for tourism, blessed by one of the most glorious beaches in the Caribbean, if not the world – Seven Mile Beach.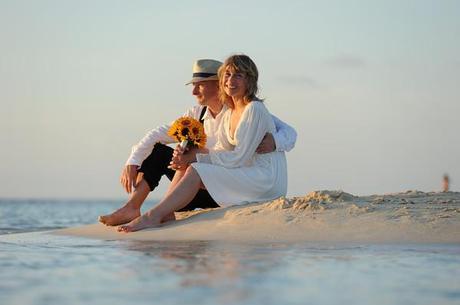 It is also one of the greatest places in the world to dive and enjoy a long list of water sports. The clear, warm water lures divers from around the globe, while children can snorkel for brightly coloured fish just yards from the shoreline. You can swim with huge friendly stingrays, get up close and personal with giant turtles and the prehistoric Blue iguana, as well as enjoy some breathtaking Caribbean scenery.
Most holidaymakers stay along Seven Mile Beach and we obviously wanted somewhere special to enjoy our special moment. The team at Celebrations suggested the Caribbean Club – Seven Mile Beach's most luxurious semi self-catering development. The apartments are simply huge, most with views of the ocean and every conceivable extra including a lovely restaurant and infinity pool.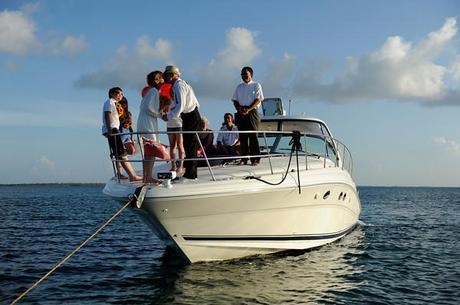 We arrived at Owen Roberts Airport in Georgetown five days before the big event. So by the time we stepped aboard the 42ft Cayman Illusion, run by Cayman Luxury Charters, we were already relaxed and sporting a suitable tan. The original plan had been to marry the day after we landed from an 11 hour flight – a very bad idea indeed!
The Illusion is an air-conditioned dreamboat, polished to perfection for the biggest day of our lives. The children seemed more interested in the flatscreen TV in stateroom, rather than the incredible scenery whizzing by at 20 knots outside!
We must be one of the few couples who actually have no idea of exactly where we were married. Our brief to Cayman Luxury Charters was to take us 'somewhere' off the coast. And so it was that at 7.05pm on July 18, 'somewhere' off Starfish Point, Grand Cayman, Kathryn and I took our vows. Kathryn read me some words of her own, while I recited Balloon, by Graeme King. Ten-year-old Rosie then managed a faultless rendition of the Owl and the Pussycat, before we released a bundle of red balloons into the sunset. It was the most relaxed, emotionally charged moment, with just the five of us, plus Kathryn's mother Rosemary on the passenger list.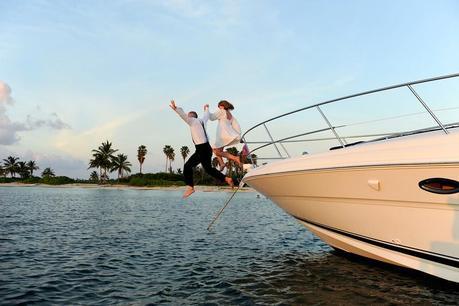 Within minutes of me slipping a gold band on Mrs Taylor's finger, the children had stripped off and were diving in to the water. As they circled the boat looking for starfish, we decided to take the plunge too and jumped off the bow in full wedding gear. The only adventure we didn't have time for was a trip to Little Cayman, a paradise coral cay just 40 minutes away by twin otter.  That is a treat we have in store for our next trip.
The Cayman Islands adventure is still a favourite topic of conversation around the kitchen table. The fish the children caught have grown larger, the pirate ship they sailed on even more scary. For Kathryn and I, we have a lifetime of memories safely stored away. And every time we walk on a Cornish beach, we keep an eye out for a bunch of red balloons…
Need to know
Wedding planner: Celebrations
Accommodation: Caribbean Club
Boat hired from: Cayman Luxury Charters
British Airways flies direct to Grand Cayman four days a week or via Miami twice daily.
Turquoise Holidays can book honeymoons to the Cayman Islands.
For information on marrying or honeymooning in  the Cayman Islands visit www.caymanislands.co.uk
Photographs courtesy of David Wolfe Photography