contributed by CCHP student assistant Isabella Pieri with an introduction from reference archivist Lizette R. Barton
INTRODUCTION
The Archives has a lot of material – a lot – in a variety of formats, in different housing, on multiple floors of the building. It can be intimidating. The best way to get to know AHAP is to just spend some time perusing, which is why I like to give my new student assistants a scavenger hunt on their first day on the job. Isabella's task was to locate 10 different items in the building. I tried to select items from all the different collections. Isabella had no trouble at all cracking my scavenger hunt and she was able to familiarize herself with the building and the collections all while getting a bit lost in the coolness of archives. I think we're going to get along just fine. – Lizette R. Barton
A SCAVENGER HUNT THROUGH THE CCHP'S ARCHIVES: A FIRST WEEK ADVENTURE
Cultural nuances and histories have held my interest since a young age, stemming from an obsession with the religious beliefs and mythology of ancient Egypt, Greece, and Native American tribes (which are present, today). Entering my fourth year of study as an Anthropology major an perusing a minor in History as well as a certificate in Museum and Archival studies, an opening for a Student Assistant to the Reference Archivist at the CCHP was an opportunity I had to take. To help better acquaint myself with the innerworkings of the institution and the layout of the archives, my first assignment was a scavenger hunt!
I was overwhelmed with how much material I had access to and often found myself getting sidetracked by an interesting title or curious looking box. I really took my time to wander through the stacks, explore each shelf, and familiarize myself with the layout of everything. The CCHP's archives are home to an incredibly diverse collection, as it's the world's largest repository of documents, media, and artifacts pertaining to the history of psychology and other related human sciences. To be totally honest, I did get lost once (or twice), but who's counting?
Between finding a Kansas State Insane Asylum Report from 1919, a children's questionnaire about their attitudes, a recipe for a Kaffee Klatsch cake, and letters between a congressman and a psychologist discussing shared interests, I found a curious thread that connected a few of the other items on my list.
What could a book, a collection with a reference to General Mills Inc., and a photograph of a chicken have in common? Animal psychology, apparently (at least in this situation).
One of the items on my docket was a book by the name of The Animal Mind by Margaret Floy Washburn (1917). Washburn upheld the notion that the animal mind could be inferred by observing and recording their behavior and used her own research as well as the experiments of other psychologists and physiologists to support this notion.
Seeing an opportunity in the behavioral principles that were developed by way of these experiments, Animal Behavior Enterprises (ABE) began to train animals for commercial use. General Mills was an avid customer ­- being producers of cereal, granola, and grain – and often used ABE's animals to advertise their products. Below is a letter from J.L. Coulombe of General Mills' advertising to Marion Breland, one of the founders of ABE, listing some of the peculiar requests they have for "acts" and "units", including that of a fortune telling chicken.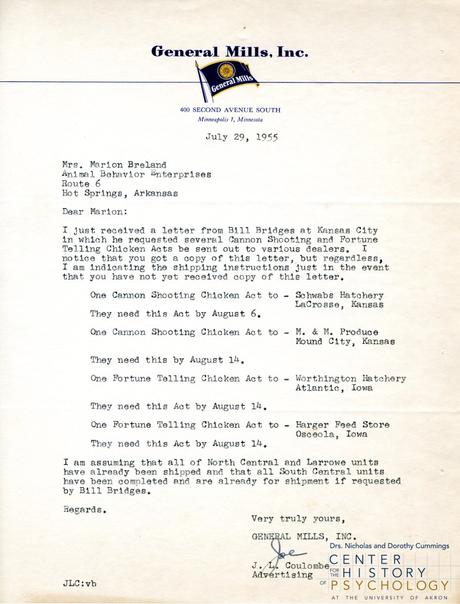 Animal Behavior Enterprises papers, box M4288, folder 2
For a screen reader compatible version of this document, click here.
There was also a pencil sketch of an idea for a chicken playing baseball act.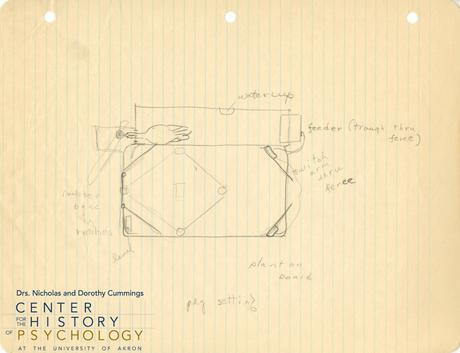 Animal Behavior Enterprises papers, box M4288, folder 2
The chicken would complete an action in exchange for a snack, triggering a mechanism to achieve the desired result and entertain the people watching. Below are two photos of a machine that was used in an act that shares a similar function to the drawing.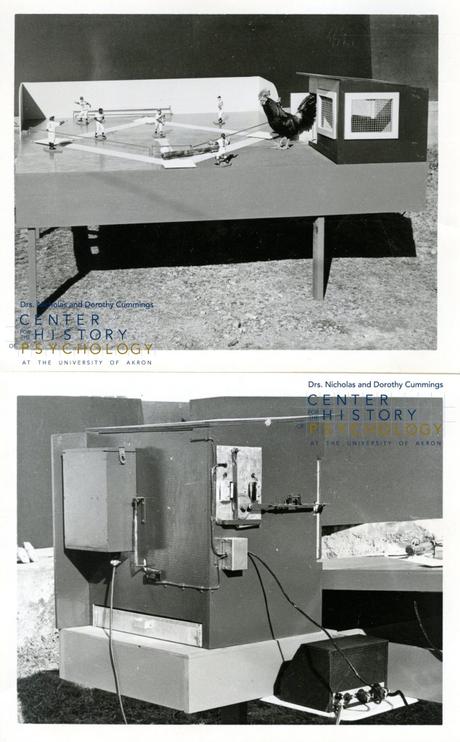 Animal Behavior Enterprises papers, box V115, folder 9
Overall, a very interesting and informative first week on the job looking through the archives here at the CCHP. I'm excited to get more assignments and continue become more comfortable working with the archives!
(And hopefully not get lost again).