Time after time, I review CC creams and I find that they doesn't really suit my skin/the weather in Singapore/get sucked into the depths of my pore-filled face. But in life, we must be optimistic (and some might say vaguely deluded). I will mush on in pursuit of the perfect CC cream!
A'Pieu Aurora Luminous CC Cream – KRW18,000

My bro helped me to get this when he was in Korea last year, so he chose the NB01 for me based on some random guy fewling.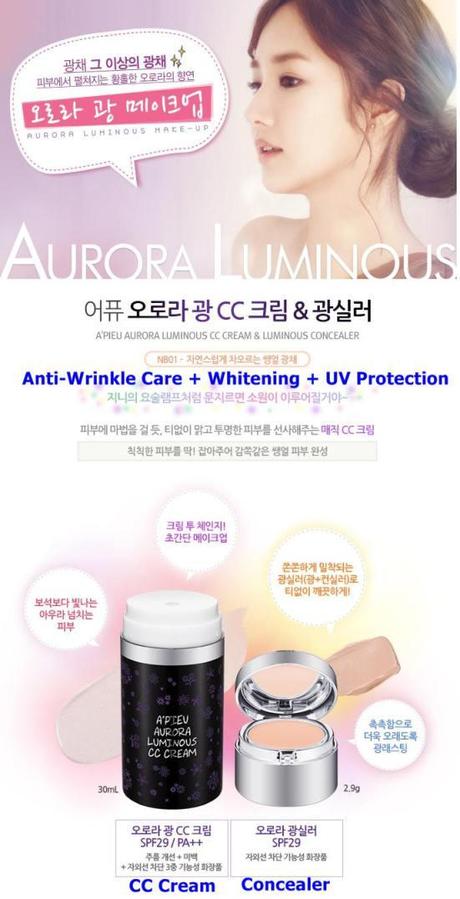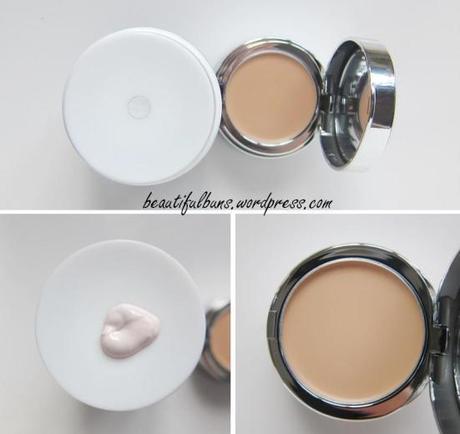 The flip-open top portion reveals a concealer whilst the main portion is a pump delivery system for the CC cream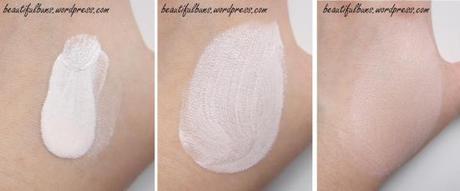 Shade NB01

It's almost like applying nothing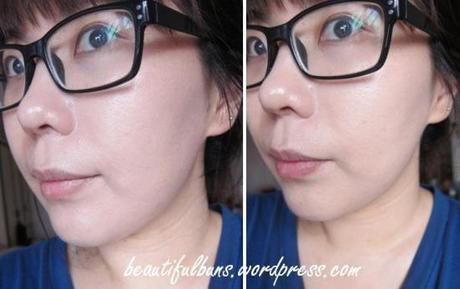 Under natural sunlight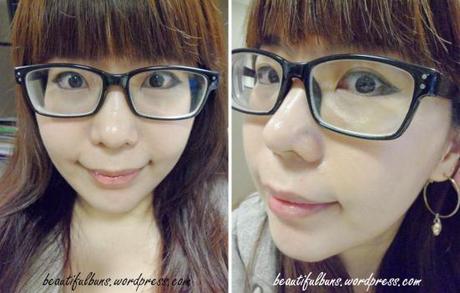 Under indoors fluorescent lighting
I say…
It comes in a two-tiered bottle – the top portion is removable (click-on) and holds the concealer portion and a mirror.
The bottom portion has a pump delivery system similar to that of the ONL Oceaniq 3D Anti Wrinkle Total Solution CC Cream – push down the entire top to dispense the CC cream.
One pump is more than enough for the entire face, so I usually try to press gently to dispense half a pump.
There is a very slight scent to the CC cream.
I -think- there are some very miniscule colour-changing granules in the CC cream, but they're so tiny that I can barely begin to feel them before they dissolve.
The CC cream is smooth and easy to apply without tugging on your skin, kinda like a slightly watered-down version of the usual BB cream textures, similar to the Shara Shara Royal Class Choice Color Control CC Cream.
It comes out a sweet pink-almost-lilac colour, which then changes into a nude light beige after blending in.
It changes colour at an average rate – not super fast nor super slow.
It gives a beautiful glowy finish – see pictures for proof. Like most CC creams, it's not strong in the coverage department though. I'd give it about 6/10 for coverage.
It also ups the moisture level of the skin – but when combined with the eventual sebum secretion several hours later, led to my glasses sliding down my nose. Heh. I guess this would be good for those with dry skin.
Overall, I guess it's an alright CC cream – some coverage, great glow and moisture. Best for those with combination/dry skin, and also for those who have good complexion since this doesn't hide much.
P.S: I didn't swatch the concealer portion after testing out the CC cream cos I just had a hunch that I wouldn't be keeping this for long, and I figured I'd keep it in better condition for the next owner