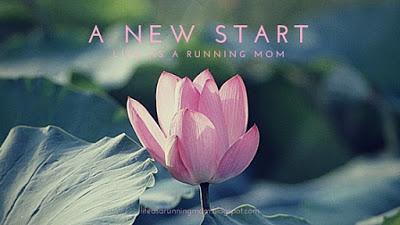 Do you know what I love about running? It is always there for you and you can always start fresh whenever you want. If things aren't going as planned, that is okay. Just lace up and start again!
My training was knocked off plan with my mom's visit, darling daughter's First Communion, time off of work, my injury and rash, and just being a mom and wife. But I refuse to let that get me down! My mom going back home left me down enough. I am talking two gloomy "I am miserable" unhappy me days before I was able to "suck it up buttercup". Those days were tough and darling daughter was a champ giving me hugs, reminding me we will see her again in just two months, running with me, going to the farm with me, holding my feet for me while I did sit up's etc. Seriously...what did I do to get such an amazing daughter? I am blessed beyond what I deserve. Thank you God!
And that is where my training is getting a new start. When my mom was in town I was running on my treadmill versus outside. My runs were shorter but I still got it done daily and I ran while reading the daily prayers, intentions, and readings in the Give Us This Day book and going through the Seven Sorrows of Mary. I didn't necessarily do every word each day but I spent time in prayer and reflection while running. I enjoyed it so much that I am renewed and committed to getting up at 4 am to run and do my daily prayers each and every morning...in the dark...on my treadmill. I don't want to let go of that quiet time and there is something magical about studying The Word while running. I know this might not work for all but it does for me. It makes me smile to think years ago I answered the question, "Why do you run?" with "I run because it is what my spirit is meant to do." Fast forward to today and I am running and communing with Jesus at the same time....and in many other times throughout my day and life.
So that is Part one of my new start. Get up earlier. Run on the treadmill with God.
Part two is pushing myself. I am playing with my treadmill more in a good way. I am changing the pace up and pushing myself as I should. No longer lazy just hit 6 and run. I can run faster than a 10'00" pace and should. Those easy days are okay sometimes but seriously girl, take the moment to pick up your hand and hit + every now and then and push yourself! And look beyond the pace.
When I got my newest treadmill I got one with adjustable incline...use it! And I am. I even hit 10

(the max)

one day and gave that a whirl for a brief

(very brief)

amount of time. Phew! That was hard! But by doing these things I am making my running on the treadmill more valuable for my training and guess what? I am sweating more

(but that just may be the indoors conditions)

and can feel my heart rate increasing more often. This is what I need to increase my fitness!
But that isn't it. There is a Part three. Do something different and cross train. I am doing Cross Fit at home  -- thanks to an article in my most recent Women's Running magazine

(and I think the last one I will receive from this subscription and that is okay)

. I am squatting, sit up'ing, lunging, push up'ing myself to a stronger me and I am beyond determined to stick to it. My goal is three times a week but right now if I just get it in twice I will be happy. I also hope to be adding in burpees and will do some days but right now I feel pretty mean adding that pounding sound in my house before my family, and the neighbors, wake up. Consideration pays off, right? And trust me, after my 11 minutes of effort this morning post my 5K run my heart was pounding.
So in a nutshell, this is my three part plan, and new start, to my running and fitness plan.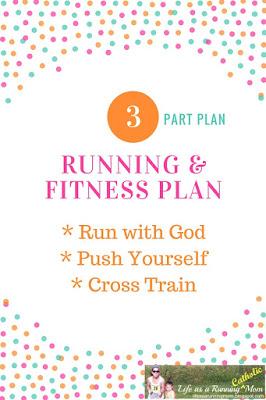 Daily Gratitude: I am thankful for my treadmill and that I love it again.
Daily Bible Verse: And let the peace of Christ rule in your hearts, to which indeed you were called in one body. And be thankful. Let the word of Christ dwell in you richly, teaching and admonishing one another in all wisdom, singing psalms and hymns and spiritual songs, with thankfulness in your hearts to God. And whatever you do, in word or deed, do everything in the name of the Lord Jesus, giving thanks to God the Father through him. Wives, submit to your husbands, as is fitting in the Lord. Husbands, love your wives, and do not be harsh with them. ~ Colossians 3:15-20