Did you already get over the holiday season's eating and drinking? I bet all of you had a memorable feast last December and drank too much resulting to gaining those unwanted extra pounds and fats. I also bet that you are now in the gym trying to regain those sexy abs and slim figure. Then again, it's always the case for all of us specially at the beginning of every year. Exercise and diet are the most common resolutions. Some even resort to not eating at all or not wanting to eat anything sweet, fatty, or filled with cellulite.

It is better to start the year with good health. However, good health does not mean depriving yourself of the goodness of eating specially when it's as delightfully mouthwatering and as elegantly tasteful as the cakes and cupcakes made specially by my gorgeous, creative and amiable Zamboanga City High schoolmate Candyz Awitan Tubog. Well, all I can say is that she is a full-time mom and a loving wife. She had this passion two years ago and to add to her existing knowledge in baking, she took a beginners fondant subject with cupcakes as a theme at the prestigious Heny Sison Culinary School in Quezon City. Her drive to success and determination to make things happen paved the way for her to add some "life" and "texture" to her eccentrically delicious cupcakes and cakes. Her love for baking is manifested in every pastry she bakes.

Had I known that there is an excellent baker here in City of Flowers, Zamboanga City, I would not have spent thousands buying decorated cakes from expensive bakeshops in the city? I am so elated and excited that I found the perfect baker who will be my partner in every major celebrations in my life. Candyz is not only a baker, she gives her own take on cake...A delectable piece that melts in your mouth... that is not just any chiffon, stuffing or icing on top that looks good on the outside but does not even taste like a cake. Some cakes are like "mamon" you buy in your neighborhood's bakery. Some cakes are like that. You see the beauty of the icing and toppings, but you can't taste what is on the inside. Now, I want you to give her cake a try. I know that you will keep coming back for more.  
What I am about to show you are some of her ingenuity and creativity transformed into undeniably tastefulness... nothing  you have ever tasted before. 

These cupcakes are similar to the ones given to me by my friend in New York. A much simpler version but definitely more delicious. The flavors used here are vanilla buttercream, nutela and choco and I was even surprised that even my dad loved it. He doesn't eat cakes or sweets a lot. At an affordable price, these cupcakes are perfect as desserts, give-away, gifts, party foods, picnic items and even a daily dose of your carbohydrates. They are so affordable that you can order it from her and have it delivered at your doorstep. The cupcakes with boiled icing is P20 each while the buttercream is P50 and the marshmallow cupcakes are P35. Isn't that amazingly cool? You do not only get your money's worth, you can even taste her "from the heart" creation, baked specially for you, and crafted with creativity, design, and style. You know I am a fashion blogger, I love fashion, but I have realized lately that fashion can also be incorporated into baking like what Candyz Awitan Tubog can achieve in her cakes. Just look at her best creations below which are definitely "eye candy." Perhaps, that is why she is named Candyz... she can make sweets as attractively looking and deliciously sweet as possible. Her moist chocolate cake, which is the best seller at only P350.00 does not only contain the boiled icing on top or the decoration on its sides, the inner flour blended with the right amount of sugar and chocolate flavor are so perfect that you can really taste wonderfulness of chocolate, which of course is my favorite. Now, try to look at some of these decorations...ah este...cakes...that you would be fooled that it is a cake...

Feast your eyes with these magnificently designed and eloquently crafted cakes from Candyz. Aren't they so adorable that you would not want to eat them? Well, if I were the celebrant, I would just place these in a decorative box or glass! The combination of green and peach are what excites me the most about this cake.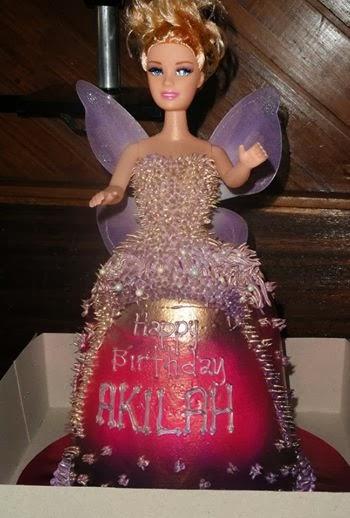 Do you love Barbie? Me, obviously, I do! Well, I bet the birthday celebrant has fascinated about this cake longer than she ate it. I have seen a lot of decorative cakes even in Shangri-la and some of the best restaurants in Manila but I have never seen one as astoundingly gorgeous as this one! Truly, only Candyz can ignite our senses, both our eyes and tongue with her genius ideas and creative hands.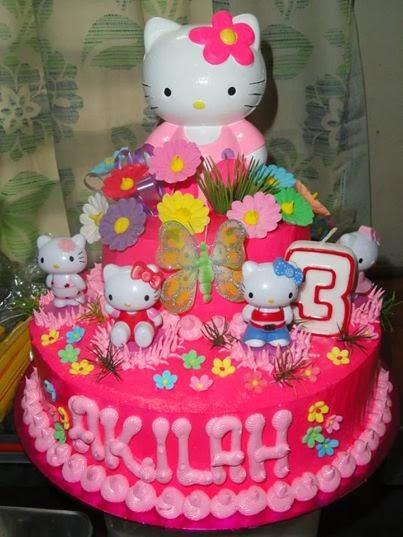 Or, do you fancy Hello Kitty. Well, you all know that any birthday would not be complete if there is no cake, right? But, if the cake that is presented to me or to any girl is as beautiful and exciting as this one, you would not dare touch, eat or even smell this! LOL! Not unless you are really hungry. The Hello Kitty is immortalized in this cake and what an excellent way to surprise any birthday celebrant than to let her see the beauty and pink glamour of Hello Kitty.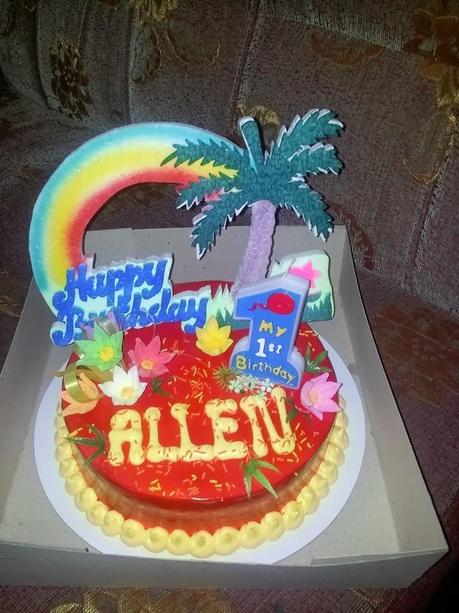 Or, if you want to surprise Allen on his natal day, why don't you try this specially made cake with a sunrise island theme that is so handsomely done you can't resist looking at it. The color combination and the toppings made this a very special one. Candyz does not only make sure the icing is pleasing to the eye, she ascertains that the overall texture, taste, and moisture of the cake are blended together that you won't even realize it's a cake. It is her "magic touch" that makes her creation both palatable and healthy. She mixes the right amount of sugar so you need not worry about taking too much sweet at one time. Isn't that great?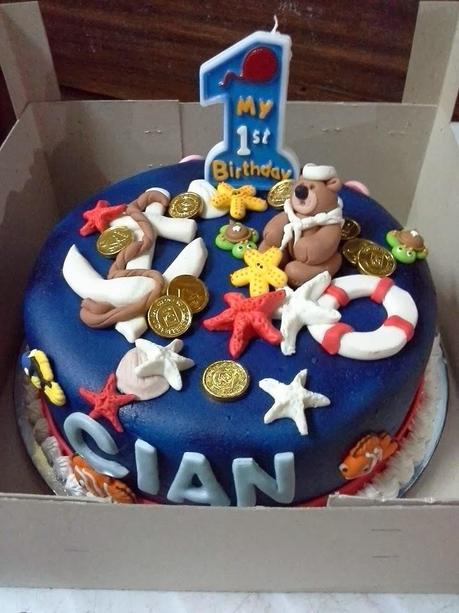 Should you wish to surprise your birthday boy in a Yogi bear inspired cake, this is it! The mesh of Navy look is definitely a catch in this cake. This cake is not only as "good as it gets," it is also a mouthwatering masterpiece of perfect proportion. This is why I called this, the Sweet Seashell.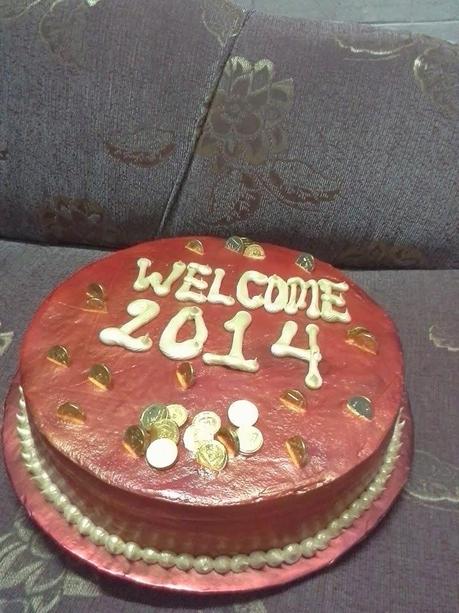 Would you want to welcome the new year with good vibes, positive energy and more money? Well, this cake is a perfect example of how to attract fortune, good health, more blessings and abundance this year. Not only is this cake decorated with your favorite gold coins from Goya, it is a classic example that not all New Year celebrations should be with a "Bang." It can also be as sweet as delicious as this.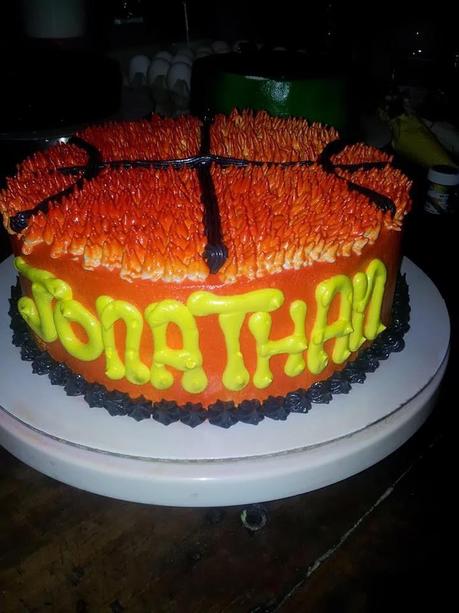 If you a sports fanatic, or someone you love is, then this Basketball inspired cake is a good match. Gone are the days when cakes are supposed to include your age number, this is one ball of sweetness any man or boy can never resist.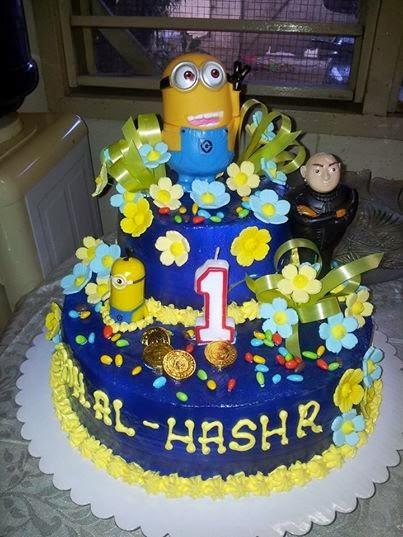 Finally, if you love the characters of Despicable Me, then this pastry of goodness is the right choice. Just bring in all the minions and decorate them with your favorite toppings, icings or candy flowers and ribbons, then you are set to go! This only means that you can have your cake specialized. Just have Candyz materialize the concept and you will be surprised what she can do out of flour, egg and sugar. 
With all these in mind, are you now longing for the right amount of sugar in a cake? Or do you want to create your own but do not have the time? Or, are you tired of buying the same designed cake at a nearest bakeshop and find the taste awful or too sweet and watery? Then, worry no more, Candyz Cakes and Cupcakes will bring you to another level of sweetness with her gloriously crafted and beautifully packed, designed and wrapped cakes and cupcakes. Hers is a masterpiece of baking that is worthy of admiration not only by your loved ones but your friends as well. You can even have it delivered. Your design....Her work-of-art...Your concept....Her...masterpiece. Did you know that every bit of cake is a blessing in itself? Her passion for baking and creativity are what made every cake and cupcake a taste of its own and a worth of every penny. Why don't you try them now? Contact Candyz at 0916-569-4124 or you may go directly to her residence at Estrada Street, near Carmelas, Tetuan, Zamboanga City.  
With Candyz Cakes and Cupcakes, everything is eye candy!