by Nina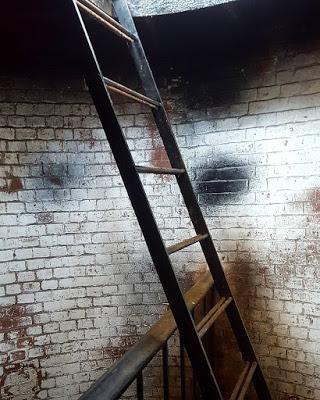 Ladder by Marie Lossky
(@Marie.Lossky on Instagram)
"Sometimes we don't fully appreciate the progress or importance of our practices, but there will be a time when our practices show up and show their strength and depth. So practicing both in the times that are easeful and in the times that are not creates this beautiful inner support system that is there for us when things get really rough." —Jill Satterfield
The interview
Recovering from Heart Surgery

that I did with Jill Satterfield recently got me thinking. There were definitely some gems of wisdom in there! And in particular the beautiful quote above got me thinking.
Although our equanimity practices are very effective for supporting us present, allowing us let go of regrets about the past and worries about the future, and to face challenges in the here and now with a sense of balance, practicing regularly will also help prepare you for challenges you may face in the future. So even though it can be tempting to use your equanimity practices on an as-needed basis, we recommend you practice regularly even during "easeful" times. You'll then have those practices available as a "beautiful inner support system" whenever you need them. (See 7 Ways to Cultivate Equanimity with Yoga.) 
In Jill's case, she is a long-time practitioner of both Buddhist meditation and yoga. She practices pretty much daily, with meditation, asana, and pranayama all playing a part. And she saw all those practices show their strength for her when she endured a couple of years of uncertainty after being diagnosed with a heart defect and being told she would "know" when the time was right for surgery, and then going through the surgery itself. She says they helped her because after many years of being mindful of her thoughts, emotions, and the sensations in her body, she developed a keen sense of what could be beneficial and when something was too much or too soon. She also said, 
"Having meditated for 30 years, my meditation practice showed up the most as far as supporting me in the post surgery stage. I wasn't afraid, I wasn't anxious, I wasn't angry, I was surprisingly okay with the reality of my situation. My mind, and the training of my mind—of being in the present —not far-flung into the unknown future of fear and anxiety, really was a great blessing. I was at ease with what was happening and that was great considering it went on for two years."
That to me is the very essence of equanimity.
(For more info on Jill, see vajrayoga.com)
Subscribe to Yoga for Healthy Aging by Email ° Follow Yoga for Healthy Aging on Facebook ° Join this site with Google Friend Connect