After just over 8 weeks on the ViSalus 90-Day Challenge, we've hit our next milestone and have created another set of before and after pictures along with our weight loss update. Our bodies have changed so much in the past 60-Days we both can't believe how much better we look and feel. The most amazing part though is the fact that so far, it hasn't been all that hard. There are challenges and pitfalls to any weight loss program, but overall, if 60 days ago you told us we would have these kinds of results, we wouldn't have believed you. Yet 60 days later, here we are.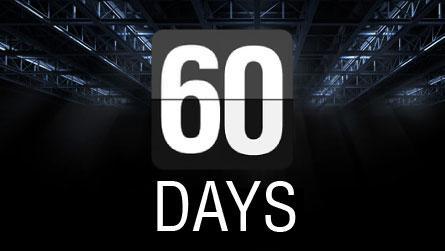 Lauren's Update at the 60-Day Mark
Whoa! It's now been 60 Days since I started this weight loss journey. My results have been nothing short of spectacular. With that being said, I hate scales! :p I have a tendency to hold on to water weight. If I consumed a saltine cracker, I would weigh more the next day. I keep myself on a pretty low sodium diet because of this, however, if you are American, you know that eating out means eating salt…lots and lots of salt. My mind fought with the idea that I was eating healthy, drinking my shakes and working out at least five times a week yet not really losing a ton of weight. I was definitely burning more calories than I was taking in.
My photos show my results.

The evil scale will not triumph! If I was happy with my body, I would take photos everyday to show my progress. For now though, we will stick to every 30 days until I am happy with my appearance. I can't believe how my fitness level has changed and how it affects my posture and balance. I am ready to take on the next 30 days and continue on the road to fit!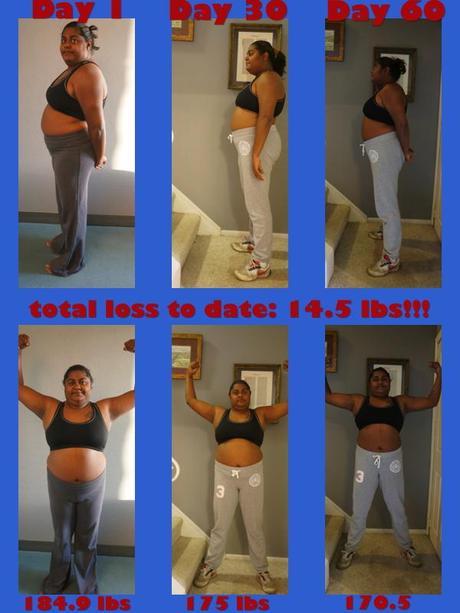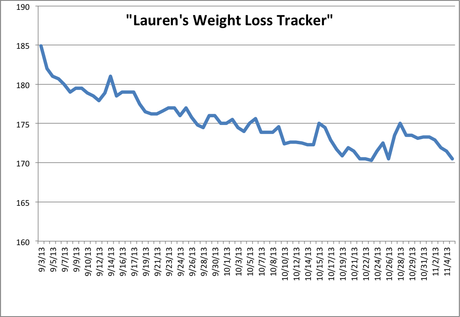 Kenin's Update at the 60-Day Mark
Interestingly I must say that the second 30-Days of the Visalus 90-Day Challenge were a bit tougher than the first 30 for me. They say that it takes 21 days to build a habit (which has proven pretty true in my life), so in theory by the time you get to 60 days it should be a piece of cake right? Well it's not so easy (why did I have to say cake??). If our bodies functioned like clocks we could just manage the number of calories in and calories burned, and then consistently lose or gain exactly as much weight as we want. Sadly, we're not exactly wired that way. Sometimes your body just decides that you didn't sleep enough, or that it's going to spend some time building muscle and bone strength before it burns off more fat. Other times (like in week 8) life just gets in the way of your best laid plans.
With all that being said, when I take a step back from the daily weigh ins and exercise, I can truly say that this has been my easiest weight loss experience ever. Of course there are  challenges and hurdles, but I've been doing this now for 60-days and I can easily say the next 30 should be a breeze. Why? I'm not counting every calorie or trying to figure out what's in that restaurant dinner every night which helps quite a bit. Also I've got more support than I ever imagined! Not only has it been awesome to do this side by side with Lauren, but the whole ViSalus community has come out to support our challenge success. Now some people (at one time me included) will shake their heads and say that someone clicking on "like" on Facebook can't make that much of a difference in their lives, but they're wrong. The friendliness and helpfulness of the Vi community and you, On The Road To Fit readers, has made this something that I can wake up and do every day. And for that, I want to take a moment and say thanks! I wouldn't have these results if I didn't have you!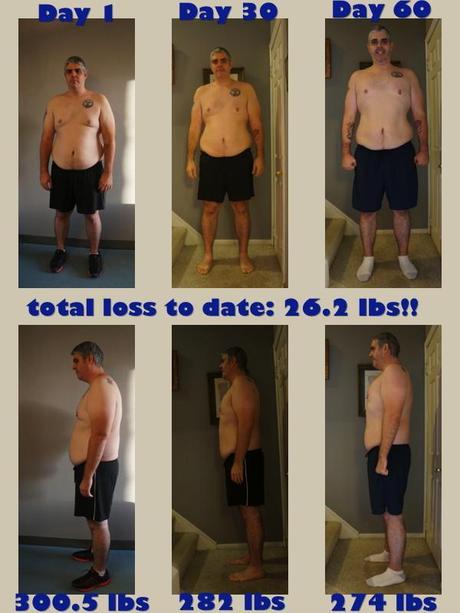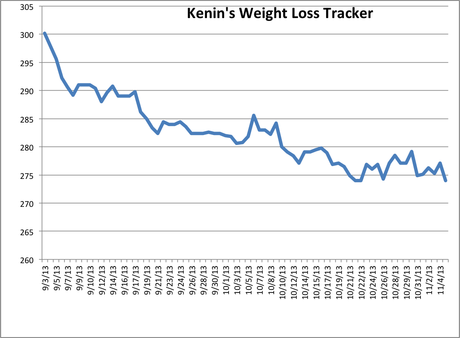 Week 8 Weight Loss Update Progress Report
Weight at Beginning of 90-Day Challenge – 185 lbs / 300.5 lbs
Weight as of this writing – 170.5 / 274.0
Total loss =   14.5 / 23.1 
Exercise – 6 Days of HIIT Training, 1 day of rest
If you found this 60-day Weight Loss Update helpful, we'd love to have you subscribe to our newsletter so you never miss a post! If you are looking for more posts about he challenge and to help you on your journey on the road to fit, take a look at these related posts.
Week 8 – Weight Loss Update – Eating as a Form of Entertainment
America Fat of the Land
 Tips for Healthy Eating at a Restaurant
Keep in touch and follow my journey on Facebook, twitter, Google+, Pinterest, and Instagram