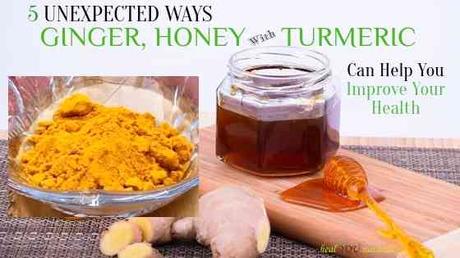 There is no doubt that turmeric is one of the most used spices in the world as of recently. Many people know turmeric as the main spice in Asian and Indian dishes, but most importantly it has been used in Ayurvedic, Indian, and Chinese medicine . This spice is much more than its flavor -it's also a potent anti-inflammatory agent that's filled with healing compounds. Learn a little more about this great spice, and how you can use it to boost your health.
The Power of Curcumin
The secret to turmeric's healing properties is curcumin, a chemical compound that has been used for medicinal reasons for centuries. Studies suggest that curcumin has anti-inflammatory, antioxidant, and neuroprotective activities. This means it could have a wide range of health benefits, ranging from improving cognitive health to preventing oxidative stress. [1]
Health Benefits of Turmeric
The compounds present in turmeric may provide diverse health benefits such as:
1. Mitigate Depression
Curcumin can impact the way the neurotransmitters in the brain function. Because of the compound's effect on the brain, it may be able to relieve some of the symptoms of depression and other mental disorders. Studies suggest that curcumin may provide similar results to popular prescription anti-depressants. [2]
2. Improve Skin Health
Curcumin is often used in beauty products and skincare formulas because of its skin-boosting properties. This is largely because curcumin acts as an antioxidant and anti-inflammatory, which can minimize skin conditions like acne, psoriasis, and fine lines and wrinkles.
3. Control Inflammation
Excessive inflammation is the root cause of many diseases, ranging from arthritis to chronic pain to mental health. Curcumin has anti-inflammatory properties that can inhibit pro-inflammatory pathways. Daily use of curcumin may be able to help Alzheimer's patients - especially if combined with coconut oil ( this article tells you how), people who suffer from colitis, and patients with high cholesterol.
4. Blood Clot Prevention
When blood platelets start to congregate in one area, it can lead to clots. This process, known as platelet aggregation, may be mitigated by curcumin. The anti-inflammatory compound helps to regulate internal biosynthesis, which may prevent platelets from forming. Because of this, curcumin should be a must-try treatment for anyone at risk for cardiovascular disease.
5. Arthritis Management
Thanks to its anti-inflammatory properties, this spice is an effective way to manage arthritis symptoms. This condition is caused by the inflammation of the joints, which can cause pain and soreness. Curcumin works by attacking the sources of the inflammation, which helps to minimize the associated pain. Studies suggest that adequate doses of curcumin may be just as effective as common OTC pain medications. (3)
How to Enjoy the Health Benefits of Turmeric
There are many ways to enjoy the health benefits of this healing spice. You could create your own golden milk, drink it in your tea, or use it as a seasoning on your food.
Ancient Golden Paste
For years, people across the world have been harnessing the spice's anti-inflammatory properties. Golden paste is one of the most effective recipes, as it combines the spice with ingredients that increase its potency, like black pepper and coconut oil. Check out this recipe to make your very own golden paste!
Tea
If you don't have time to mix up a batch of golden paste, don't worry! There are other ways to enjoy this ancient spice's myriad healing properties. One of the easiest ways is to brew turmeric-flavored tea. To brew the tea, simply boil water and then add half a teaspoon of the spice. Allow it to steep for about ten minutes, and then strain it to ensure it has a smooth texture. You can also try this delicious Chai healing Tea.
Smoothies
When you're whipping up a green smoothie, add a teaspoon of this golden-hued spice! This is a great idea for pre-workout smoothies, as the addition of curcumin can help to reduce muscle inflammation. Check out some healing smoothies here.
Golden Honey
This is another popular way to ingest curcumin. For every one tablespoon of the spice, add about seven tablespoons of honey. Mix it thoroughly, and then take a spoonful in your mouth every few hours. Don't just swallow it-let it dissolve in your mouth to maximize the health benefits of turmeric.
Cook with Turmeric
While spoonfuls of golden honey or paste are great ways to harness the health benefits of this spice, don't forget its most popular use! Stir up some curry powder by combining the spice with oil, black pepper, coriander, cumin, and cayenne. You can add turmeric to stews, rice, eggs and many other dishes. I've made steak, peppers and onions with golden paste, along with other spices and it was delicious- just get creative and use it.
How to Make a Natural Ginger, Honey, with Turmeric Healing Elixir
Ingredients:
1-2 Large ginger roots (to be diced)
Organic honey or Manuka honey
Organic ginger
Preparation:
Put honey in a glass jar, then add ginger slices, turmeric and mix them well.
Refrigerate up to 3-5 weeks.
Uses: To reduce chronic inflammation, pain, insomnia, digestive issues (unless excessive acid read this), arthritis, and even anxiety. If you have the flu or coming down with a cold, allergies, upper respiratory infection- or any infection for that matter take a teaspoon of this elixir every two to four hours in tea or your favorite nut milk. Milk isn't recommended because dairy creates more mucus. You may use this remedy until the symptoms subside.
Here's a similar recipe that is a natural antibiotic, will boost your immune system, tastes delicious, and can be used in combination or alone.
Ingredients That Optimize the Anti-Inflammatory Powers of Curcumin
When you're concocting anti-inflammatory elixirs, teas, and meals, there are certain ingredients that will optimize the healing powers of curcumin.
Ginger
Ginger is well known for its ability to relieve gastrointestinal discomfort. The gingerols found in this ingredient help to inhibit inflammatory compounds before they form, which can help to protect against colorectal cancer, alleviate pregnancy-induced nausea, and prevent simple carsickness. When combined with curcumin, ginger helps to ward off the inflammation that can disrupt digestive function.
Black Pepper
Present in black pepper is a compound called piperine, which helps to increase the potency of curcumin. The body metabolizes curcumin quickly; effective recipes need to include an agent that can forestall this process. Without an agent like piperine, the health benefits of the spice may not take effect.
Coconut Oil
Like black pepper, coconut oil increases the bioavailability of turmeric. Add it to your pastes, smoothies, and other meals to ensure you get the most out of your curcumin use.
Over to You. Have you tried this natural remedy? Have you noticed any changes since you started taking Turmeric? I'd love to hear your experiences in the comments below.
References
[1] http://lpi.oregonstate.edu/mic/dietary-factors/phytochemicals/curcumin
[2] https://www.ncbi.nlm.nih.gov/pubmed/23832433
[3] https://www.ncbi.nlm.nih.gov/pmc/articles/PMC5003001/