Now that I'm a stay at home mom ( SAHM), vacations have come to represent a rare chance in my daily life to really get dressed up, or just to try something different.   Here's my TOP 5 Reasons to Dress Up on Vacation! I hope this inspires you to take a chance on your next vacation and really let loose!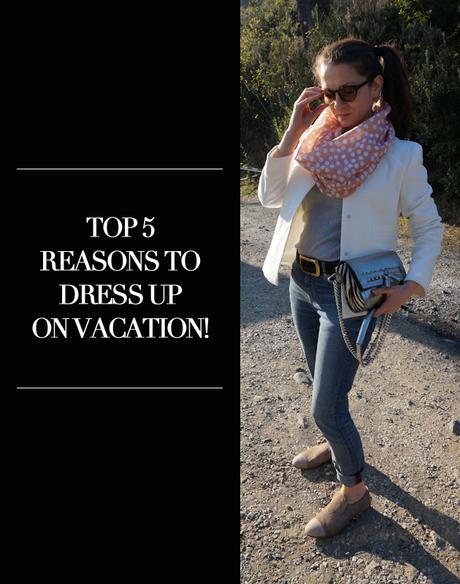 N°1 – MORE TIME
No school runs, no preparing elaborate breakfasts, no getting in a quick load of laundry before the house turns into a mayhem…..just TIME.  If you let the rest of your family members sleep in and you wake up even just 15 minutes before them you can dedicate all 15 MINUTES to yourself!  I know this sounds crazy but it is well worth it!
Throughout our weekend in Le Cinque Terre I finally had TIME to dedicate to side ponytails and braids!!  I have a whole board on pinterest dedicated to Easy Braided Hair, however, for some reason at home I've never been able to set aside enough time (energy) to try it.  If something goes wrong during your daily grind than you've "wasted" time, but on vacation you're free to experiment!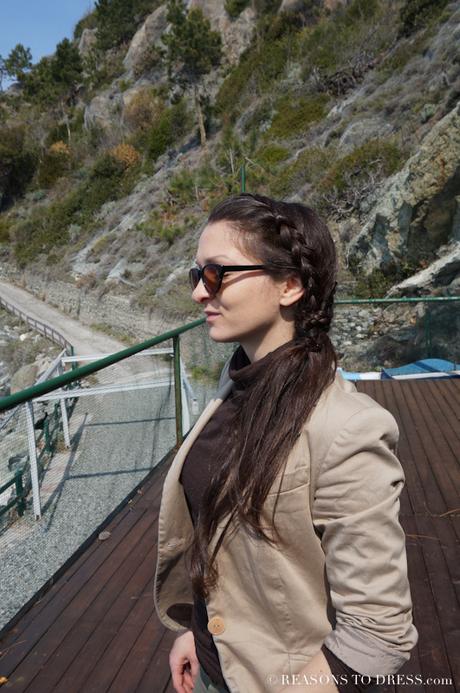 N°2 – FREE TO TAKE RISKS!
Speaking of something going wrong, if you are at home and want to try out that side braid, new mousse, new gel etc. and something goes wrong, you have to face the people that know you.  "Did you do something different with your make up?" is a polite way of saying "you look like a street walker in that shade of red".  But on vacation, you have glorious anonymity!!!  Take a risk! Why not? No one knows you!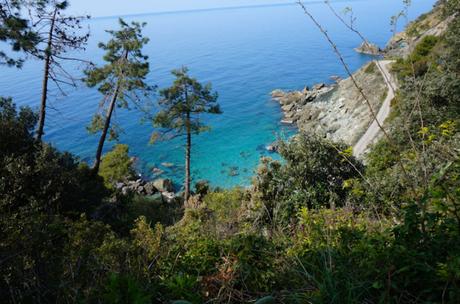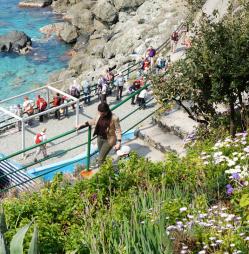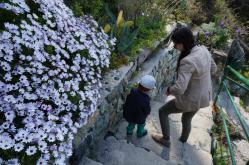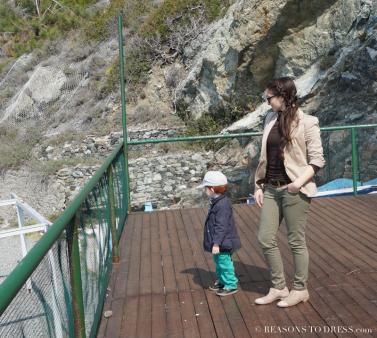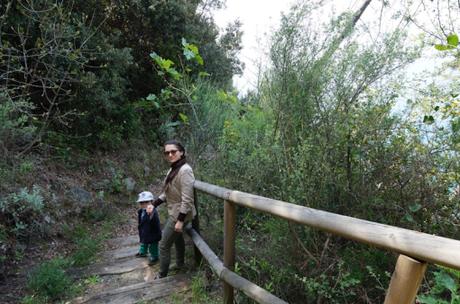 N° 3 – NO ONE KNOWS YOU!
By far my all time FAVORITE concept of taking vacation style risks was taught to me by my mother at the ripe age of 5.  We were on vacation and there was a silly costume party in the resort where we were staying.  We hadn't packed any costume supplies from home, but we 4 kids REALLY wanted to attend the party.   My mom invented homemade costumes for the four of us on the spot.  The "spooky ghost" (a pillow cover), Cindy Lauper (a tennis racket in my older sister's curly hair), a Drag Queen (that would be my brother!) and a Native Princess.  To create the Native Princess "look" my mom wrapped a tea towel around my ever so thin frame while I wore underwear, with half of my "cheek" exposed.  I was mortified.  But she said "Angela, what do you care? No one knows you here!".
FREEDOM.
Those words became my motto for every single stunt I have ever pulled in my life, especially on vacation!  No one knows you, so take risks, do your hair differently and experiment with your StYLE.
N°4 – DRESS UP
One of the biggest risks we take as North Americans is dressing up.  I'm not sure why in North American culture it is a bigger deal to wear heels and go grocery shopping than it is to go in pijama pants!  We are deathly afraid of over dressing and of "trying too hard".  Now that I've been living in Italy I've noticed culture shock when I go back to Canada and see how absolutely casual everyone is.  Grown men in Toronto dress like the ten year olds in Italy and I realize it is because they WORRY ABOUT OVER DRESSING.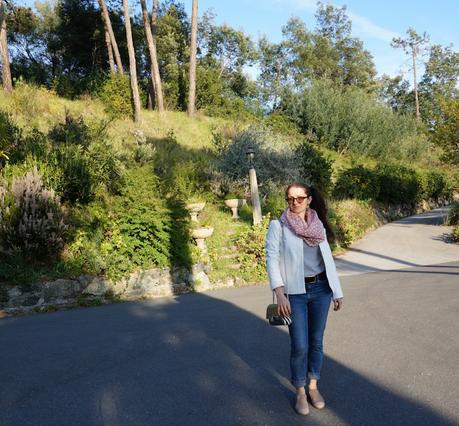 I invite anyone who has a great dress in their closet that has been sitting there for years collecting dust to WEAR IT!  If you are going to Italy leave your flip flops at the beach, and instead wear the clothing items and shoes that you never seem to feel comfortable wearing in North America because they are too dressy.  Believe me, in Italy, no one will criticize you for dressing up…. and even if they did they don't know you!
In Le Cinque Terre I made an effort to pack a nice new blazer I've never worn and a new pink scarf I've been wanted to accessorize with.  Where did I wear them?  In the car for the ride! But I got a few photos in the outfit which brings me to point N°5!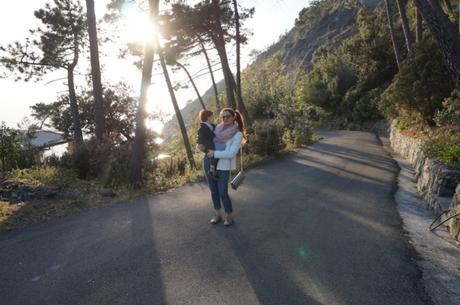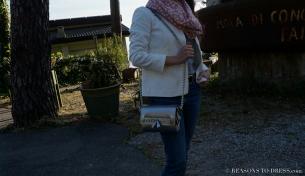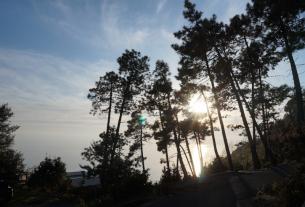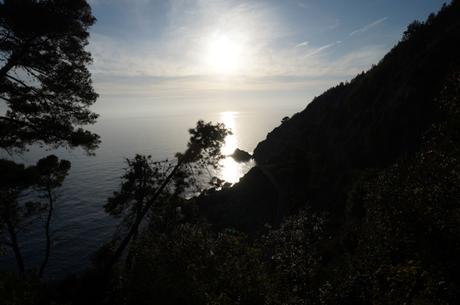 N°5 – PICTURES, PICTURES and MORE PICTURES
Normal people (meaning non-bloggers), don't take thousands of photographs of themselves weekly.  There is a good chance that the majority of your "selfies" are from either a wedding, another special occasion, while you are playing a sport, during a dance recital or ON VACATION! Vacations play a critical role in the ever important social media profile photo!
You will want to remember the great things you did and the stunning sights you saw, so chances are you'll have your camera ready and you'll be snapping pictures.  Here's your chance to look your best.  Unless of course you followed my advice in point N°2 and took a risk that didn't work out too well, in which case wear a hat or something because again….NO ONE KNOWS YOU!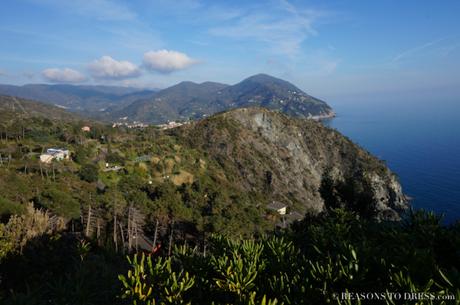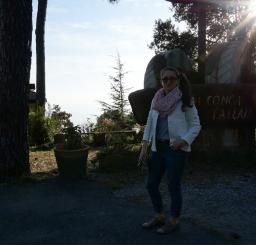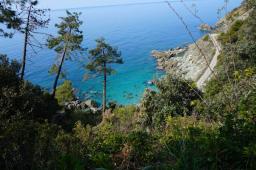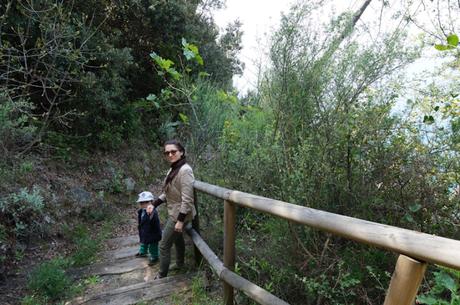 Part of my dressed-up look for Le Cinque Terre was the silver real leather and cavallino hair "Cocktail Dressy" bag by the brand Be*Why accessories.  If you'd like to win this bag to dress up your own vacation look feel free to enter the giveaway below.  To learn more about this artisan brand I've featured them here as part of my HAND MADE artisan series.
a Rafflecopter giveaway

Feel free to follow Reasons to Dress on Bloglovin' so you never miss a post!
You'll get one email a day with all the new posts from all of the blogs you follow.