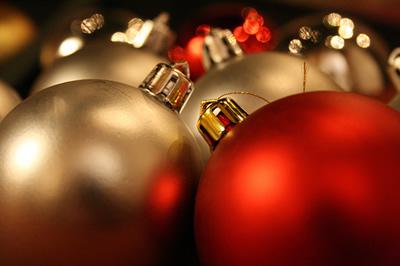 Around this time of year, there are all sorts of opportunities to go big with your makeup looks - and it's a lot of fun to play with more dramatic eyes and lips for those holiday parties! If you're going to stand out under the mistletoe this year, here are some products you'll need!
1. A smoldering black eyeliner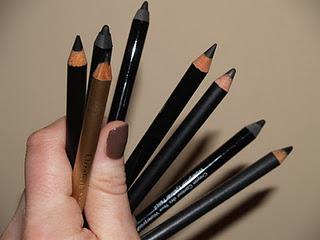 Elizabeth Arden Smoky Black, Lorac, Urban Decay 24/7 Glide-On Eye Pencil Zero, 

Smashbox Dream, Lancome Le Crayon Kohl Black Ebony, Nars Black Moon, 

Makeup Forever Waterproof Eyeliner Pencil 0L, MAC Eye Kohl Smolder


This is a no-brainer - any time of year - but if you really want to set off a glittery or intense holiday eye look, you'll need a really good black liner. A lot of my favorite holiday looks are smoky, and the key to any good night-time smokey eye is a great and easy to work with black liner pencil.
Waterproof liners like Makeup Forever or Urban Decay 24/7 are long-lasting, and great to line the upper lashline. You'll also need a kohl pencil to line your waterline (I recently discovered Lorac's black liner, but MAC's Smolder is a must-have for a reason). The classic cat-eye is another great option, for which you will need an intense, opaque gel liner (like MAC's Blactrack or Bobbi Brown's Indigo Black) or liquid liner like MAC Rapidblack to create a cat or winged liner. Really, having a good selection of your favorite black liners is one of the cornerstones of any good makeup collection!
2. A classic red (or other eye-catching colour) lipstick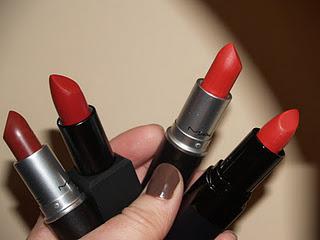 For a classic red lip: MAC Diva, Pure 64, M.A.C Red, , Bobbi Brown Old Hollywood


When you're picking a lipstick that will last through dinner, drinks, and beyond, there are a couple of factors to consider. The first is the lipstick finish. Matte lipsticks will stay put and are less likely to move around, so consider going shine-free if you want a truly long-lasting lipstick. MAC's Ruby Woo and Diva are two options - but be warned, Ruby Woo is arguably the most drying lipstick of all time (most mattes are at least a bit drying, but this one is particularly so!), so make sure to condition your lips before and after using!
The second factor to consider is application. You want to make sure that the lipstick is worked well into the lips using a layering technique and a good, stiff brush. You can also use a translucent powder to set the first layer before re-applying for extra wear. And don't forget to blot - though if you've done it right, there shouldn't be much to blot!
You might have noticed a lot of bright fuchsia lips on celebrities lately. This is a great way to modernize a more classic look, and can add the same attention-grabbing element with a bit of a twist and personal touch! I think you can make it work with any bright color that strikes your fancy, but here are some of my favourites: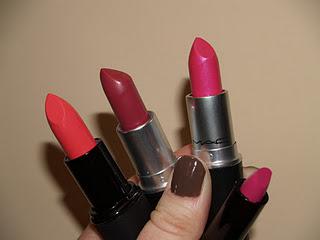 For a modern pop of colour: Sleek Candy Cane, MAC Blood Red (from the DSquared Collection), 

MAC Show Orchid (Pro) and Makeup Forever 36 (mini)


And of course, if you don't want to go classic red, vamping up your color can be as much fun as going bright! You can do a deep burgundy, a purple-tinted shade or something more exciting - like my all time favorite berry/pink deep shade - MAC's Rebel!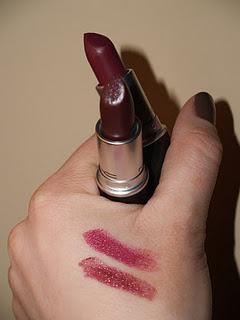 Want to vamp it up a bit? Try: MAC Hang Up (even has a hint of seasonal shimmer!) and MAC Rebel


Depending on the shape of your lips and the finish of the lipstick, a lipliner to match your lipstick is optional - however, if you don't have matte finish lipstick, you can use liner instead of lipstick if you want long-wearing color. It also means there's absolutely no chance of that unfortunate situation where your lipstick wears off faster than your liner and you end up with the dreaded line around the outside of your mouth.... not pretty.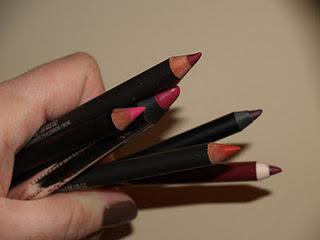 Nars Funny Face, MAC Beet, Bare Escentuals Buxom Lip Tarnish Caught on Tape, 
Smashbox Smashing Editor, MAC Redd, Lancome Le Lipstique Mauvelle
3. Metallic eyeshadow (or even better - something that sparkles!)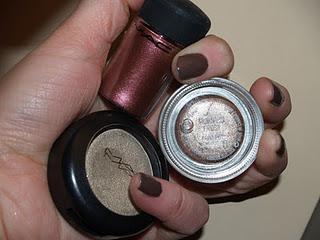 MAC Heritage Rouge pigment, MAC Morning Frost paint pot and MAC Mega Metal Shadow 

Dalliance


Holiday looks are all about the drama - and what's more dramatic than gold- or silver-plated eyes? Of course, it doesn't have to be so traditional. You can go with any intense, shimmery shade that strikes your fancy, and this is one time of year when even I like sparkles!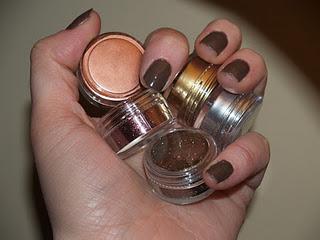 MAC pigment samples in Copper, Gold, Platinum, Reflects Blackened Red and Reflects Antique Gold
4. Head-turning nail polish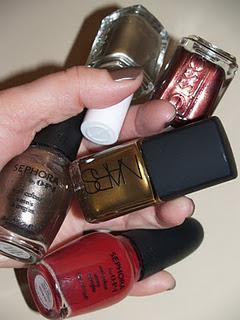 Essie Steel-ing the Scene, Essie Wrapped in Rubies, OPI Already Famous, 

Nars Desperado, OPI Le Beau


Though nails are one place you can wear pretty much anything that strikes your fancy anytime you like (in my opinion), there are certain colours and finishes that seem to fit with particular times of year. You've got pale and neutral shades in the spring; neon pink, turquoise and orange in the summer; and muted urban neutrals (like cement gray and beige-mauve) and dark shades in fall. But in the holidays, you've got bright reds, metallic shades and anything with shimmer or sparkles! It's a great time to break out bright, orange-toned reds, true slivers and plaster your nails with glitter that can be seen for miles. The trick is to pick any color you'd imagine working in holiday decorations, and it's sure to be a hit!
5. A good, long-lasting eye primer and some deep-conditioning lip balm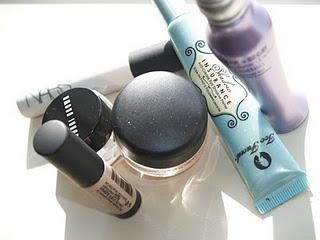 Nars Pro-Prime, Bobbi Brown Long-Wear Cream Shadow, MAC Paint Pot, 

Too Faced Shadow Insurance, Urban Decay Primer Potion and Smash Box Photo Finish Lid Primer

 Compared to some of the other items in this list, eye primer and lip balm may seem a bit boring. And, truth be told, they are. But so are ingredients before they become a cake. These are two of the products that will make your holiday makeup glamorous rather than gaudy.
You may have read my blog post about eye primer already, so I won't go over the basics again. I do want to point out, however, that aside from making your shadow last to the end of even the most scandalous of holiday parties, it's also even more important when you're working with anything sparkly. Glitter and sparkly shadows tend not to be finely milled like regular shadows - sometimes they can even be chunky. Because of this you may encounter two problems: 1) more fallout; and 2) trouble getting them to stick where you want them. Primer is how you deal with this. It will give glitter a sticky surface to cling to, and it will keep it there.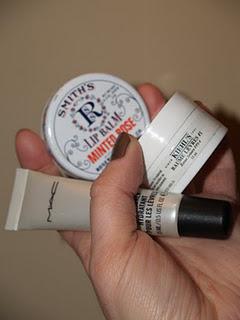 MAC Lip Conditioner, Smith's Minted Rose Lip Balm, and Kiehl's Lip Balm #1


Particularly at this time of year, dry skin becomes a huge problem for many of us. Your lips are no exception to this. Which can be a problem for any lipstick, but if you want to go with a long-lasting matte lipstick or liner, the extra-drying texture can make it a major disaster. Chapped lips make for an uneven surface to apply lipstick, and when it starts to fade, it won't fade evenly, leading to a patchy appearance. Not pretty. Make sure that you apply the lip conditioning product of your choice before bed every night, and that you exfoliate your lips with some of your lip conditioner on the end of a Q-Tip regularly. Also, apply a layer and let it sit while applying the rest of your makeup, then blot to remove it before you add lipstick. Trust me, you'll thank me later.
That's it for our top 5, but here are a few bonus things you'll probably need: A photo-friendly foundation, some great false lashes (it's your time to get dramatic!), and a light-catching highlighter to help you stand out in those holiday snaps!
Now go forth and party!!