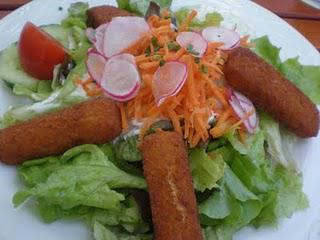 Lunch - salad with fish sticks
Today turned out good on our food challenge.  We ate lunch out again today. This time we went to one of our favorite places in our small town, a guest house. I ordered a salad. Salads are very popular in this part of Germany and usually include some kind of legumes or meat. While my husband did not order a salad for lunch, he did eat a few bites of mine giving him a small dose of the raw nutrients.
My son tried a few bites of my food but only wanted fish sticks and some of his dad's fries. You can't win everyday.
Day 6
Breakfast
: cereal and bananas
Snack
: strawberry fruit stick
Lunch
: Guest Haus Restaurant in town - salad with fish sticks
Snack
: cheese, purple and green grapes, dried cranberries, cheerios
Dinner
: 7 Bean soup - with split peas, purple, red, black, white beans, and tomatoes, homemade whole wheat corn bread, and rice
Blue/Purple
: purple and black beans, purple grapes
Green
: split peas, lettuce, cucumbers, green grapes,
Red
: cranberries, tomatoes, strawberries, radishes
Yellow
: bananas, white beans, corn
Orange
: carrots
Read more:
Day 1
Day 2
Day 3
Day 4 
Day 5