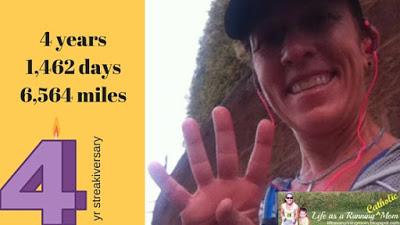 Today marks the 4th anniversary of my running streak and I am beyond excited! I would have never imagined four years ago when I took that first step to running every day that it would bring me this far. A running streak is a funny thing that starts to take on a life of its own but in it, it has enriched my life.
To celebrate 4 years I came up with 4 running streak inspired lists. Are you ready? Let's go.
List 1
: My 4 tips for starting your own running streak
Don't embark on the mission to start a running streak until you have a solid running base to begin with
Do go slow and incorporate just a mile days to allow your body to rest in a new way
Don't feel bad if you are not running as far or as fast as other runners even if they are streakers too
Do celebrate small milestones along your streak
List 2
: My top 4 running must have items
My SOS Rehydrate to keep me rehydrated. It has almost replaced the gels I use completely and if SOS Rehydrate came up with a running gel substitute my day would be complete! (Use the coupon code

AMB-DGU-GKF to get 15% off your purchase.)

My CamelBak marathoner vest. It's endurance is beyond amazing!
BodyGlide - 'nuff said.

List 3
: My 4 most memorable running moments from 2015
Running the Kauai Marathon in September!!!!
Running just after midnight in Texas as a bad hurricane was to come in. It missed us so I got to run again!
Running with my daughter whenever she will indulge me. She is more of a horse riding type of gal.
Getting off of the treadmill on a bad day and plopping down saying I just can't do it. Darling daughter rushed to my side and asked, "Did you at least run a mile?" When I said yes she responded, "Okay, you can stop if you need too. Maybe later you will feel like running more."
List 4
: My 4 most valuable running streak lessons
Not every run is going to be joy-filled. After running just a mile on a hotel treadmill dear hubby asked me how my run was and my response was "blah". He seemed disturbed by my response and asked why I do it then if it isn't fun. I explained not all runs are fun but upon further reflection it is more than that. Running streaks develop their own life and become part of your life. Am I really going to end my streak because the treadmill at the hotel was boring? I think not!
It is okay to run slow. By going slower some days you can go faster other days. But with that said, race times matter less to me these days.
To run every day you need to have a reason to run that matters. I run for Toby and to honor God and yes, I run because it makes me happy...even a blah run leaves me happier than the idea of no running.
People will judge me and think I am crazy. People will tell me I can't run every day. I will always remember I can and that there are many streak runners who have run longer than I have and they will always inspire me. May I never pass them up!
Daily Gratitude:
Daily Bible Verse: Do not let your hearts be troubled. You believe in God; believe also in me. My Father's house has many rooms; if that were not so, would I have told you that I am going there to prepare a place for you? And if I go and prepare a place for you, I will come back and take you to be with me that you also may be where I am. ~ John 14:1-3