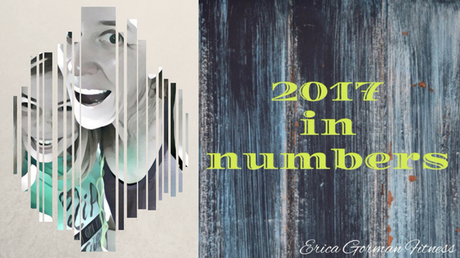 It's 2018. Can you believe it? Are you as excited as I am?
Before I go into what I planned to blog about I want to take moment to thank God for all that He has done for me in 2017 (and all my life for that matter). Many of you know that 2017 was a brutally tough year for me as I struggled with depression and anxiety at levels I had never experienced before. My mileage dropped as just running one mile was a battle of wills with every step feeling like I was carrying a ton of bricks...or ten tons! Rest mile days made no difference. Changed nutrition made no difference. Blood tests confirmed I was healthy and good to go. Nothing made a difference....except God.
I spent December in prayer with a Christmas novena (okay, 2 novenas!) and on December 26th I felt those chains on my body and legs begin to crumble and break away. And I am beyond grateful to be feeling some joy again in my workouts and that is encouraging as my power word for 2018 is JOY.
Each year is a year of growth and in 2017 I did grow in fortitude (2017's power word) and even those small growth rings matter. Those baby steps still carried me to my 6 year streakiversary on December 30.
video recorded on December 30, 2017
For those who are wondering about this, I started my running streak on December 30, 2011 and have run at least one mile every day since.
I have been tracking yearly running miles since 2011 and here is how that wraps up:
2011 - 986 miles
2012 - 1,460 miles
2013 - 1,786 miles
2014 - 1,767 miles
2015 - 1,545 miles
2016 - 1,220 miles
2017 - 1,071 miles
I refuse to get discouraged by the downward trend since 2013 because life happens, my daughter is getting more active and I am spending more time with her and her activities plus crafting PLUS in 2016 I started cross training like a champ. 
And I mean champ.
My goal in 2017 was to do 52 new cross training workouts. I did 62. As of December 31, 2011, I have logged 8,830 streak miles. That makes me happy and sets me up for challenges in 2018. 70 new cross training workouts AND to break 10,000 streak miles so I need a 1,170 mile year. That is totally doable. 
For New Years Resolutions - I am not really making any. I prefer challenges and goals which I continually address and improve upon throughout the years. However, on December 30 I tossed out my crazy idea to dear hubby to go alcohol free in streak year 7 to see how that impacts my overall health and performance. Pray that he joins me in this challenge. And I am taking on my 2017 goal again to read the bible in its entirety and darling daughter got a chuckle that I am going to do it again. It is a great way to start the day and has become a part of my day I cherish as much as cuddling with my gem, watching her ride, running and working out (on the good days), and just striving to be the best me that I can be. 
I resigned from my Silent No More Regional Coordinator role in 2017 as I felt I was not achieving what I was meant to achieve even though the cause is still near and dear to my heart and I won't be silent. But I will devote my time and energy to the Healing Prayer Ministry that has started at my parish and I am loving being part of the lead team along with darling daughter. I feel at home with this and believe that the weekly meetings and prayers also contributed to my return to joy. I do not feel I am all the way there but trust I will be and that each struggle I face is meant to teach me something. 
I can't change the world but I can change how I see the world and everyone in it. I choose to focus on the good and to retrain my thought process to not get stuck in should's, hold up's, doubts, and negativity. I am done hurting myself and am here for you.
God bless and happy New Year!!!
Daily Gratitude: I am thankful for my dark journey in 2017 because it makes the light more beautiful to see.
Daily Bible Verse: Have I not commanded you? Be strong and of good courage; be not frightened, neither be dismayed; for the Lord your God is with you wherever you go. ~ Joshua 1:9