Good Moooooorning!!!
Yesterday I got amazing news from an amazing friend (Meg @ Borrowed Heaven) who obviously understands my love for Mulan.  This news seriously made my night and I have no doubt they're going to do an awesome job.  I hope that Mushu is just as funny as he is in the cartoon and I may be disappointed if they don't include the part where "it slipped right through my fingers… boo hoo."  I die from laughter every.single.time!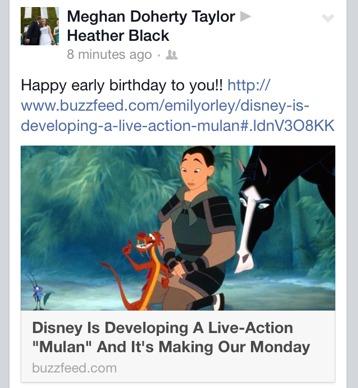 The news about Mulan reminded me of this awesome mug I saw the other day.  I need it.  For real.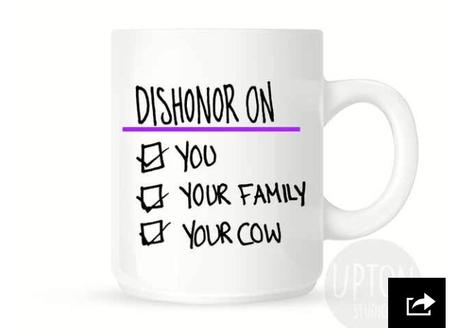 Now that we're all excited about Mulan's live action film, back to regularly scheduled programming.
I am so excited to recap what the first quarter of 2015 has looked like personally, professionally, and with my blog.  I thought doing a quarterly 2015 Resolutions recap would help me stay on track throughout the year.  I know for a fact that I've been slacking in certain areas already, so I'm anxious to see what needs improvement so I can pick up the slack.
Personal
Write 1 letter per month and send via snail mail – 1/3. 
Have lunch with my sisters once per month – 2/3. 
Find a new church
Get Braces (scheduled for March!)
Pay off my 3 highest percentage rate student loans - 2/3!!!!!! 
See how I can pray for my best friends each month – 2/3. 
Personally, when it comes to how this year is shaping up, I'm so pleased with it.  I'm happy, I'm loved, I'm serving others, I'm enjoying my job, and I'm remarkably blessed.  I'm still on the hunt for a new church, but honestly, I haven't been great about trying any out yet so that's definitely something to work on this next quarter.  I have a church in mind that I've heard great things about and even have a few friends that attend, Nick's brother & his wife were previous members before they moved out of town, so I have high hopes.  I need to be more mindful of writing a letter/month and having lunch with my sisters each month.  There are times when having lunch with my sisters can be difficult with us living in separate towns and having different schedules when I go up to Starkville.  They're coming home for Easter though, so I think it'd be the perfect time to get our lunch in for April.  I have my braces scheduled to start in 2 weeks, so not exactly March, but April.  I'm getting 6 teeth pulled in May (yikes!)  I forgot to ask my friends how I can pray for them in March because I was off soaking up Jamaica.  No excuses this month though!
Professional
Pass my Series 65 exam
Get a health/wellness certification
Begin making small supplemental income somewhere (blogging or part-time job)
I plan to start my Series 65 studies after my work trip to Orlando next week.  My goal is to finish the test in May and pass my first time.  I have no clue when I'll start working towards a health/wellness certification, but I won't even think about that until I finish my 65.  I will probably start on that this fall so I can save up some money for the expenses of the certification and so I can get past some other things, like the 65 and getting my braces on.  I plan to get a small summer job (again, after the 65 and after braces) so I can make a little extra income.  Hopefully I can get something at a local gym.
Fitness/Health
Run a Marathon (scheduled for February!)
Create 1 new juice per month
Have a solid base of 5 miles 3-4x's per week by the end of the year
Become mostly Vegan
We all know that I didn't get to run my Marathon, and I won't be able to run a marathon this year.  My knee is still giving me minor trouble, nothing like before, but it's still not 100%.  I'm so proud of Nick though for completing his first marathon in my place!  Juicing… oh, juicing… I have not pulled out my juicer all year.  This clearly needs some improvement.  I think I'll make that happen this weekend!  By the end of the year, I should be training for a half-marathon if I can get things under wraps with my knee, so a solid base of 5 miles should be good by the end of 2015.  Currently, I'm not there.  Becoming mostly vegan is a constant work in progress.  I'm learning to make new things without milk & eggs, plus I see a lot of recipes that call for animal based products, and I love coming up with ways to transform it to a vegan/plant based dish.
Blogging – I may be a little ambitious here, but this would be my ideal blog moving forward
2 DIY projects per month
2 New Recipes per month
Create a Favorite Things type post that goes up every other week
1 Fashion post per month (this is going to be tough y'all!)
1 Fitness related post per week
Fix my comments!!!!!! – oy, this has been the most frustrating thing!
Post a minimum of 5 times per week
Have at least 5 posts per month that are good to promote on all forms of social media
Only post things that I can be proud of – don't post just to post.
I've only done 1 DIY project this year and 2 recipes.  There is a lot of room for improvement.  My Favorite Things posts have been going remarkably well.  I've been consistent and stuck to my every other Wednesday schedule, hopefully I can keep that up!  I've only done 1 fashion post so far – I may try to pull one together this weekend.  Unless you count my running updates, I've done zero fitness related posts.  My comments are fixed, yay!  And all of you wonderful people have been getting replies.  Although I haven't completed as much in blogging as I planned to, I'm still very proud and satisfied with how things have gone this year.  I've been fairly consistent, at least posting 4 times a week on average.  There is still room for improvement, there always is, but I'm pleased with my involvement and the posts I've published on the blog so far this year.
I'm glad I reviewed my 2015 goals so I can figure out what I need to focus on moving forward.
Have you reviewed your goals for this year?  
How are things shaping up?
I'd love to hear what you're accomplishing and maybe what needs a little more motivation!