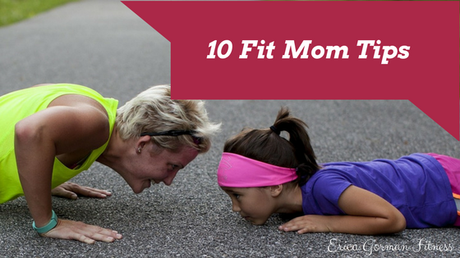 Time flies and I can't believe my little gem is already 9 years old! On the bright side, that has given me 9 years of trial and error in finding a way to stay fit and healthy and still be a present, peaceful, loving mom.
I honestly believe the 10 tips I am about to share are valuable to moms at any stage in motherhood and these tips are being shared in no particular order. :)
Invest in personal development. Set aside 10-15 minutes a day to invest in yourself with the focus of stretching your mind and knowledge. And by personal development I really mean knowledge power - find a book on improving skills in your life, developing a positive mindset, parenting advice, etc. Whatever fits your needs in the moment. Right now I am loving Surviving Depression: A Catholic Approach but I have a couple of other books in queue to be read on different areas of development that matter to me.
Exercise. Aim for 30 minutes a day and if you need to break this up due to a new baby in the house, do it. Just exercise. When my gem was younger, I would run with her in the jogging stroller and I loved it. And to reward her for being good in the stroller, we would go to the park afterward so she could get her exercise in (and this momma got some more!). Now, I tend to workout at home and have been building my home gym, have a treadmill, and stream amazing workouts.
Eat well. It is so tempting and so easy to snack on what the kiddo's have or to skip meals and then grab whatever is easy to get but trust me, good nutrition matters and will help keep you energized throughout the day. My daily shake is just that for me as before I started drinking it, I was hitting the wall every afternoon and wondered how I would  make it to the school to pick up darling daughter without falling asleep at the wheel. Not a good place to be. PLUS make sure you are getting in all the right macro nutrients and if you want, I can help you with an eating plan and love my portion control containers. Email me if you want to learn more.
Make a menu. Planning will not only help you in the day to day life but in shopping and sticking to a budget. Look at what you have and try to make at least a dinner plan for the next week and make a shopping list. Recently I have been planning 3-4 weeks at a time and yes, meals may juggle from day to day as things pop up but I just erase the meals we do and go from there. I love having a dry erase board for this!
Prep those meals/snacks. I love the $4 salad kit at Costco as I can divide it into 6 lunches, 4 for me and 2 for darling daughter, and do so all at once. Then we have lunches we can pull from the fridge for lunch and school. I also prep things ahead as freezer meals and prep veggies/fruit for easy grabbing throughout the week. Think of it this way, one messy few hours is better than a bunch of messy 20 minutes throughout the week. 
Develop a shopping plan. I used to run to the store left and right but with a better meal plan, and trying to schedule life around a busier kid schedule, an adjustment was needed. We now have one weekly shopping day where we get everything we need for the week and I try to do one bigger shopping day that includes Costco once every 2-3 weeks. Not only does this save time, it saves gas, and makes your life a bit more organized.
Let some things go. As a momma who strives for perfection and has a little bit of OCD letting things go is hard but I have learned to lower my standards a wee bit to keep myself and my family happier.
Know when to say no. This goes beyond saying no to your kiddo's when you need to but no to others. Don't take on more than you can chew. It is okay to say no. Do it. And sometimes my no these days is no, no more stuff can come out in the living space until something is cleaned up. It is about balancing my OCD and peace of mind with other people in a loving way. 
Take bubble baths. I would love to say do this once a week but if you can't, try for once a month. Grab your personal development book, some nice music, or candles and just go soak and relax in the tub. Find a way to make it happen and you can find amazing bath time delights to make the time more indulgent without being overly pricey HERE.
Know your why and identify your rock. When things get tough, you will always have this why and rock to fall back on. The why you do what you do. The why you take care of yourself, The why that motivates you and the rock that can lift you up when you are feeling down. My why is my child. I want to be a better mom for her and know I am blessed beyond belief to be her mom. My rock is God. My faith. I have been knocked down in many different ways along my journey as a mom but darling daughter will always brighten my day and my rock, my faith, God, will always be there by my side. 
Bonus Tip
: Love Yourself! You are an amazing woman worthy of love and praise.
Daily Gratitude: I am thankful to be a mom.
Daily Bible Verse: 

Strength and dignity are her clothing, and she laughs at the time to come. She opens her mouth with wisdom, and the teaching of kindness is on her tongue. She looks well to the ways of her household and does not eat the bread of idleness. Her children rise up and call her blessed; her husband also, and he praises her: "Many women have done excellently, but you surpass them all. ~ Proverbs 31: 25-30