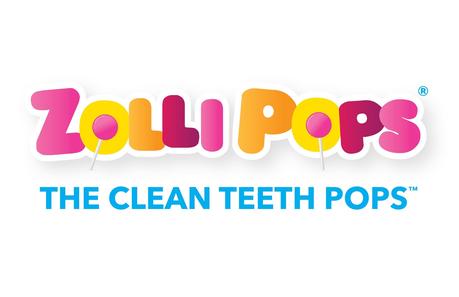 Disclaimer- Precious Little Worlds have been sent out this item for free in exchange for our honest opinion for the purpose of our blog, to report back to you the viewers our findings.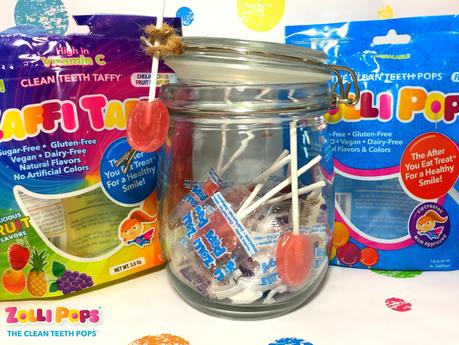 About Zollipops
ONE SMART COOKIE BRINGS HEALTH, FLAVOR AND FUN TO ORAL HEALTH!
When Alina Morse was 7 years old, she went to the bank with her dad and the teller offered her a lollipop. While she really wanted to accept, her parents always told her that candy was terrible for her teeth. So she asked her dad, "Why can't we make a lollipop that's actually good for your teeth?" And in that moment the idea for Zollipops® was born! Together, Alina and her dad set off to make delicious lollipop treats that were actually good for teeth and in 2014, the first Zollipops treat hit the shelves.
What's in a name?
Alina's little sister, Lola, came up with name Zollipops when she tried to pronounce one of the teeth-friendly ingredients. Alina was looking for a catchy name, Lola said "Zollipops," and the rest is history!
Some of my regular viewers will probable know what my day job is other then blogging, but for those who don't know I am a (RDN) which is a Registered Dental Nurse.


 Having been a Dental Nurse for 16 years+ and having two Children of the age of 5 & 7yr I am very conscious of the treats my kids can eat. I am not saying I do not give them any snacks as I do, Chocolate plus crisps in our household at weekends. Sticky sweets are a big NO NO! 




So I wanted to put Zollipops to the test and to see if my personal + perfestinal opinions could look on the different side.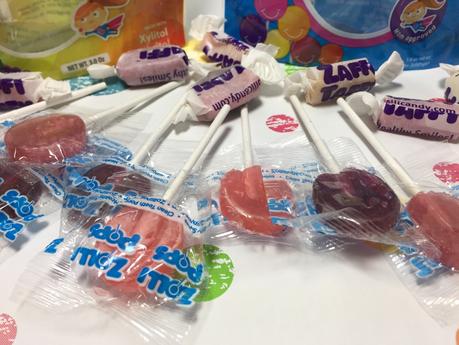 Zollipops Zollipops are sugar free, non-GMO, gluten free, dairy-free, vegan, kosher and mom approved! Each pack comes in a convenient re-sealable pouch. Known as The After You Eat Treat, enjoy one after every meal, up to 3 per day, for a cleaner, healthier smile.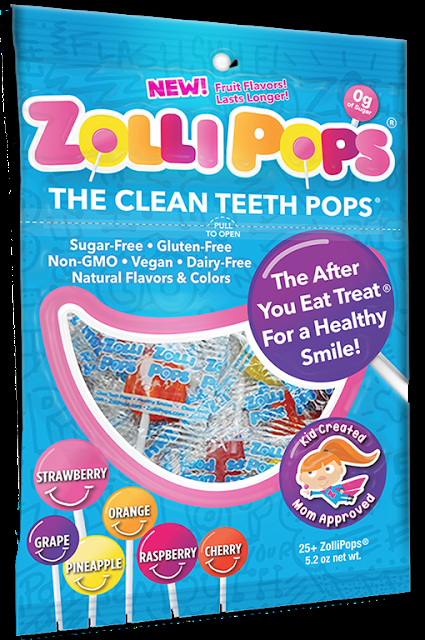 INGREDIENTS: Isomalt Syrup, Erythritol, Xylitol, Citric Acid, Natural Flavors, Beetroot Juice, Stevia, Turmeric, Grape Extract Annatto Extract, and Color Added. All colors are from natural plant based sources.
ZAFFI TAFFY
Just when you thought life couldn't get any sweeter – introducing zooey, gooey Zaffi Taffy that makes mouths healthy and happy!
Zaffi Taffy are sugar free, gluten free, dairy-free, vegan, kosher and Mom approved! Each pack comes in a convenient re-sealable pouch. Zaffi is the perfect After You Eat Treat, enjoy one after every meal, up to 3 per day, for a cleaner, healthier smile!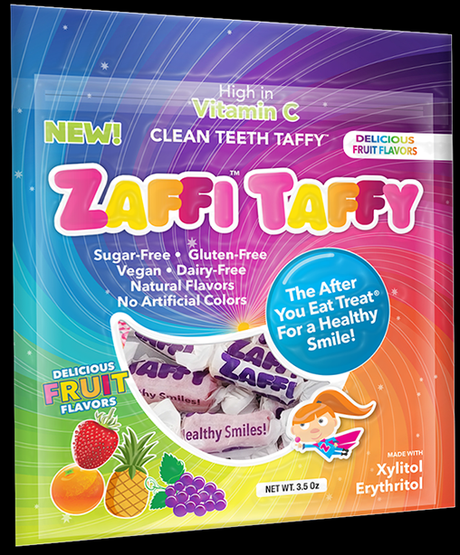 INGREDIENTS: Maltitol Syrup, Palm Oil, Erythritol, Citric Acid, Xylitol, Mono & Diglycerides, Sunflower Lecithin, Salt, Natural Flavors, Beetroot Juice, Ascorbic Acid, Grape Extract, Stevia, Turmeric, and Annatto Extract.
Xylitol Benifits 
Tooth decay happens when bacteria in your mouth consume the sugars we eat. When you eat food containing ordinary sugar (sucrose), it gives bacteria on your teeth energy, allowing them to multiply and start making acids that can eat away the enamel on the teeth. This "acid attack" causes tooth decay and cavities to begin to form.
Xylitol is a natural sweetener derived from the fibrous parts of plants. It does not break down like sugar and can help keep a neutral pH level in the mouth. Xylitol also prevents bacteria from sticking to the teeth. This is how it protects the teeth from tooth decay. With the dental benefits of Xylitol, the acid attack that would otherwise last for over half an hour is stopped.
Erythritol Is Good for Dental Health

Sugar alcohols like xylitol and sorbitol are well known for their ability to help kill bad dental bacteria. However, erythritol is even more powerful than xylitol for dental health.
Erythritol can suppress bad bacteria growth, reduce acids in the mouth that can cause tooth decay, and inhibit biofilm formation. Therefore, sugar-free sweets sweetened with erythritol are considered safe for the teeth.




To start with Zollipops have such a light taste of yummy fruits to them
 definitely
 a hit,and love that they are natural plant based sourced flavours which is always good to know so no nasty surprises.
helps reduce acidity, neutralize your mouth's pH and may reduce the risk of tooth decay, dental caries, and the future development of cavities.
And 
if your Children have a very high intake of sticky sweets this could be a good think for them to have to ween them off the very bad sweets to Zollipops that have benefits to them such as helping to clean the teeth after a good lunch .

I am a very honest person so please don't shoot me down for this, but in our household they would not work as well for us due to my kids not having any sticky sweets and I would not want to introduce them in to their lifestyle.




Final Thoughts....
For Children that have a high intake and see sweets and lollipops this is such a good idea, as I said before to ween them off the bad stuff on to theses that are so much better for you and can help clean teeth after meals.

Always remember the Zollipops do not replace brushing your teeth so make sure you are still brushing twice a day with fluoride toothpaste.