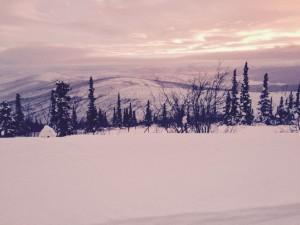 Yukon Arctic Ultra 2015 Photo: Gary Rusnak
The Yukon Arctic Ultra 2015 took place from Feb. 8th – 21st, 2015 starting at Whitehorse in Canada. This multidiciplinary non-stop event includes a ski and a mountain bike category as well as a foot division. These are the prelimnary results of the finishers of the foot category.
There were 58 starters in all who endured sub -40 C temperatures in the early days of the race.
Stories and photos of the event can be accessed on the events Facebook page
List of finishers and results available  on the live tracker page
Race website: Yukon Arctic Ultra
Race Director Robert Pollhammers final report
430 miles
Pos Name Time
1 Hanno Heiss 9:07:07
2 Joel Jaile Casademont 9:22:00
3 Bernhard Hasenbalg 12:01:20
4 Jessie Thomson-Gladish 12:03:33
5 Sean Brown 12:08:43
300 miles
Pos Name Time
1 Neil Thubron 5:04:30
2 Daniel Benhammou 5:15:06
3 Ryan Shaw 6:03:52
100 miles
Pos Name Time
1 David Bohn 1:04:12
2 Mario Villemure 1:13:03
3 Volley Team 2:00:04
4 Federica Facondini 2:00:45
5 Helmut Haberkorst 2:19:17
From Multidays.com, post Yukon Arctic Ultra 2015 – Results