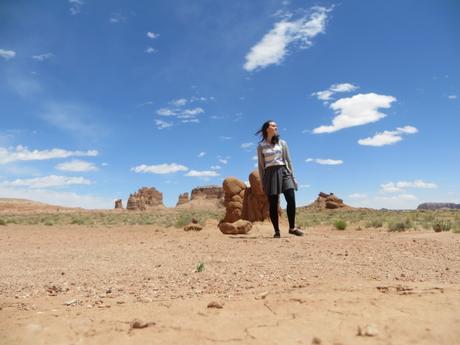 From time to time, I'll liken optometry school to piano playing.
If I went to piano playing school without ever having touched a piano before, and spent every day practicing and learning music theory, how good would I really get in four years?
The first year will be rough. Everything is new, strange, and adapting will feel like trying to shove a square block into a circular container. (That's how I felt in first year, anyway.)
Second year will be better. Things will be more familiar, and there are oodles of opportunity to build on the awkward, sometimes shaky foundation begun in first year.
Come third year, you now have skills. You're eager to try them out, get into a concert setting and perform. But. You're nervous. You've only been playing and learning for a couple of years. The only option, though, is to hit the ebony and ivory.
Fourth year comes around, and you're thinking, yeah, I'm almost through this program.
But why can't my fingers stretch to those hard chords? Why do I keep making the same mistake on that song I've played a thousand times? Why do I forget this or that part of the song, and why do my fingers sometimes feel like big fat sausages?
I thought I was supposed to be good at this by now… at least that's what the piano school would have me believe.
In my last post, I mentioned how every day in clinic is a reminder of how little I know, how unprepared I am to get up on stage at that grand piano and attempt to dance my fingers across the keys. I'm still learning.
There is a lot of frustration that goes along with this, mostly at myself, mostly an impatience that I'm not better than I am. And while I must practice (and do), practicing, too, is a reminder of my faults. That's just the truth.
People keep telling me, "You'll get there."
I even tell my friends/classmates, "Don't be so hard on yourself."
And that requires a lot of faith, faith I sometimes don't have.
Classic clinical presentation of Easier-Said-Than-Done-itis*.
On the weekend, I went to Capitol Reef National Park and Goblin Valley State Park. While at Goblin Valley, I enjoyed some light walking, soaking up the strange rock formations and warm sun as I went. I ventured down the Goblin's Lair trail (mostly because it sounded way cooler than Carmel Canyon). The hike was easy, and then the path became unclear. I could either walk to the left, a wide open, more or less unmarked trail, or I could venture to the right, up a narrow, snaking trail carved out of the mountain. An arrow indicated that this path to the right was the way to go. This was curious to me, and I doubted its validity. Surely, that skinny trail slithering up between the rocks was carved by rebellious, thrill-seeking hikers. Surely, this was not the way to go.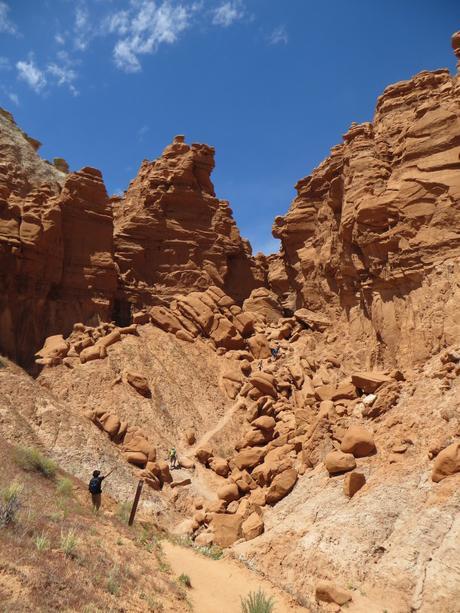 Some other hikers were not far behind me, and between the four of them, they found the way through the rocks and broken path. As they reached the top, one of them shouted, "There's a goblin in here."
That's when another hiker (said goblin) emerged from the opening at the top of the trail, the entrance into the goblin's lair. The four hikers clambered up and disappeared inside. Once the hiker/goblin was at the bottom of the hill, I asked him what was up there. He described a cavelike opening, that you could go inside, that it was well worth it. He confirmed that this was the correct pathway, and nodding, I decided to go up.
"Enjoy!" he called, marching off.
"Thanks, I will!" I responded.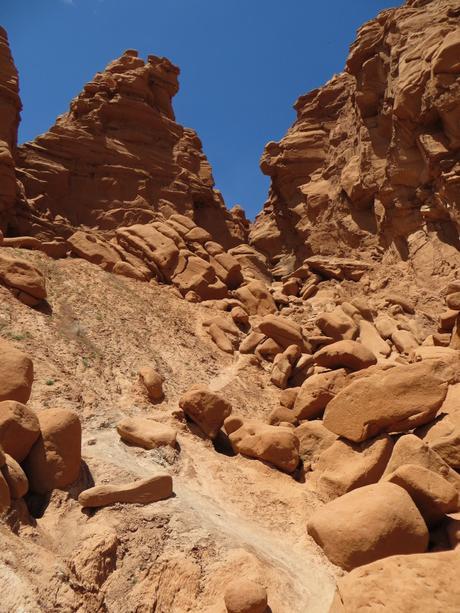 Well, I got about 3/4 of the way up the sandy path before my intense fear of heights gripped me. I began shaking, my hands sweating, heart rate taking off to the moon. I'm not sure if you can appreciate the height, the steepness and the uncertainty of the path from these photos, but if you are at all uneasy on your feet at any kind of height, I easily could have stumbled and slipped and gone for a spill down the rocks. Other hikers weren't far off, so I wasn't worried about a 127 Hours kind of situation, but that didn't mean I was okay flying off the mountain.
There was a major mental battle while I stopped, sweaty, clammy hands clinging to the side of a dusty rock. I stopped and looked around me: up, down, up, down.
As I paused, positively vibrating in fear, I thought back to the hiker's words to me. Enjoying this, I was not.
Up… was so unclear, loose rocks, sandy, slippery ground. I couldn't actually tell where I had to put my feet to get to the top. But I could see the opening to the goblin's lair. I so badly wanted to see inside! I was so close!
But I was absolutely, mortifyingly scared. I was paralysed.
I knew that if I somehow, miraculously managed to get to the top, I wasn't confident I'd be able to get down.
Travel bloggers love to glamourize this whole concept of facing fears. I've even done it. But listen, when injury and panic attack are imminent, turn away. I was SO f*cking close, and I was kicking myself before I even decided to stop. I knew I had to.
Regretfully, I looked out to the valley that stretched before me, put my center of gravity as low as possible, and descended to flat ground once again. Read: I basically slid the whole way down on my ass.
As for optometry school… well… thankfully it's neither piano school or climbing a nut-busting mountain. The struggle may feel similar, but comparing piano and optometry is more like comparing apples to agave. Up on that stage, I can't step away from my piano to think, to consult colleagues, to ponder different options, to change my mind. Optometry isn't the same beast, and unlike that damn mountain, I will get there. I will. And even if I don't believe those words, you can all just keep telling me that.
____________________________________________________________________
Find me on Facebook, twitter and Instagram!
 *A really nerdy optometry joke there would have been to call this condition Easier-Said-Than-Donesis.