Yesterday I was invited along to participate in an ultra running study at University of the Sunshine Coast. It was a world first study related to brain activity during endurance exercise. As is typical of much sports science research the focus is on the shorter (more popular) distances, and is the reason why there is so little scientific information for those of us who choose to run beyond a marathon.  
The idea behind this particular study is to measure the changes in the brain throughout a 6 hour run, and to relate it to mood state and cognitive ability changes. The results of which will certainly be of interest to anyone who appreciates the psychological aspects of running an Ultramarathon.  The question I have is how much of the emotional changes you go through are based on physiological changes and which are purely "in your head".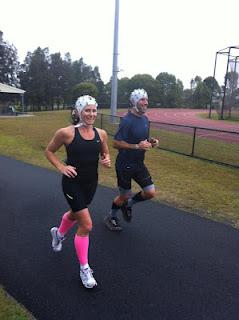 2013 Running Fashion!
I managed to con my training partner, Tylana, to come along to, as I thought she'd be keen for a 6 hour run around a track on a rainy day!  The process involved a number of initial mood state questionnaires, then a simple mathematical test on an iphone, and having our heads read by an EEG machine.  This was the highlight of the day as the device resembled a swimming cap with flashing lights and wires, the sort of thing you'd expect to see on some 1950's sci fi movie.
So with a baseline measure done the running was the next task. We trotted off at about 5 min/k pace for an hour (far faster than we should have gone at, but it had the feeling of a race with the associated adrenalin rush). On completion of the hour we were back into the lab for 10 minutes to repeat the tests and measurement.  
We then repeated this process 6 times so that we had been running for about 6 hours with measurements taken every hour.  Needless to say the pace dropped back to about 6min/ks by the 6th hour. 
The weather did not really cooperate on the day with showers on and off throughout the day. It was enough to make my feet look like monkey brains.  We did however provide plenty of entertainment to the hundreds of school kids attending the athletics carnival. Comments such as "Watch out it's Predator" and "It's Robocop" were common, as was sniggering and puzzled looks.
The first few hours were much like any regular training run, but after about 4 hours I was reminded of a 12 hour and 6 hour treadmill run I did last year. The trouble with running against the clock is that there is nothing you can do to get you to the finish line sooner.  You can run harder and faster, but if you walk or sprint, you still have to keep going until the time is up.  Mentally this is really tough, and is one of those situations when you have to break the task down into manageable bites.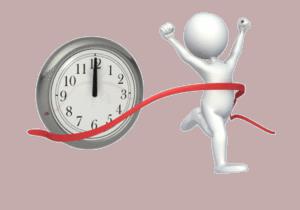 For me this type of session is far harder than the variety and definitive goals of a trail race. I have thought of taking part in a timed 24 hr or similar event with the idea that it's straightforward, flat and purely a mental challenge to keep going.  I was reminded yesterday that participating in such an event is far more than this. The repetitive nature of a consistent running surface stresses your joints and soft tissue in different way, and that the nutritional regulation is equally as tough. The biggest challenge is fighting the urge to run faster, thinking that it will bring a rest closer (not saying you shouldn't push yourself of course).
So the lessons from this study are reminders of the different sort of challenge you face when racing the clock. It's like playing tennis against a wall, you never beat it!
There are a few other guinea pigs who are doing the same 6 hours session today, with about 10 subjects to complete it before the data will be collated and interpreted. This will be a lengthy and complicated process, and I'll share the results when I have them.
Run Happy
Andy
www.ultramarathonrunning.com.au