Sweat running down my arms in a constant stream, 35C in the shade (but no shade to be found on the beach) legs like lead,  drinking water warm – Happy New Year!  It seemed like such a good idea from the air conditioned comfort of home a week earlier.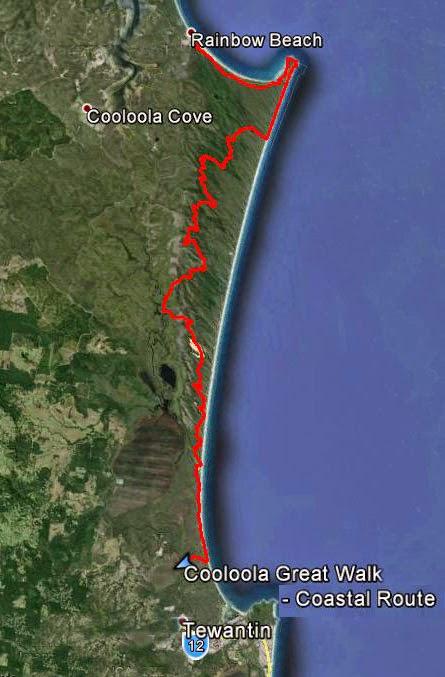 Running the Cooloola Great Walk had been on my to-do list for over 3 years, waiting I guess for everything to be "right". That situation rarely comes about when planning a self supported ultramarathon distance run and it was when fellow runner Chris Jacobsen completed this trail on Christmas day (!) I decided to just put a day in the diary and do it. 
What better day that New Years Day? Unlike Chris I wanted to take on the Coastal route of the Great Walk, which is about 14kms longer, and takes in the Double Island Point lighthouse as it looked an interesting place to visit.
Unicycling guru, adventure racing aficionado and friend, Andy Flanagan dropped me off at the Rainbow Beach trail head at 1:30pm...approaching the hottest part of the day! The original plan was to start a bit later to avoid the heat of the day, but at the same time I didn't want to be running past the best scenery in the dark and this start time had the reward of a breakfast with other NUTRs (Noosa Ultra and Trail Runners) at the other end of the trail the next morning.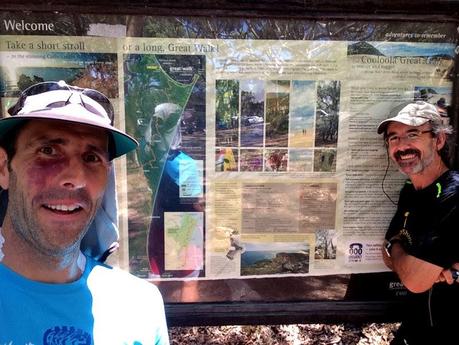 Thanks Andy for dropping me off 110kms from home!
The first 20m of the trail were an indication of what lay ahead. Stinking hot, gentle uphill, and I tripped on a tree root wrenching my ankle! In full desert gear I was getting some odd looks from the tourists taking in the 600m walk to the Carlo sand blow, they no realising that I would be on my feet until the next morning.
Crossing the soft sand of the sand blow was simple enough, finding the exit onto the trail however was not.  It was like a scene from Lawrence of Arabia, as I trudged up and down the edge of the expanse of sand, sun beating down and radiating back up at me, trying to regain the trail. It took me 15 minutes to get back on the trail, in which time I had been lightly fried, sweat already dripping off me. It was clear that this was going to be a lot tougher than I had initially thought, and that I was going to have to be sensible to complete the run without putting my health at risk.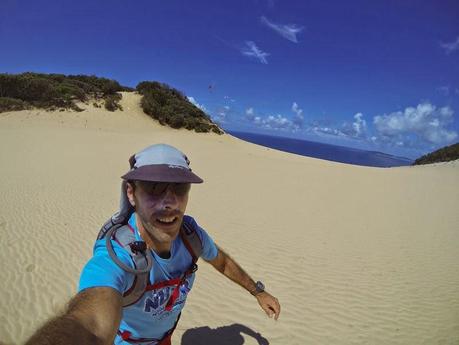 Crossing the desert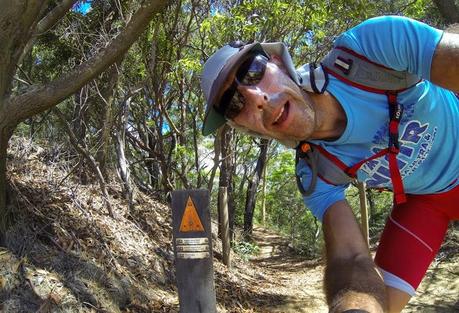 The elusive trail marker from the Carlo sand blow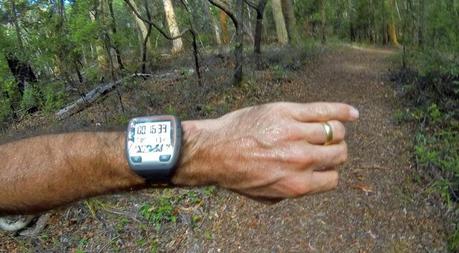 16 mins in and sweat dripping from me already
My planning for the run was brief, but focused on what was important. Being a self supported run I would have to carry everything I needed for the full 108kms. There would not be the luxury of a support crew or checkpoint volunteers. Weather conditions being what they were, my primary concern was availability of water. The walking trail is fairly remote and getting medically evacuated would be very difficult, not a scenario I wanted to flirt with. The trail has campsites at 15-20km intervals, all of which have rainwater tanks, but as the rangers informed me, there is no guarantee there will be water there and it's not treated.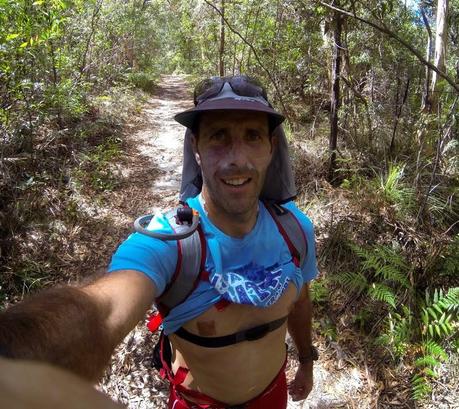 Exposing as much skin as I could to help cooling - unsuccessfully
So at each available water source I had to fully load up to cover off there not being water at any campsite and potentially having to do 2 or more sections with what I had with me. This meant that my pack was fully loaded with 3 litres of water for much of the run. Here was I trying to reduce my workload so as not to sweat any more than could be avoided, but having to increase the weight I was carry to combat the same issue!  Ultrarunning is a constant balancing act, trying to optimise the input, throughput and output of your body.
The first available water I was aware of was to be at the Freshwater camping area, 25kms in. 5kms in to the run, sweating the way I was, no breeze, and intense heat, I was beginning to wonder if I would even get there. I made the decision very early on that this was going to be slow and was primarily a matter of self preservation, whilst continuing to make forward progress, until after sunset when it would cool down. 
After 10km as I dropped on to Double Island beach there was an unexpected opportunity for water at a toilet block, which I was very happy to take advantage of.  First up cool my head with a few handfuls of water, then to top up the hydration pack. As with all the water on this trail it is no suitable for drinking. I had been prepared for this and had brought with me one of the most pieces of equipment in my kit. My Sawyer Mini Water Filter System got its first real use in anger. In the past I have taken the gamble with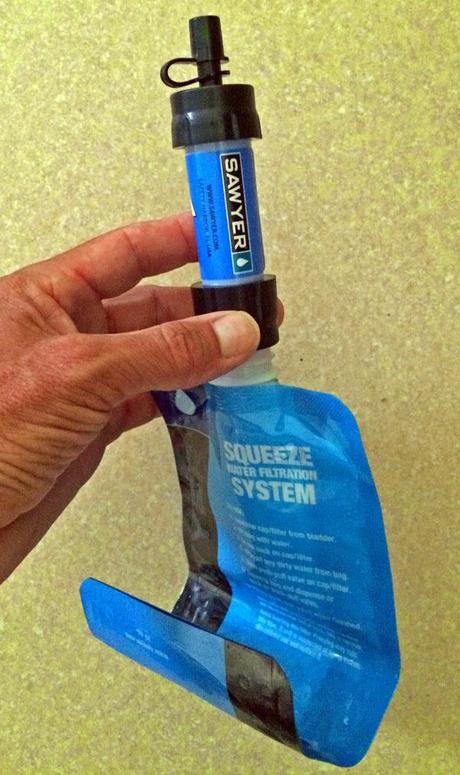 Every Ultra runner should have one
water out of rainwater tanks, and creeks to top up, and have been lucky. However, the prospect of severe gastrointestinal issues on a self supported remote run, where clean water would be limited was not a risk I was prepared to take.
This little filter, weighs next to nothing, takes up hardly any space in your pack, can give you thousands of gallons of clean water, filtering out all the nasties that could more than spoil your day.  So impressed was I by this piece of kit that I will do a full article on it. Like a compression bandage for bites and breaks, every trail runner should have one of these in their packs.
So with a full 3l in the pack again, and an additional 400ml drunk on the spot, I continued on along the shade-less beach for 3kms of sand running to the light house. The beach was packed with people enjoying the Public Holiday in a more traditional way, fishing, jet skis or sitting around drinking and eating – I didn't need to wonder what they thought of me, they made it pretty clear!
I was careful to keep my feet dry along here as it was still early in the run. By the time I reached the lighthouse 15kms in my feet were sloshing in my shoes. Not from sea water, but from the sweat pouring off my body! The lighthouse did offer some respite though. I sat in the shade of the lighthouse, stripped off my sodden clothes and wrung them out, and enjoyed the warm breeze (which felt far better than the oppressive sauna like conditions I had be subject on the sheltered beach and bush trails).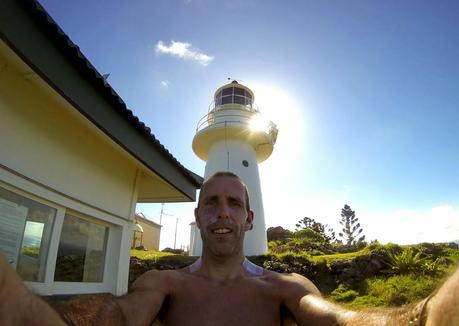 Shade at last - Double Island Point Lighthouse
The views at Double Island Point lighthouse are pretty spectacular, until you spoil it by realising that the end of the run is a long way south over the horizon, and that the next 10kms are along the beach, soft sand, and full exposed to the searing sun. Perhaps the early start wasn't such a good idea after all.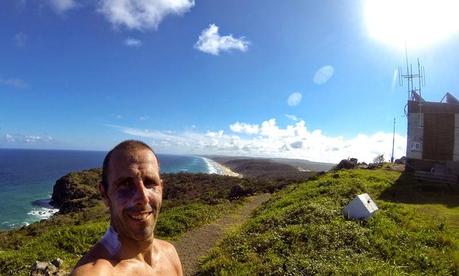 What lays ahead...sun, sand, but no shade until I'm over the horizon
With the clock ticking and a heavy heart I had to leave the relative comfort of the shade of the lighthouse and get down on to the beach for 10kms of sun, sand and suffering. The single track down to the beach is beautiful, great views, a gentle breeze and downhill! Only trouble was that is was too short, and all too soon I'm on the beach, the breeze dropped and the sun starts doing what it's best at.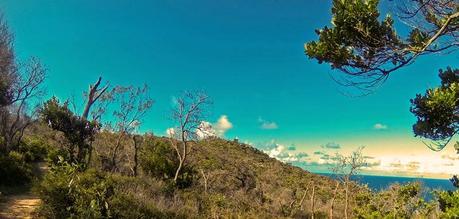 View back up to the Lighthouse...Downhill running, weeeee!
With the public holiday revelers the beach was like a motorway with a multitude of 4-wheel drives treating it like a speedway track. I do a lot of sand running in my training and am comfortable on this terrain. However, the amount of traffic it had over it churned up and rutted even the normally firm wet sand.  Running within the ruts was one technique, but very tricky as they were 6"+ deep and not wide enough for easy running. Running on the high spots between the ruts was as bad with every other step giving way under each foot, which was very heavy going and equally frustrating.  
Regardless of the footing difficulties the motivation to get off the beach and out of the sun was stronger, so I just had to make the best of it.  The occasional cloud drifted over offering a moment of shade, which I made the most of by walking. Back in the sun, I shuffled on.  It's a tough choice to know what the best thing to do is. Do you run harder in the shade when you're not so hot and then slow down in the sun to keep from overheating, or do the opposite and spend less time in the sun, but risk getting too hot? I've tried both and I'm not totally convinced either way.
The beach exit could not have come too soon which importantly meant that I was only a few hundred metres from the next water stop.  Sticking with my water filter process it was a longer stop than normal, and a very welcome one. I'd been getting through my fluids, which was good. I'd not eaten too much, but wasn't feeling like my energy was low, and I reflected that I have plenty of fat reserves to get me to the finish!
My pace was pretty sedentary now, and it was definitely a case of relentless forward progress, no matter how slow.  The next campsite was only a few kms away, and as the sun was getting low in the sky I was expecting the temperatures to drop.  Like getting a pair of socks for Christmas I was to be disappointed!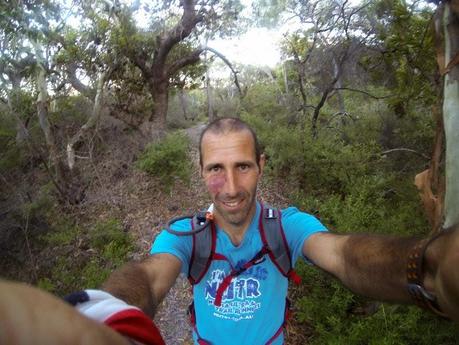 The single track through the shelter of the trees, created the same sauna like conditions I had started the run in.  Stifling humidity and heat without a breath of breeze. I had resorted to run walk strategy by this stage, a very conservative version, running the down hills and walking pretty much everything else!
Trudging along a 3km climb into the Kauri campsite I take advantage of some phone coverage and post an update on progress whilst laying prostate on my back on a picnic table. While I enjoy the feeling of relief in my feet and legs, I look up at the stars against a black sky to the deafening sound of heat bugs. They attempt to kill me softly with their song, by reminding me how bloody hot it is!
I spend about 15 minutes restocking on water and resting, a reward I decide I shall give myself at each campsite. It's partly a reward, but more importantly gives me a chance to cool my body a little. Reluctantly, with a full and heavy pack I remind myself that the quickest way to finish this is to get moving, so get on my feet and continue on the seemingly never flat track to the next campsite a little over 20kms away.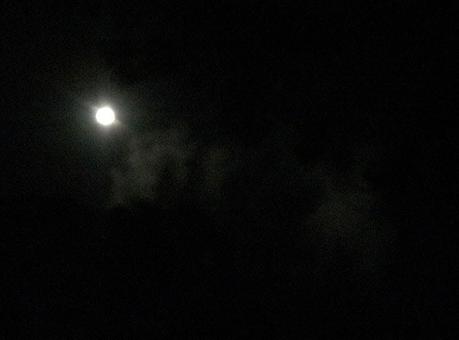 Dark but still hot.
The conditions are monotonously unchanging, offering no real relief from the heat and humidity. This stopped being fun about 6 hours ago! At least with the warmth it keeps the interesting animals active as I did my best not to stand on a python taking far too long to cross my path. The perfect excuse to take a breather and commune with nature. 
Much like Kauri campsite, Litoria is on a short spur track off the main trail. If I hadn't  been so fixated on my next break I could easily have missed this turn. The break was again welcome, and really just a chance to regather thoughts, top up my water and have a couple of minutes to take the weight off my feet.  At this point I'm starting to really yearn for something cold and fresh to eat. An icy slice of water melon, or an ice cream!  This is the biggest difference from running this distance self support over a race with checkpoints.  You can only eat what you carry with you.  I did have a small treat for myself, and decided that maybe they could lift my spirits. My magic beans were not going to grow into a vine leading me to the Giant's riches and I'm certainly not an Englishman! These beans were better than that as they were coffee beans and were covered in dark chocolate. The effect was almost instant, and I felt the best I had on the run to date.  I took advantage by pushing on as best I could. The terrain did not help as there was a tough climb straight up out of the camp, but I was feeling a little better, and did for long enough to get me over the summit and on to a flatter and downhill section.  
After 9 hours of running there was the first noticeable drop in the temperature. Still hot, but it was nearly 11pm, so it was long overdue. The trail offered lots of shelter, which in the heat of the day would have been welcomed, but by night it just stopped any breeze which I was longing for.
The next stop was 15kms along the trail and at the lowest point of the trail at Dutgee camp, alongside the Noosa River.  Being close to the water the cooling effect was more noticeable, and the terrain was predominantly downhill. On fresh legs and in daylight I would say this would be a fast and fun section. I had to be a little more conservative.
Still wanting to keep moving forward I opted to walk by the moonlight as I had to replace the now flat battery in my Ay-Up, rather than stop to do it. I was on a sandy trail and could just make out the trail in front of me. I finally swapped the battery over, turned on the torch and came to an abrupt halt. About a meter in front of me was a snake curled up on the trail. Had I taken a few seconds longer to sort out my torch and walked another couple of paces...I would have been no worse off as it was dead!  It was a timely reminder though of the dangers you need to consider when you're out in the bush, in the dark, a long way from everywhere and alone.
At the Dutgee camp I knew that I was less than a marathon from the finish, and this was an uplifting feeling. I also knew that I have a couple of decent climbs ahead of me, and the Cooloola sand patch to cross. It was 20kms to the next and final walkers camp, so again I made sure my bladder was pretty much full. Although it was cooler, it was only cooler than bloody hot, and the humidity was still off the chart.
I really enjoyed the run along the river for a few kms before the major climb out of the valley and up to the sand patch. This was to be a slow 200m vertical climb over 4kms of single track inconveniently crossed by tree roots every few steps. Another time to focus on "relentless forward progress" and "walking with purpose", a technique I regularly use in races when the going gets tough.  I had also remembered my magic beans. A small handful of these and the time past a little quicker.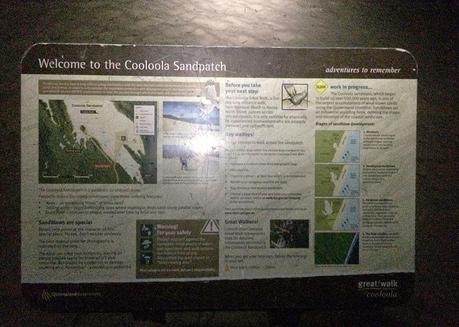 I was excited to reach the sand patch as it required some navigation skills. I hadn't had to use these since my school days, and I was quite competent then, but that was 25 years ago! Given my difficulties at the Carlo sandblow 75kms earlier, in broad daylight, with fresh legs, a fresh head and only about a quarter of the distance for this one, I wasn't quite so confident.
When I hit the sand there are a couple of landmarks to aim for and then you have to walk on a bearing for over a kilometer across undulating sand. I find the final trail marker from which to take the bearing with relative ease (aided somewhat by some windblown trails from recent hikers who had made "the crossing"). I set my compass up to 160.5 degrees and hoped that by walking on it I would hit the dead tree after about 250 metres. Sounds simple enough, but with sloping ground and no points of reference in the distance to aim for, I had to just keep my head down and follow the compass. I stopped a couple of time to check back at my footprints to see that I have been walking in a straight line, and I was happy with progress. No dead tree.  Perhaps it had been swamped by the windblown sands?
I continue on, with no other option that to trust the compass and hope I would eventually stumble back on to the trail. About 300m from the edge of the sandblow I'm having to part slide, part climb down a steep sand bank. This wasn't in the guidebook, I had to accept that by now I wasn't where I should be. I'm a man, I wasn't going to stop and ask for directions. Just as well as I could have been waiting a while, so I have to resort to the next best option of referring to the map. I was only about 30 m off course, which over 1km walking on a bearing over that terrain in the dark was pretty good (I think anyway!). A few calculations in my head, studied the contours, I readjusted my course and hit the trail head again. Bingo, we're back.
Ironically, the map says to take extra care here as there is no shade and you are exposed to full sunlight...not for me. I actually enjoyed an occasional breeze as this is exactly the reason the sand patch is here in the first place.
It's about 2am, and while I'm very comfortable with running in the dark, it would seem that a person with a torch is not a common sight for the local wildlife.  As such all the little critters don't seem that spooked by my presence and allow me to get a decent look at them.  I disturb what I believe to be a native bush rat who just sits looking at me from a branch of a tree in a very cute manner (unlike their disease spreading non-native cousins).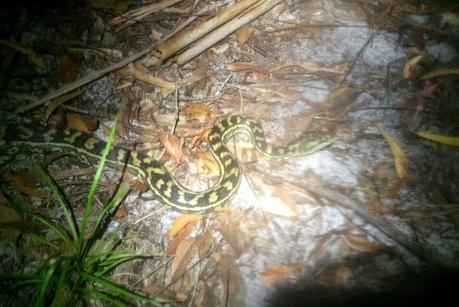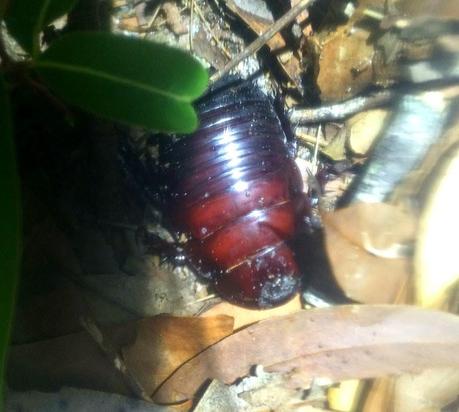 I take out two Arachnid related records. The first for the most number of webs run through in a 12 hour period, while at the same time claiming the record for avoiding the most number of webs in a 12 hour period. The webs are spectacular, spanning the entire trail, some over 6 feet across. If I saw it in time I would try and go around it. More often than not I was too late, and would not only feel the irritation of the silk fibres on my skin, but also the occasional wriggling of an unfortunate insect who earlier in the evening had stumbled into the web. This was fine, until I felt one on my lips as I took a sip of water, and I wasn't sure if it was spider or something else. I think this one was a bettle.
On another occasion I felt a tickling against my leg, and thinking it was a bit of spider dinner stuck to my leg from another web encounter, I just stamped my foot to get it off. It didn't go and the tickling increased. On inspection it turned out to be a giant centipede. I knew these to have a nasty bite or sting as most native animals do, so I had to make the split decision. Do I get it off me as soon as possible, or do I have time to get my camera before he heads up my legs to where it could do some serious damage. I chose the former as it started moving north faster than I was comfortable with.
Through this section, and through until the finish I had numerous wallaby encounters, as well as a run in with a wood cockroach. This time I did manage to get a picture, but just after I'd dropped this Goliath of a creepy crawly.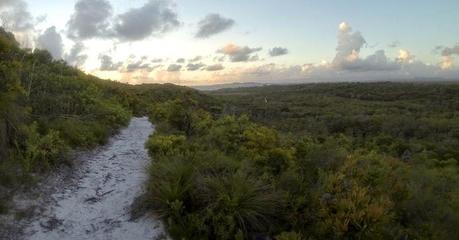 First light, looking south towards Noosa
My final pit stop was to be at Brahminy camp, an elevated campsite with a great view south towards Noosa. The trail here opened up and the lack of trees gave me some relief from the number of obstacles that I had to contend with across my path. Here my phone sprung to life. Ian was coming out to meet me for the last few kms, and he asked if he could bring anything. I responded "it's a long shot, but anything cold, or at least not warm would be good".  

Knowing that I only had about 20kms to go and that there would be a friendly face, the first person I have come into contact with since yesterday afternoon, was a big lift to morale. Whilst spirits were lifted, the legs were pretty much empty at this stage, and the effects of being dehydrated for so long were taking their toll. This is always the hardest part of such a run. The distance is no more than a normal training run, so it should be quick and easy. Training runs though are done with fresh legs and without a full pack! The next 2 hours of running would take closer to 4 hours!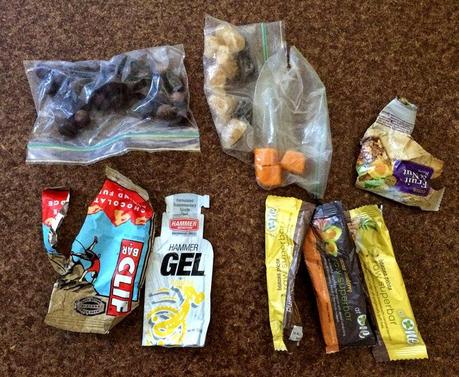 Nutrition wise I didn't eat a huge amount over the run, far less than I would have in a race of the same distance. For the second half of the run my gut didn't feel too good and I put this down to the dehydration impact, reducing the blood flow to the gut and hence slowing the digestion process. I was moving at a pretty low intensity too, so the need for significant energy hits wasn't really there.  What I did eat was "normal food" based, made up of dried fruit, and "at one" raw snack bars, some crystallised ginger cubes, and one gel when I was feeling particularly flat.  This has worked before, but with every run of this distance, conditions are rarely the same, and they do have a big impact on what you can, and what you feel like eating.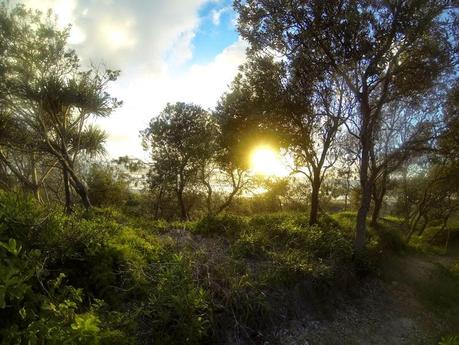 Sunrise and only about 10kms to go
I eventually meet up with Ian, after many false starts, thinking that he was just around the next bend, only to cruelly find there was another bend, and then another. I take a seat and enjoy a banana and a drink provided by the good Samaritan. Sadly the cold drink had got warm because I'd been so slow in getting there. Note to self to run faster next time (next time ?!).
At least now we were very much on the home stretch. A couple of kms along the beach, and then a dart on some single trail inland to the Trail head. Just to run salt in my wounds the last 2 kms of trail were baking hot again with no shade, but at least I had company to distract my mind. My Garmin tried to have the last laugh by warning me that the battery was low, but I had the last laugh by getting home before it died on me.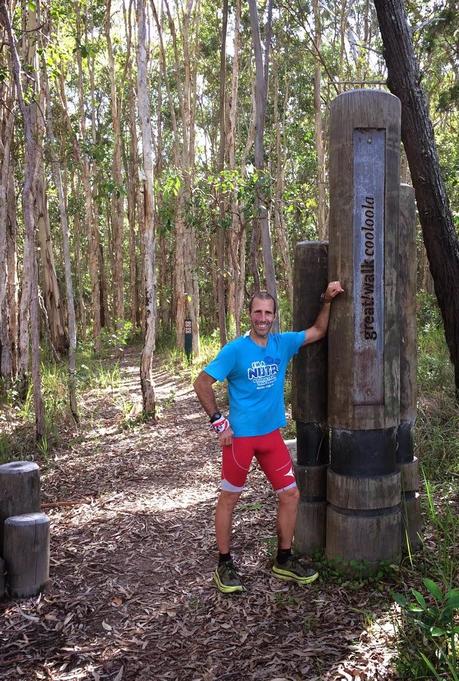 Very happy to see that big lump of tree
The trail head couldn't have come soon enough, and I took great pleasure in the obligatory post run photos. A slightly odd feeling as the ferry to get back to civilization is a 2.5km walk along the road. We walked as briskly as I could manage, with the promise of a tasty breakfast to follow. Had one of the passing cars offered a lift I would not have hesitated in taking it, but I'd already had the help one good Samaritan today.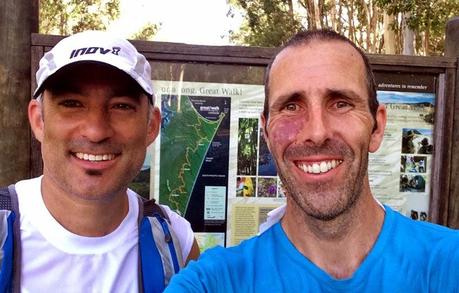 Thanks Ian for getting me through the last few hours
We're greeted from the ferry by Angie and the boys. I think they were more excited to go for breakfast than see me, and I could completely understand that. Stinking clothes in a plastic bag, a shower at the river and I felt close to human again.

Best breakfast ever, made even better by a small gathering of NUTRs, Howard, Claude and Tony, who had come to see what state I was in! Thanks guys.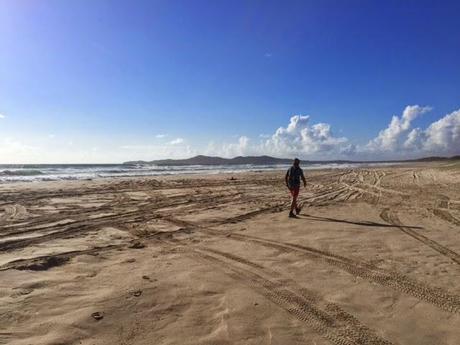 "The loneliness of the long distance runner"  (Photo by Ian Rowe)
All in all it was a great experience and one I will do again, even though I swore to myself at 20kms that I wouldn't. When you run it on the hottest day of the year, through the hottest part of the day, you can't expect an easy ride.  I learnt a lot about self supported long distance runs, not least the added achievement over completing the same distance in race conditions with support and cold stuff to drink.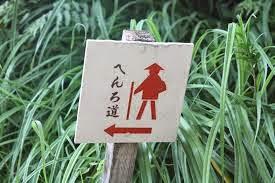 The experience will be invaluable for me in my next major running challenge later this year. Similar, just a whole lot bigger and with a heavier pack!



I had been putting this run off for years, waiting for everything to be right, and when it came down to it I just had to put a date in the diary and make it happen. I decided to lock this run in with 5 days notice. If you have a trail you have been wanting to run, but excuses have got in the way, pick a date, and do what you have to do to do it. Don't wait for everything to be right, just trust in yourself to complete the task, and handle whatever it may throw at you. You'll feel a whole lot better for it!




Run happy!

Andy 

"What counts in battle is what you do when the pain sets in" – John Shortwww.ultramarathonrunning.com.au