I have been approached by an established UK based online retailer www.cotswoldoutdoor.com, who now has an Australian presence, to provide reviews on some of their products from a running, and ultramarathon running perspective.
First product of the rack is every runner's favourite, the hydration backpack. The choice of packs is wide and varied, each appealing to different styles of event, runner's requirements, and budget. I have seen many packs criticised on forums before, but typically this is because it wasn't the right tool for the specific job.
Today I'm looking at the North Face Enduro 13 in which I have run over 300kms and through a range of conditions (although mainly hot and humid!) and multiple activity types (trail running and off-road unicycling).
This pack has been designed with endurance and adventure races in mind.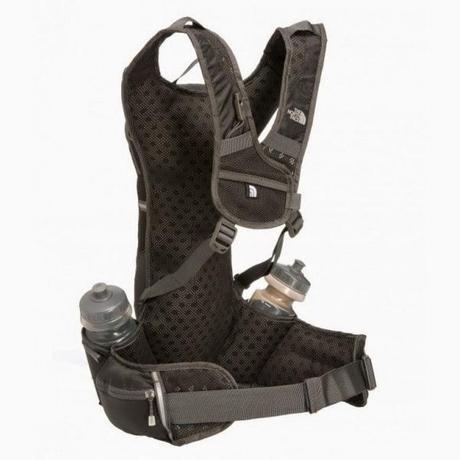 The North Face Enduro 13
Its basic features include:
13l of storage, which includes an internal pouch for a hydration bladder up to 2l in volume (not included).

2 bottle holders (including 2x 500ml high quality NF bottles)

Fully adjustable shoulder, waist and chest straps with no loose ends

A lightweight foam back for breathability and comfort

2x zip fastened waist band pouches suitable for snacks, phone, gels, etc and a key pouch on the broad Velcro chest strap

Multiple trekking pole attachment straps, and a mass of reflective accents to ensure you can be seen at night.

Weight - 533g (including 2 empty 500ml water bottles)
Positives:
As with all North Face products the quality of the material and manufacture is second to none.  The fabric itself is tough yet lightweight, breathable and quick drying.

Comfortable. The pack has minimal padding to keep weight down, but is sufficient to avoid discomfort from anything carried in the pack. This also makes the pack very flexible to mold to the shape of the runner.

Secure. With fully adjustable straps, the pack can be adjusted to fit snugly without restricting breathing or rubbing creating hot spots on your skin, yet without the pack bouncing, even when fully loaded with gear. I do have a particularly long body (I have the legs of a midget, and the body of a giant!) so the chest strap was a little higher that I would like, and the wide waist strap was closer to my belly button than it should have been. That said it did not bounce and have had no issues, other than it not feeling quite right for me.

A 2 liter bladder capacity gives a better range than you get from other comparable small packs such as this.

The separate water bottles, which are easy to access without the need to dislocate your shoulders as in other similar style packs, allow for a variety of fluids to be carried during your run, which I find invaluable, preferring to have different flavours and compositions of drinks while running longer distances.

The pack itself is narrow, leaving as much skin exposed as you could for a pack of this capacity, which was great to maximise cooling.

All straps have loops or Velcro tags to negate annoying flapping of loose ends. Not a problem on a 5k run, a major irritation when you're out for 2+ hours!

With 13l of storage, including the bladder, I could comfortably carry multiple snacks, a phone, a first aid kit, a bandage, head torch, and rain jacket, and still had additional space for further small items.
Negatives:
Whilst the bladder does have an internal compartment, it is still accessed via the same main zip, which I found awkward when you needed to refill mid run as some items needed to be removed to get to the bladder.

The pack doesn't come with a bladder. However that gives you flexibility over a preferred brand and capacity of bladder.

Whilst there is sufficient storage space in the waistband pouches, they could do with being a little bigger (to accommodate the new iPhones 5 and 6) and perhaps could have used the shoulder straps for additional small item storage with a significant change to the pack design or balance.
Summary
The Enduro 13 is a high quality, well made, and well thought out hydration pack. It is best suited to events of 2-3 hours, or longer events with regular checkpoints, which do not have a large mandatory kit list.  The pack sits comfortably on your hips with no rubbing or bouncing,
 even with both water bottles full,
 provided the straps have been adjusted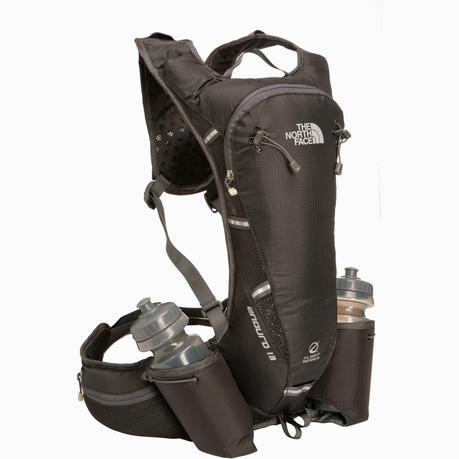 The slim body of the pack keeps more skin exposed for better cooling

properly.

As with all North Face gear it is the attention to details, such as a Velcro loop to secure the loose end of the waist strap, or the whistle built into the chest strap buckle, or the plethora of reflective accents, that makes their gear stand out from the crowd.
Sorry ladies, but this one only comes in black!
I use this pack primarily for running, but also for off-road unicycling where a secure fit is essential. It performs very well in these disciplines, and would be equally effective for Mountain biking, walking, even climbing.

I'd recommend this to anyone who is serious about their trail running, where a 2l bladder is sufficient, and you only need to carry minimal food and gear.
www.ultramarathonrunning.com.au