I received my YOU Beauty Discovery Box yesterday, with nice sized samples I was again really pleased with my box!  It does help that you get to pick two of the items, so I am rarely disappointed.

The January theme is 'Detox SOS', ready for the new year, this box is designed to focus on refreshing your skin, hair and nails.  For my two items I picked a skin product and then a hair product - I didn't choose the nails product, even though I was mega tempted, because I have far too many nail polishes already.
My January Picks:
Thalgo, cocooning cleansing milk, 50ml -   I chose this one as I love creamy cleansing milk cleansers, they are soft and kind

 to my skin - I am really looking forward to trying this one out.  It

 is a nice sized sample as well, one where I will get to experience the product fully.
Goldwell Kerasilk duo: 50ml Ultra Rich Keratin Care Daily Intense Mask & 50ml Ultra Rich Keratin Care Shampoo -  I tend to pick hair products, as I enjoy trying new products out on my hair, and both these are good sized samples and I am definitely looking forward to using them.
January's extra Treats:
Pop Chips, Barbecue potato chips

- sample size 11g:

Unfortunately I didn't get to try these out, Jacob was home when I opened the box, and he spotted the Pop Chips immediately, and asked if he could have them. He liked them, so that is a positive.
Age Defy +, 24 Brightening Serum + a £5 off voucher off if you purchase the full size

 -

 

Tiny sachet, but looking forward to trying this one out, it targets wrinkles and brightens the skin.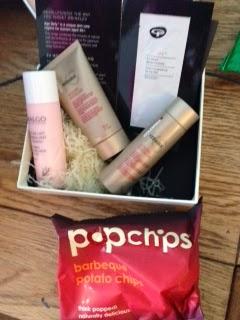 This box costs just £6.95 inc p&p and for this you receive a well presented compact sized box, which is full of treats.  I enjoy receiving the YOU Beauty Discovery Box every month and I am already looking forward to February's, which is hinted to be a 'Love is in the air' which makes sense as it is Valentines next month!
Do you like the look of this box? Or maybe you get a box already?